Profit from
e-commerce:

How to compete in the online marketplace

Nearly 85% of Canadians shop online. Yet fewer than half of Canadian small and medium-sized Canadian businesses plan to sell online after the COVID-19 crisis has passed.

BDC surveyed 1,000 Canadian business owners to better understand the challenges and opportunities of selling online. This growing phenomenon has not only accelerated over the past year, it's now become inevitable for most companies.
Find out:
Which sectors have seen the fastest growth in online sales.
Why e-commerce builds business resiliency.
Solutions to the most common challenges in

e-commerce,

including how to avoid shipping delays.
A five-step roadmap to get you started.
Plus, learn how one Vancouver clothing company closed its locations during shutdown—only to see its busiest month ever.
Get your free copy of the study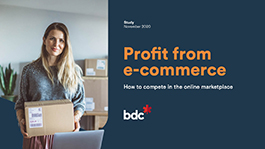 Fill in the form to get your study.
It's 100% free.