Logistics company finds tech solution to northern shipping problem
BBE's in-house software greatly simplifies the shipping process to northern Canada
5-minute read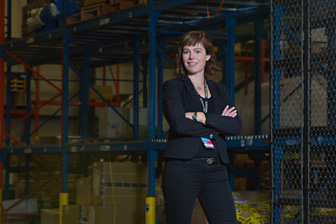 Heather Stewart thinks she has an answer to the high food prices that have long plagued Canada's north.
With milk, fruit and vegetables costing two to three times more in northern communities than in southern ones, Stewart's shipping company BBE Expediting Ltd. has developed pioneering software that promises to make food more affordable for northerners.
"Northern communities, particularly those that are fly-in only, are subjected to limited food variety sold at high cost in the stores," Stewart says. "They want to pay southern prices and arrange the shipment themselves."
Her new GoBox software helps solve that problem. It also has the potential to revolutionize Stewart's industry by dramatically streamlining the shipping process.
Lets northern shoppers reduce costs
Until now, businesses and people who wanted to ship goods to northern Canada had to contact each shipper separately to get their quotes. GoBox provides a centralized online system that lets anyone shop for rates, book cargo and pay with just a few clicks.
This innovation is creating a number of business opportunities for BBE. One of these is Fetchable.ca, a new shipping website launched by Stewart and her team.
The site uses GoBox's technology to help shoppers from the north easily and affordably arrange shipments of food and other products directly from southern retailers, instead of paying higher northern prices.
BBE launched Fetchable in February 2018 in partnership with Canadian North, an airline that serves communities across northern Canada.
Software boosted productivity threefold
Stewart also uses GoBox internally at BBE to make shipping operations more efficient and cut costs.
"The impact internally has been dramatic," she says. "The application has created massive efficiencies for our team. Processing a shipment used to take seven or eight steps. It now takes one. We went from moving five shipments a day per user to 15."
The technology breakthrough is especially striking because BBE isn't a software company.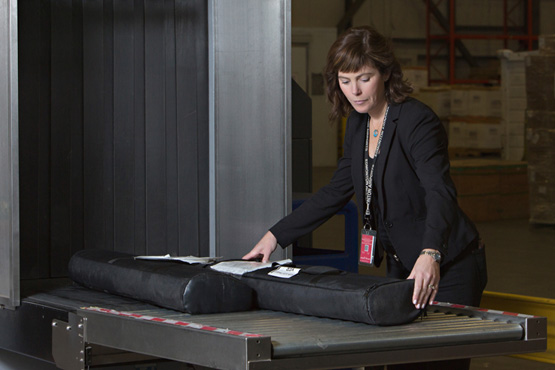 "We know logistics"
"We're not a technology business," Stewart says. "This is definitely outside the box for us. But we know logistics, and we harnessed our expertise for this new business line."
BBE has long been known for its out-of-the-box solutions tailored to the challenging northern climate.
The company was founded with three employees in 1977, in Yellowknife. Now with a team of 125, BBE is one of northern Canada's leading providers of air cargo, freight forwarding and procurement services.
Drove a forklift at 16
Stewart has been involved with BBE since her youth. Her father bought the business in the mid-1980s and let Stewart and her brother ride along in his truck at work. The siblings later had summer jobs at BBE. Stewart was 16 when she first drove a forklift.
"I always loved the business and loved logistics," she says.
Stewart stayed on at BBE after her father sold the business to an Inuit government-owned development company in 2007. She was appointed president in 2011 and led a management buyout in 2016, with financing from BDC.
Growth stumbled on crude oil crash
BBE's growth wasn't always smooth. In 2014 and 2015, the company faced serious headwinds when crude oil prices crashed, pressuring BBE's many energy sector clients. "Our customers were looking for price, price, price, when we had historically been a premium service provider," Stewart says.
"We had to learn how to offer that same service our customers had been used to, while offering value on pricing."
It's in the midst of these pressures that the developer of the Edmonton airport's outlet mall approached BBE to create a way for travellers and other customers to ship purchases. That led BBE to develop its GoBox software, which launched at the mall in May 2018.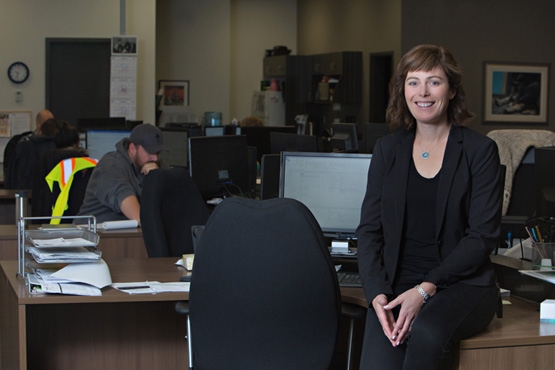 Adoption required buy-in
Adopting GoBox internally at BBE wasn't without challenges. "Some of the team was hesitant to use it and didn't trust it entirely," Stewart says.
She secured early buy-in by asking her team to help test the technology and write the user manual.
"In the end, our employees felt ownership of the product," Stewart says.
Technology has great potential
Stewart has started a strategic planning exercise to explore other applications for GoBox. She is already in talks to implement it at more Canadian shopping malls.
She also wants to work with food retailers to expand Fetchable into an e-commerce site.
"The technology has limitless possibilities," she says. "Our vision is to have the application on the desktop of all our clients."