Insights from data help this entrepreneur reach an untapped market
5-minute read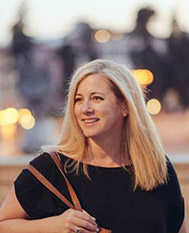 Nicole Smith admits it feels a bit unreal when she thinks about how far her business has come.
Just four years ago, Smith was holding down a full-time job and spending every spare minute in her home office trying to single-handedly turn a great idea into a start-up.
Today, the single mother has built her Victoria company, Flytographer, into an online marketplace that connects vacationers with 400 professional photographers in 200 cities around the world.
"I didn't get into this thinking world domination," Smith says with a laugh. "I got into it because I wanted to solve this problem."
It all started with a bad selfie experience Smith had on a Paris vacation with a close friend. "I wanted to remember this moment," she says. "We took these selfies and it was just our big floating heads with barely any background."
The next day, they met up with a friend in Paris and asked her to take a few candid shots of them walking the streets. "When I saw the pictures, I had goosebumps because she'd captured the spirit of our trip."
Creating striking visual memories
From that seed, Smith grew Flytographer. Clients spend anywhere from 30 minutes to three hours with a professional photographer, capturing striking images while strolling the streets and seeing the sights. Within five days of the shoot, clients have access to an online gallery and a link to download high-resolution images, visual memories they would never have been able to collect on their own.
The cost for a one-hour shoot producing 30 photos is US$350. Shoots to capture special moments such as marriage proposals, honeymoons and anniversaries are popular.
After testing her concept in a few cities, Smith incorporated in 2013. The company was an instant hit and has grown more than 7,000% since its launch. Flytographer's 16 employees now occupy trendy digs in Victoria's downtown and the company has been featured on CBC TV's Dragons' Den and in the New York Times, The Guardian and In Style among many other publications.
Flytographer, a BDC client, is an outstanding example of how digital platforms and the data they produce can be used to fulfill unmet customer needs—a growing benefit that comes with the rise of the data economy, as highlighted in a new BDC study entitled Futureproof Your Business: Adapting to Technology and Demographic Trends.
To improve and create new products, Flytographer constantly studies data generated by its website, online marketing efforts and booking platform.
"We take the data, analyze it and run a lot of tests," Smith says. "We want to see what moves the needle. What do we want to amplify? What we want to kill?
"We've mapped the customer journey from end to end and we look at every touch point and try to understand how we can remove friction and inject delight."
New platform helps manage growth
In its first years, Flytographer used off the shelf cloud-based apps to manage such functions as client bookings, payment processing and client relationship management. Smith, who was working in marketing at Microsoft when she started the company, recently took a big step forward with the launch of a custom booking platform.
The new platform improves both customer experience and automates many functions. Customers now log into a dashboard where they can choose a photographer and manage their booking. Importantly, they can also store the photos from their shoots on the site, allowing Flytographer to build customer loyalty.
Employees known as concierges help plan shoots, respond to questions and ensure everything goes smoothly. Using customer feedback and photographer post-mortem reports after each job, the company keeps track of customer's preferences for future bookings.
"We're able to personalize the experience, optimize the experience, and then provide a way for customers to curate and keep all their memories in one place and easily access them."
Care of photographers is equally important
However, it's not just about pleasing clients who want perfect pictures. Keeping the army of photographers happy is equally important for the company.
The booking platform helps there, as well. Photographers have their own dashboard, listing upcoming jobs and tracking payments. In the future, photographers will have a forum where they can trade notes on everything from shooting tips to technology to arranging meet-ups—things they now do on Facebook.
But Smith cautions not just any photographer can join Flytographer.
"No one comes into our network without being very thoroughly vetted. And once they are onboard we have systems in place to make sure the quality is there, the customer experience is great."
Besides its robust platform, Smith knows online marketing is a key to her company's success. The company has posted 1,000 customer reviews on its site and makes generous use of testimonials in its social media posts.
Social strategy makes use of testimonials
"We have off-the-charts customer feedback," she says. "So, our social strategy is to really spread the word: 'Hey, this is something you should consider rather than just taking selfies."
She uses her company's blog to put the spotlight on great photos, heart-warming stories from customers vacations and travel tips. The company has also launched a quarterly magazine and will soon have a podcast.
It's proven to be a winning formula with Smith targeting a $100 million company in 10 years.
"Our magic is not just the photos. You're having this really rich experience with a local photographer and coming back with these incredible souvenirs."