5 game-changing

consumer trends that will transform your business

Following these trends will keep you ahead of the competition

Read time: 3 minutes

Consumer behaviours are evolving faster than ever. And it's never been more important—or more challenging—for entrepreneurs to stay on top of consumer trends to better compete and grow.

A BDC study identified five consumer trends that will transform the way you do business and the strategies you can use to take advantage of them. Here are some of the highlights from the study.
1. Millennials are driving the consumer revolution
Millennials, the hyper‑connected generation of young people born from 1980 to 2000, are driving a profound transformation in habits among all consumers. They tend to be frugal, savvy shoppers and not particularly brand loyal.
What you can do about it: Improve your customer experience
With lower brand loyalty among millennials, customer experience has become more crucial than ever.
Understand your current and targeted clients' needs.
Manage and exceed customer expectations at every step of the customer journey.
Use individualized attention to drive loyalty (for example, by selling personalized offerings).
2. Mobile and digital rule
Canadians use their mobile devices more than ever, especially for shopping. It's vital for businesses to not only be online, but also to offer a mobile-friendly website.
What you can do about it: Optimize your digital and mobile presence
To fully embrace the digital shift, businesses should have an optimized multiplatform presence through relevant applications, social media channels, and above all, a high-performance, speedy and responsive website.
Make sure you have an online presence describing your product and service portfolio, and your contact information.
Maintain

high-performance

referencing through integrated SEO and SEM strategies to increase traffic.
Create a responsive mobile site.
3. One size doesn't fit all: Consumers want personalized attention
Customers expect more and more personalized interaction on all platforms, as well as customized offerings to make their shopping experience more relevant.
What you can do about it: Offer
one-to-one

marketing

A one-to-one approach to customer interaction allows businesses to provide higher value to customers.
Use data insights to implement personalized marketing tactics.
Provide exclusive offers, deals and product recommendations based on user profile, previous purchases and browsing history.
Use triggered emails to provide relevant, timely and personalized information.
Customize newsletter content and delivery frequency.
Offer

tailor-made

loyalty incentives.
4. The rise of the sharing economy
Collaborative or "sharing" economy companies operate under a new economic model where ownership and access are shared between corporations, start ups and people. People get the products and/or services they want from each other, rather than from established brands, which used to be their only options.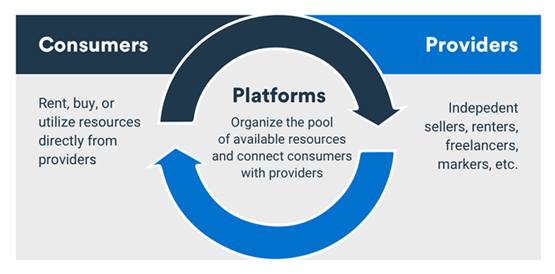 What you can do about it: Engage in the sharing economy
As sharing becomes mainstream, your business might benefit from joining this trend rather than ignoring or fighting it.
Evaluate opportunities to collaborate with other companies to reduce costs or offer additional value.
Assess the possibility of sharing tangible or intangible assets (such as space, skills and digital assets) and monetizing spare capacity, including retail space.
Explore opportunities to expand your product and/or service offering through shared economy experiences.
5. Canadians are more concerned about their health
People want to eat healthier, proactively take care of their health and fight stress.
What you can do about it: Keep up to date and adjust your offerings
You have to be able to quickly pivot to adjust your value proposition.
Get feedback from targeted consumers to better understand their needs and concerns.
Monitor the competition and gather competitive intelligence.
Keep up with industry trends through networking, trade journals, magazines, forums, etc.
For more information, consult BDC's full report: Five Game‑Changing Consumer Trends.