Groupe Germain: It's all in the details
4-minute read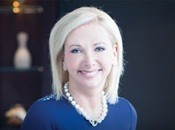 Christiane Germain and her brother Jean-Yves have built one of the best-known businesses in Quebec. They are co presidents of Groupe Germain Hospitalité, the company that created the first boutique hotel in Canada 25 years ago.
In the 1950s, their parents opened a small tobacco shop in Quebec City, and later, they entered the real estate and restaurant industries. Christiane Germain and her brother began working in the family business at the end of the 1970s, mainly in the family's restaurants in Quebec City.
A new adventure began in the 1980s, when they visited New York and stayed at the renowned Morgans boutique hotel. It was love at first sight and they decided to bring the concept to Canada, but with a Germain touch.
An innovative format
Their first boutique hotel, the Germain-des-Prés, opened in 1988 in Quebec City, marking the beginning of Groupe Germain Hospitalité. Boutique hotels are high-end establishments located in major cities that strive to offer personalized services.
These days, the Germains manage a Canada-wide network of hotels that employs 800 people at 12 properties, including six under the Le Germain Boutique-Hotels banner and six under the ALT banner. ALTs are hotels that feature modern design and offer moderately priced rooms throughout the year.
An ambitious vision
Christiane Germain has made her mark in the tourism industry but still has high ambitions. The Groupe Germain Hospitalité, a BDC client, has five hotels under construction. Here's what Christiane Germain has to say on:
…her beginnings as an entrepreneur
I quit school and started working when I was 15. I wasn't a gifted student, but I was a good worker.
I had part-time jobs in clothing stores. Then I got a job as a teller in a bank. I worked there for a year, and they hired someone for a similar position at $111 per week, while I was making $72. I went to see my branch manager who told me the difference was because my colleague had finished college and was a guy.
I couldn't become a man, but I could go back to school. So I did a two-year hotel management program in Toronto and then worked for a chain of restaurants there.
I joined the family company in 1978. For a while my brother and I looked after my father's three restaurants in Quebec City. After visiting the Morgans boutique hotel in New York, we asked ourselves: Why not do the same thing back home?
…her first hotel
Our first hotel in Quebec City, the Germain-des-Prés, was very well received. It was the first boutique hotel in Canada and quite avant garde at the time.
We used the same concept when we opened the first ALT hotel in 2007, in Brossard, on Montreal's South Shore. While ALTs offer more limited services than our boutique hotels, their warmth and ambiance make them very "boutique."
…on the importance of recruiting the right people
I often visit our hotels. It brings me closer to the employees. I really believe in the importance of delivering messages in person.
Our philosophy is personalized, made-to-measure service. This is why the process for selecting our employees is very important. We look for people who want to provide exceptional service and who are able to build relationships with each of our guests.
During a conversation with an employee in one of our hotels, a guest mentioned that it was his birthday. He explained how his mother always gave him a Cherry Blossom chocolate for his birthday.
When the guest returned that night, he found a Cherry Blossom on his pillow. It's a little detail, but it's the kind of detail that makes people happy. That's what I call personalized service.
…on business management
Managing a company takes a lot of effort. It's important not to become discouraged and to stay the course.
In 2003, we opened our first hotel outside of Quebec in Toronto. The World Health Organization had just put Toronto on the list of cities to avoid because of the SARS epidemic. Everyone was avoiding travel to the city. That made our first year there very difficult.
I don't like to dwell on the past. You always have to look to the future. When the unexpected happens, you have to roll up your sleeves and find solutions. Endurance and perseverance are very important.
…on success and failure
Entrepreneurs often avoid talking about their failures, but failing helps you to move forward. We had a restaurant in Quebec City that did not do well. We had a long-term lease, and we tried other concepts and changed the name several times, but it still wasn't taking off. Finally, we closed it. But we learned from the experience. We learned by trial and error.
Young entrepreneurs should understand that results are not achieved overnight. Instant success in business is very rare.
There is no recipe for success. If there was one, everyone would be successful. But there are factors that contributed to Groupe Germain's success over the past 25 years: hard work, attention to detail, customer service and caring about our employees.