Securing the skills to succeed
From buying his business to getting his new team on board,
Rob Bancroft
has had a lot to learn since he took the plunge into entrepreneurship. His lifelong commitment to professional development assured it all went smoothly.
4-minute read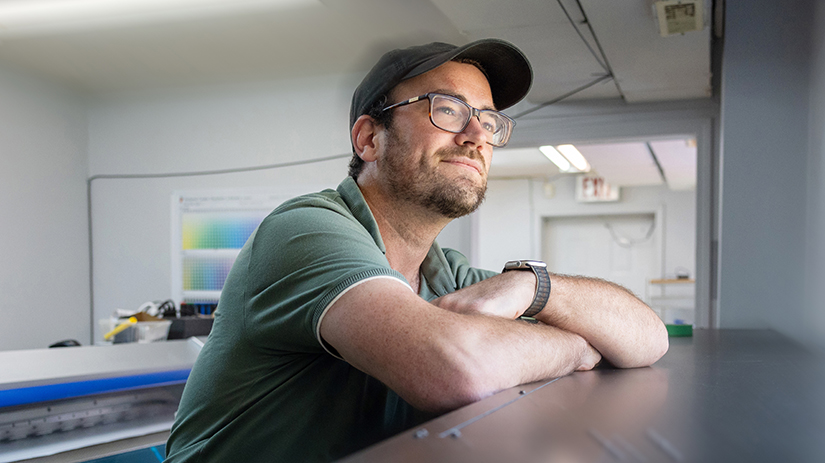 Rob Bancroft, Owner, Avante POP Displays
Rob Bancroft confesses that he "definitely didn't have all the skills" to run a business before he acquired Avante POP Displays, a point-of-purchase display manufacturer based in Okanagan Falls, B.C.
"Business ownership was totally new for me—that is, if we exclude the chocolate-selling business I started at 12 years old," jokes Bancroft. Nevertheless, purchasing Avante was the best way for him to realize a lifelong dream of pursuing entrepreneurship, since he did not have a strong, crystallized idea for a new business.
Thanks to his previous experience managing an investment portfolio, Rob was able to spot Avante's potential compared with several other companies he had surveyed. A self-described "numbers guy," he knew it was his chance to make the jump. "It was a great opportunity," says Bancroft. "The industry has a moat around it, and there's a lot of potential for growth and scale."
But he had never worked in manufacturing, had no background in advertising, and was no expert at marketing either. Given that Avante POP Displays is a retail-advertising-manufacturing business, he was facing a challenge—and he was up for it.
"I've always thought that professional development was important. For instance, I've had a few coaches in the past and I've acquired a number of certifications through the years," says Bancroft, who has a Master of Education.
So, to support his entrepreneurial ambitions, the 35-year-old did what worked for him in the past; he learned the remaining skills he needed.
A new coach for a new challenge
Bancroft decided to participate in BDC's Strategic Planning for Small Business solution, which coaches business owners to think long-term about their company and align their employees behind the same strategic vision.
"One of the things I was advised to do, and it ended up being critical, was to sit down with each employee to hear them out and get to know them. It was illuminating," Bancroft says.
Besides being able to share his vision with ​​the team, it gave him valuable insight into every employee's skill set and ideas for the business. This process helped Bancroft see how each team member could push the company forward. He saw hidden skills and interests in a number of employees and how new career possibilities for them could be unlocked—a win-win for the company and the employee.
"One person, for example, Miranda, was working on the factory floor. After chatting with her, I realized she was interested in design, had experience with AutoCAD and had a great artistic flair."
He decided to move her from the entry-level position into a design role: she is now creating displays and running the print shop—and managing the company's social media for good measure.
"I've been blessed," Bancroft says. "People have been offering their experience, expertise and great ideas. My job is to give ​​our team members the tools they need to accomplish all of our goals."
Many successful businesses employ the same approach. A 2023 BDC survey of 1,250 entrepreneurs revealed that strong leadership—especially engaging, motivating and developing employees—is the biggest differentiator between high-performance and moderate-to-low performance companies.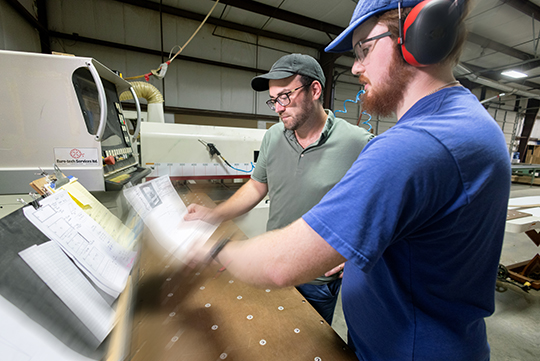 Retaining the talent
This is not the first time Bancroft sat down with the team. Just prior to his acquisition, he had several discussions with ​​key employees to understand their goals and intentions, and to make sure they would be staying on board. This was especially important given that he'd have to rely heavily on their knowledge in order to lead the company.
"I have no background in managing operations in a manufacturing company, so keeping key employees was essential." ​​In the end, the entire team chose to remain with Avante POP Displays. The work he has done since in furthering discussion has taught him many lessons:
"What really strikes me is how offering my support and listening to ​​employees increases their engagement."
Community support
One of Bancroft's goals has been to hone his leadership skills. To help him achieve that, he participates in monthly meetings with two groups of business owners.
He joined the first one when he learned that his coach from the BDC program was running an ongoing support group for entrepreneurs, while the other one is related to the real estate industry, in which Bancroft also works.
"Since many of them face similar challenges, it gives me the opportunity to learn from their experience. We get together and share our insights and goals—and we keep each other accountable. It has been really beneficial."
Bancroft believes the real estate group, in particular, could help him innovate in his new business. "A lot of innovation happens when you take a proven solution from one industry and apply it in another," he says. By connecting with professionals from another industry he understands, he hopes to position himself well to spot opportunities for cross-pollination.
All in all, Bancroft has found coaching and community support to be extremely valuable tools in teaching him the leadership skills he needs in his entrepreneurial journey.
"Being coached and mentored by people who are years ahead of me has helped me figure out solutions," he says, adding that also talking with fellow business owners who, like him, are new to entrepreneurship, has been a great source of support and camaraderie.
"That's important because there's always more to learn when it comes to being a good leader."