Imbritech: Soft skills help the shaping of hard steel
Susy and
Cathy Imbriglio's
communication and support skills help their machining company, Imbritech, stand out and stand up to challenges facing entrepreneurs
6-minute read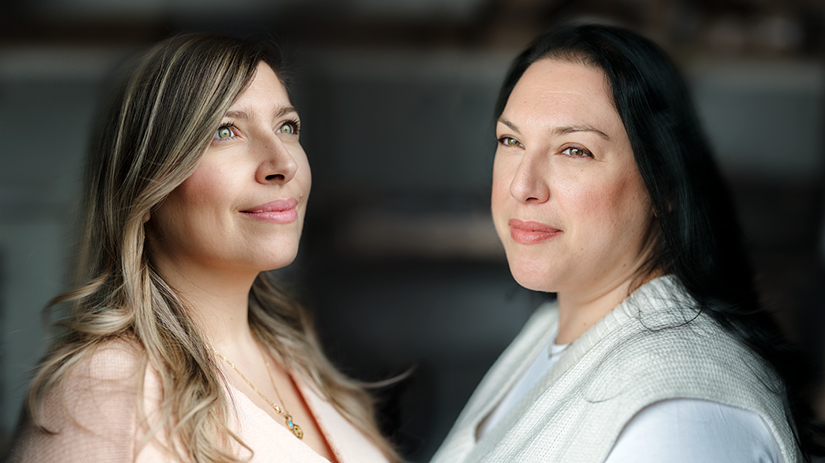 Cathy and Susy Imbriglio, Co-owners, Imbritech Industries
The Imbriglio sisters have been contending with some of the hot-button challenges facing entrepreneurs around the country. The labour shortfall has been a big one.
The machining company, which manufactures parts for the pulp and paper, aviation, hydroelectric and utility vehicle industries, has always found it difficult to find people who will mill, turn and weld steel.
"It's even more difficult now," says Cathy, who mentions a recent employee they lost to a major Quebec aerospace company.
Susy Imbriglio, Cathy's sister and the administrator for Imbritech, the machine-parts manufacturer they run together, says an operation like theirs, with 11 employees including themselves, cannot compete with those big players.
"We're a little machine shop."
Imbritech remains short-staffed, with the sisters worrying about replacing soon-to-be-retiring employees.
They cite a few reasons for their hiring challenges: a lower number of people going into machining, fewer training program spots and a decline in the type of people who work with their hands (like their father Benny, who helped found Imbritech).
But labour shortages also affect suppliers and regulators, lengthening their own delivery times. An example of that are the delays in engineers signing off on new parts.
"It takes forever because they just don't have the staff right now," Cathy says, adding that inquiries from customers who want to know when the part will arrive creates even more pressure.
Add to that list of challenges Canada's rising inflation numbers, which have increased the cost of materials but also the cost of labour, making it harder to compete with well-resourced big players snapping up talent.
Communication skills are key
Imbritech has found ways to thrive not just through the current rough winds but going back to 2009, when Benny, his wife Teresa and daughter Susy launched the company. Cathy, who was working at Pratt & Whitney Canada at the time, joined Imbritech as production manager in 2012.
They've been in business during a period that has seen entrepreneurship losing ground in this country, with many small companies succumbing to an increasingly complex business environment.
In 2014, the sisters took the helm of the Laval-based plant, with their father keeping a hand in quality control. Strong communication has always been central to the way they run the business, whether they're giving customers an honest update or helping an employee figure out a piece of technology.
"I could tell you exactly what machine is running what job right now," Cathy says, adding that keeping clients in the loop is a big part of her job. "I'm constantly connecting with customers, and I think it's something they appreciate."
For Susy, those communication skills are what sets them apart from other machine shops. She adds that many of their customers have become part of a close network. "It's not just a business relationship; some of them call just to find out how we're doing."
Keeping employees' skills up to date
A proven way to hold onto employees and roll through the rough terrain of entrepreneurship is by offering staff additional training.
The sisters appreciate how professional development can contribute to employee satisfaction and loyalty. Even though Imbritech is a small company, they make sure to keep workers up on the latest technology changes for the CNC machines and other equipment it operates.
The company brings in a programmer to work with the operators, training them on software updates and changes to the machines.
Their plant is also a space where workers can speak up if they are having difficulty figuring out something technical, another example of the importance the sisters place on connecting with others.
As for their own professional development, they have benefited most from networking events where they learn how other small companies are handling issues such as employee retention.
Having the resilience to keep going
The sisters credit their ability to navigate in a male-dominated industry on the lessons they received from their parents.
They have both seen their share of gender bias. At a conference, when they told someone that they run a company, the person wondered if it was a spa. Another person they met kept on repeating that he could not believe two women ran a machining business.
Susy wonders why a women-led machining company should be seen any differently. "What difference does it really make?"
Cathy first experienced pushback in college when her teacher questioned her choice of going into engineering and it continued in university when a professor wrongly accused her and the only other female student in the class of copying off the male students. And, more recently, she was told that she's too pretty to be in machining and one man came to her office to check her out in person after being intrigued by her LinkedIn photo.
None of this deterred either sister from pursuing her ambitions, however. This is the type of resilience (or "grit") that a 2023 BDC survey of 1,250 entrepreneurs found to be the most critical success factor for business ownership.
Susy says the sisters' upbringing had prepared them well.
"We were raised by a mom who's very strong and never lets anyone tell her what to do, and by a dad who never treated us differently because we were women, never told us that we couldn't be in his shop."
Sisters supporting each other
There is a connection between Imbritech's ability to weather various challenges and the support the Imbriglio sisters give each other.
When their father stepped back from the company in early 2023 due to health reasons, Cathy took on his duties in addition to her regular work.
"I was answering customers, ordering materials and tools, answering constant questions from the guys. And I had to assist with inspections and take care of shipments too."
"She was overwhelmed," says Susy. "So we would sit down together and write a list of everything Cathy needed to do. Getting it out of your head and onto paper can really help to reduce the mental load you're carrying around."
Susy sees that this support has to extend to their employees. "Mental illness is such a concern right now. That's why we tell them our door is open for anything—we want them to be able to talk to us."
Cathy says family lessons have also helped them weather tough times. "Our parents pushed us to be strong and not let things affect us. They taught us: If you fail, you fail. You pick yourself back up and continue, taking what you learned from the experience with you."
Despite recent difficulties with labour shortages, inflation and high interest rates, Susy and Cathy Imbriglio have found ways to mitigate the challenges. Their ability to connect with and support their employees, customers, suppliers and each other—whether through frequent communication, training opportunities or group events—has helped Imbritech successfully swim upstream.