A determination to learn leads to explosive growth
Andreea Crisan has never met a person or a concept she wasn't curious about. Find out how she transformed a small family business into a juggernaut in the transport industry.
5-minute read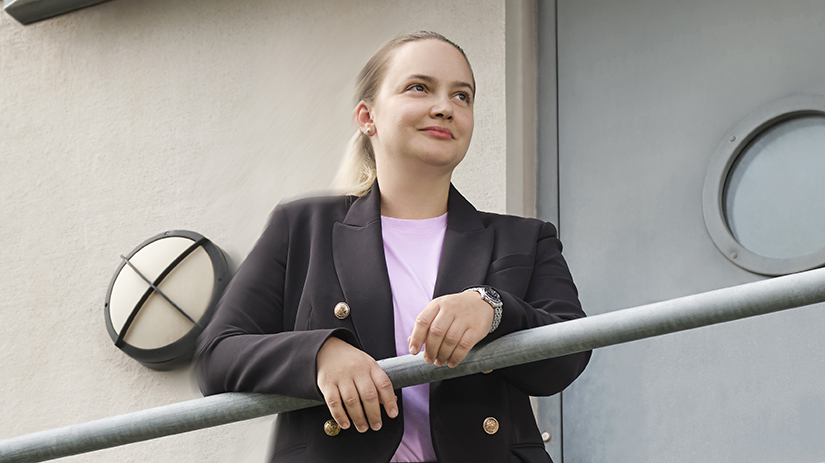 Andreea Crisan, President and CEO, ANDY
Andreea Crisan, President and CEO of ANDY, has been in business since she was 11 years old. In-between learning the multiplication tables, she was calculating mileage for her truck driver father, Ilie Crisan, and attending business meetings at the bank as his translator.
"We had just moved from Romania to Montreal in 2001 and it was tough for my dad to find a job, even as a truck driver," she says.
After six months of unemployment, a company told him that if he bought a truck, they'd give him work. The only thing he could afford was a used burgundy Volvo and, as a new immigrant, he had to put down 50% of the purchase price.
In time, Ilie would purchase a second truck and hire another driver. He'd call Andreea from truck stops so she could help decipher the dispatch messages he received on his satellite unit and, by the time she was a teenager, she was managing the administrative work at ANDY. With her help, the small business continued to grow, amassing more trucks and more drivers.
Then the 2008 recession hit and the company that subcontracted their transportation business to ANDY terminated their contract. "Suddenly, we had trucks and drivers, but no work for them. We had to decide whether to give in and declare bankruptcy or find a new way," she says.
Being open to new solutions
By then, Andreea was 18 years old and about to enter law school. "My father said, 'As long as I can still drive, I'll find a way to keep things going and help you pay for your studies.'"
When she went off to the University of Ottawa, Ilie kept the business alive, proactively finding loads to transport and keeping drivers working. "It took us two years to breathe again, but his determination and openness to new solutions set our business on its true path," she says.
Throughout this period, Andreea travelled home on weekends and holidays to manage payroll and customs clearance, work on bids and visit customers. Although she continued with school and completed several internships in law firms, she realized she didn't want to be a lawyer—her heart was in the family business.
"When I was done with law school in 2012, I decided to join ANDY and grow it. My dad could have kept it at the size it was with 40 trucks or so, but if I was going to join, I wanted to build on what he started and grow it even more," she says.
She was 22 years old and that's exactly what she did. Today, ANDY has one of North America's Top 250 largest fleets and is among Canada's fastest growing companies. While transport remains the core business, under Andreea's leadership, ANDY has three burgeoning business units: maintenance and repair, including parts distribution and dealerships; third-party logistics (3PL) and warehousing.
The company employs about 500 people, including operational staff, technicians, mechanics and drivers. While the head office is in Montreal, ANDY has several locations in the Greater Montreal Area and Ontario.
Ilie stepped away from the business in 2021 and Andreea became president and CEO.
Curiosity and a commitment to learning
Although she has no formal business education, Andreea has worked hard at expanding her skills over the years. For example, when she realized that she was uncomfortable giving presentations in school, she joined Toastmasters. As ANDY grew and required more management, she took continuing education courses in human resources and accounting at a local college.
"When the company was smaller, I couldn't afford to hire an HR or accounting person, so I tried to learn it myself and then hire a junior staff person to take over the role. Today, I'm hiring people more experienced than I am in their specialized areas and not trying to learn every job anymore," she says.
Other entrepreneurial attributes that have contributed to ANDY's growth are Andreea's curiosity and thirst for knowledge.
"I am very inspired by other people and industries. I'm the person on a plane who reads the in-flight magazine and finds good marketing or other ideas to bring back to the business," she says.
"I do the same when meeting new people at conferences or networking events—every interaction has the potential to inspire the business, whether it's a referral to a new employee or customer or a fresh approach."
According to a 2023 BDC survey of over 1,200 entrepreneurs, high-performing business owners recognize their strengths and weaknesses, cultivating strong relationships with others to achieve their goals.
Andreea continues to prioritize skill building through networking, executive education and by learning from her leadership team and board members. "I surround myself with people who are more qualified in their area, and I learn from them every day."
Over the years, she's sat on the board of a networking association and two non-profits in the transport industry.
"A lot of my hires have come from meeting people at conferences or industry events. And I've received countless referrals for business opportunities this way," she says.
As a busy mother of two young daughters, she now chooses quality over quantity when it comes to networking. She makes the most of the events she attends by being curious, getting to know people and asking a lot of questions.
Delegation creates growth
Andreea credits her father's trust in her while she was growing up for much of her confidence. "He always made sure I was in important meetings, and I never felt excluded or like my opinion wasn't as valued as everyone else's at the table," she says.
Being exposed to real business situations built up her resilience and comfort with uncertainty. She learned from a young age that entrepreneurs must be assertive and willing to fail in order to succeed—and humble enough to learn from the times that they don't. "Saying yes to opportunities and then figuring it out afterwards is a key to growth. I also ask for what I want. The worst that can happen is they say no. There's always a yes somewhere."
However, when it comes to managing the day-to-day responsibilities in her business, Andreea says it can't be all about the person in charge. Delegation is necessary.
"Very often you can become the obstacle in your business and not even know it because you think you know best or you don't want to let go of control. Recognizing this impulse will allow you to adjust," she says.
"It's important for your continued growth to surround yourself with experienced and inspirational people" It's wisdom she inherited from her dad.