Carla Heim is Senior Advisor, Social Entrepreneurship at the Business Development Bank of Canada (BDC), the only bank in Canada dedicated exclusively to entrepreneurs. She works to help grow the national movement of certified Beneficial corporations (B Corps). She also helps BDC's efforts to support more women entrepreneurs.
Carla has thirty-plus years' experience in managing, advising and financing businesses. She brings rich, hands-on expertise and insights to help these socially innovative and women entrepreneurs succeed.
Recent posts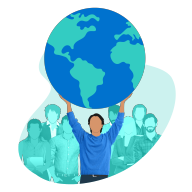 June 11, 2018 | Social Entrepreneurship
Building a movement of entrepreneurs for the benefit of society: Q&A with
Michael Denham
A conversation with BDC's CEO Michael Denham about what B Corp means to him and what the certification can do for Canadian entrepreneurs.
Read post