Technology investment pays off for this Winnipeg hair salon owner
Praise Okwumabua
was skeptical of digital investments for her hair salon, but higher sales and new clients have convinced her of its value
7-minute read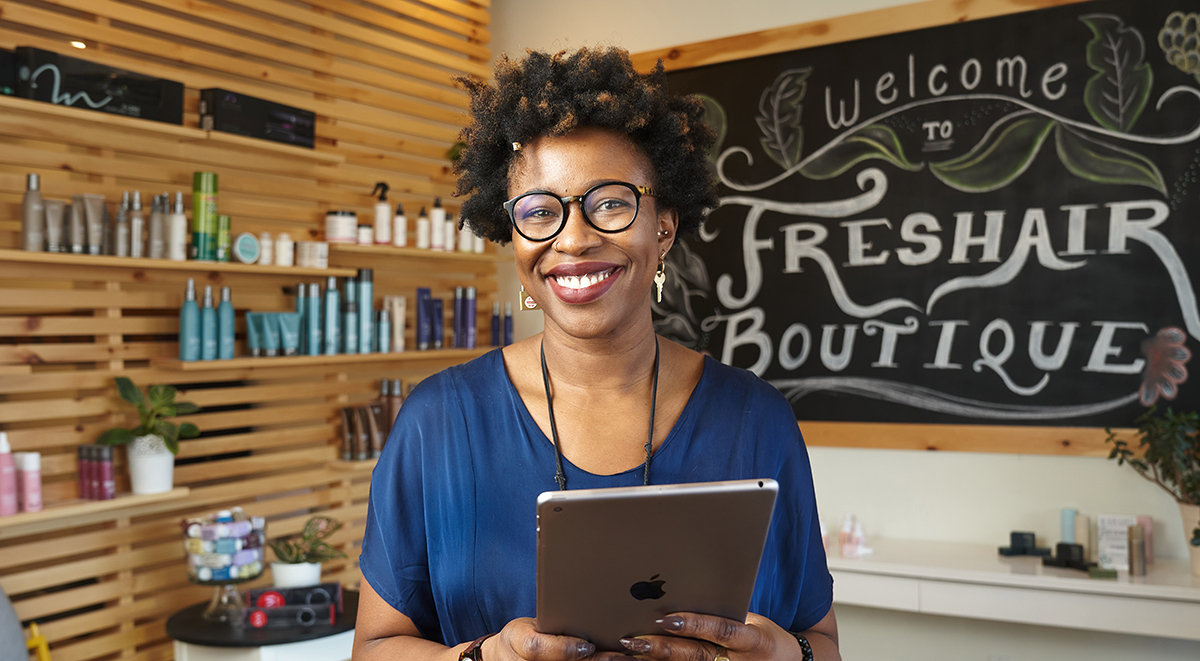 Praise Okwumabua, Owner, Freshair Boutique, Winnipeg.
Praise Okwumabua, owner of the Winnipeg hair salon Freshair Boutique, had been hearing a regular refrain for years from her husband, Ogo: "You need to go digital."
She would typically respond with skepticism. "Who's going to buy shampoo online? They'll buy it when they come in here."
But every year, her husband's argument would gain traction after the annual holiday closing of the salon. Without a fault, Okwumabua would find herself putting in overtime to make up for the lost revenue. "And any time I would complain about a stylist cancelling or calling in sick, he would say, 'If you had an online store…'"
"It became annoying."
Then the pandemic hit. And people stopped coming in.
Digital initiatives make a big difference
Winnipeggers, like so many, were trying to support local businesses that were suffering from government-mandated closings to stem the spread of the COVID-19 virus. Just prior to the pandemic, Okwumabua had decided to take baby steps with online sales, using a simple platform that allowed people to order products online. So, when her brick-and-mortar store shut down, she saw a wave of sales come in.
With a more robust online platform in August 2020, Freshair experienced consistent sales growth. By November, the salon recorded $7,000 in digital purchases.
Since then, digital changes have made an even bigger difference for Okwumabua's salon, from 24-hour online bookings to Instagram-posting hair stylists marketing the business. She recently saw the power of a digital initiative after posting a video she made about an exfoliating face sponge.
"I was doing my morning routine and showing people all the stuff I use from the store. Later that day, somebody bought the sponge!"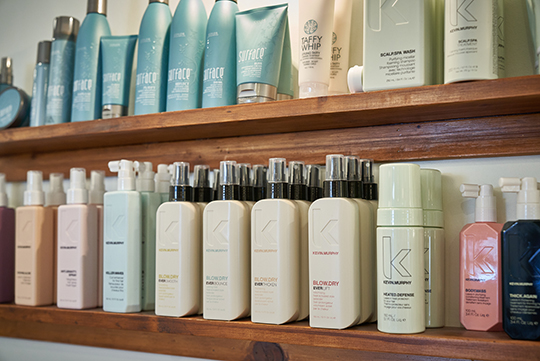 The path to owning her salon
Okwumabua's passion for cutting hair began at a young age, on dolls. "My parents got me this Barbie bust and I cut her hair so many times," she says, recalling the asymmetrical bob she created. "It was so cute."
But it took time for her parents to agree she would take up hairdressing as a career. Their negative view of the profession was shaped in Nigeria, from where they emigrated when Praise was five. There, they would see women working in outdoor markets braiding hair. But when they visited the high-end salon where their daughter worked for a decade, they began to see that these stylists were a world away from the market braiders.
What was a world away, too, was the difference between the business knowledge Okwumabua needed to work for someone and what was needed to run her own salon.
"I didn't know what ROI meant. I didn't know any of that stuff. I just wanted to open a shop," she says, laughing at having originally thought that her target customer was "everyone."
Sustainability at the heart of the business
She would eventually identify her target customer by looking more closely at her neighbourhood where her store was located. Winnipeg's upscale Academy Road attracts clients over 45 who spend more than the average amount on hair care.
That helped her also figure out how she would stand out. A mother of four, she had always wanted a salon that would leave a small environmental footprint and knew that an affluent clientele would be open to paying higher fees for more sustainable hairdressing practices.
Since opening in 2010, Freshair Boutique has been a member of Green Circle Salons, whose thousands of hair salon members typically recover 95% of their waste. Hair is repurposed for soaking up oil spills or for reinforcing plastic resins, dyes are turned into energy pucks, discarded aluminum foil sheets are used for bikes and outdoor play structures, and most other waste is turned into fuel. Freshair also allows customers to refill their shampoo and conditioner bottles, sells locally made lotions and uses energy efficient appliances.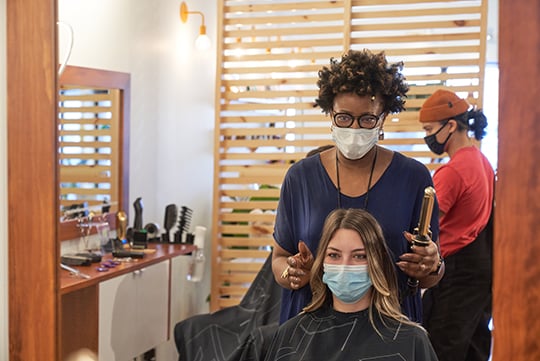 Attracting new clients through online tools and platforms
Since launching her online booking system, Okwumabua has been noticing a new wave of clients; they are more digital savvy and seem to care little for the personal touches her older clients appreciate. "They want to confirm via text, they like to pay online," she says. "They also don't need you to hang up their jacket or make an appointment for them."
Many of those new clients have come to Freshair through stylists the salon has recently hired. Those hair cutters are quick to post their latest styles on Instagram and reach out to potential customers through their online networks. She says a salon taking efforts to attract new clients through digital means makes sense, especially during a pandemic, "because people aren't going out as much and making those connections."
How to start investing in digital
Okwumabua reached out to BDC to help finance her digital upgrades, including new computers, changes to the website and solutions for booking appointments and online sales. She recognizes that the digital investments she's put into in her business have led to additional revenue, but she now asks herself how much more investment in digital solutions is needed versus money for upgrading the salon's bricks-and-mortar location.
"It's a space that's been shut down three times because of the pandemic and could use a little updating."
Despite it being close to Winnipeg's riverside mansions, the salon has become an important place for people of various backgrounds to come in, sit down in one of its six chairs, get their hair done and, of course, chat.
"As stylists, we definitely have a lot of interesting conversations," she says, noting that she can also be challenged in that role. She'll occasionally hear cavalier comments about race or opinions that come across as insensitive to people on the margins. But she has learned to speak up.
It's all been part of her growth as an entrepreneur.
4 digital

investment tips from

Praise Okwumabua
Whatever your business is, ask yourself what aspects of it you can best offer online.
Decide how much time you're prepared to spend on digital transformation yourself versus paying for someone else to set up your new system.
If you put something online, you can't leave it dormant. It needs to be maintained.
Start small and spend additional money on the parts that get a nice return.