Technology helps produce huge growth for homebuilder
3-minute read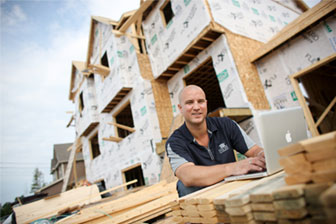 When Pierre Martell started his homebuilding business, he knew he needed an edge over the competition. After all, homebuilders use the same set of subcontractors and have access to the same materials.
The difference-maker for Martell was technology. By using powerful software tools, Martell has been able deliver on his promise to customers to deliver homes on time and on budget.
"The only way to differentiate was to truly focus on the client experience and we lean toward information technology to do that," says Martell whose company builds custom homes. "We try to systematize everything we do."
The results have been remarkable. Since beginning the company a decade ago, Martell has expanded from his base in Moncton to four other cities in New Brunswick.
Martell Home Builders had average revenue growth rate of 30% a year before rocketing to 84% growth in 2016. It employs eight people and works with 100 to 500 subcontractors, depending on the time of the year.
Starts with a discovery session
The use of technology begins at an initial "discovery session" with potential customers. Martell's employees run through a questionnaire with clients to understand the design and features they're looking for in their home. Based on this information, a computer program produces a ballpark price estimate on the spot.
At the planning stage, Martell has invested in design software that can produce a three-dimensional model of a home and take customers through a virtual tour of what their new home will look like.
But the heart of Martell's digital experience is what the company calls the "client log-in." Here, clients access a personalized web interface. The key features of the log-in are a calendar, showing milestones in the home building progress, and a running tally of changes to the project and budget.
On the calendar, clients can see when they have to make selections for their new home, such as windows, flooring and countertops. With a click, they can make an appointment directly with suppliers and once they've made their selection, the supplier places the order.
Software streamlines processes
"It streamlines the approval process, the ordering process and all the communication, without us even being involved," Martell says. Behind the scenes, Martell uses scheduling software to interact with subcontractors, ensuring materials and crews arrive on the building site at the right time.
Digital technologies are becoming an increasingly important source of competitive advantage for small and medium-sized businesses. Their rate technology adoption could double by 2020, according to a recent BDC study.
The study, based on a survey of 1,400 Canadian entrepreneurs, found that businesses that have already embraced technology report improved customer experience, higher revenue growth and enhanced efficiency, thanks to lower costs and better productivity.
Helps company hit profit targets
Martell says his company's use of technology has helped maintain a track record of never going over budget or missing a closing date on a house build. Besides producing a superior customer experience, the technology ensures Martell achieves his targeted profit margin.
"Using the technology has allowed us to build more houses with less resources. We can stay very competitive in the industry and win more work, but still be more profitable than someone else."