Automation helps Alberta manufacturer ride out the economic storm
4-minute read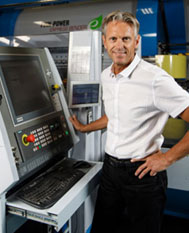 It was a trip to a local submarine sandwich shop that showed Ray Turner how he could speed up a key process in his factory.
Turner's company, Lenmak Exterior Innovations, makes building cladding and roofing in Edmonton. A few years ago, the company began injecting foam insulation into curtain wall metal panels, but Turner was frustrated by how long it was taking for the foam to expand and stabilize.
That's when he had a brainstorm while waiting for his lunch. It came as he watched his chicken sub roll down a conveyor belt into an oven and emerge cooked on the other side. Why not cure the foam in the same way?
"I raced back, and we designed a machine that afternoon," Turner says. The company went on to develop the equipment and software for a fully automated production line to inject and cure the foam. The process was recently patented in the U.S.
For some CEOs, a hot sports car is the ultimate toy. For Turner, it's a new piece of equipment or software.
Technology has incredible effect
"That's my Porsche," he says. "You wouldn't believe how technology can help you step up your game."
Automation based on digital technologies is one of the most important trends facing Canadian entrepreneurs, according to a new BDC study entitled Future-proof Your Business: Adapting to Technology and Demographic Trends. Automation is allowing companies to take huge steps forward in improving productivity, opening new markets and serving customers.
At Lenmak, Turner admits the downturn in the Alberta economy hit his company hard, forcing layoffs. But it would have been much worse if Turner hadn't invested to automate production with sophisticated computer numerical control (CNC) machines, robots and the other high-tech gear it uses to move, cut and bend metal. The company has also worked hard to improve the operational efficiency of the plant through the use of lean manufacturing techniques.
The investments have helped Lenmak ride out the economic storm and positioned it for renewed growth.
Investments make company a leader
"I invest until it hurts," Turner, a BDC client, says. "This is not a game. You've got to get better at what you're doing. If there's something that will make you better, you attack it. Then, instead of being a follower, you can be a leader."
One of the Turner's most important projects has been to automate product pricing. Customers can now use a fillable template to upload a list of components from a building design directly to Lenmak's website and receive a fully priced quote. The system allows customers to try different products to see what the impact is on overall pricing.
Once the order is confirmed, Lenmak's enterprise resource planning (ERP) system automatically converts the information—dimensions, colours and other features—into files that guide CNC machines.
"That does a number of things: it's efficient, it's fast and it eliminates the risk of error," says Turner, who founded Lenmak in 1996 with his wife, Lori.
Operators scan bar codes on the order as it moves through the plant so that anyone with access to the ERP system can find out where the order is and when it will be completed. This allows the company to better plan production and keep customers informed on their order's progress.
If there's something that will make you better, you attack it. Then, instead of being a follower, you can be a leader.
Analyzes production performance
Lenmak uses data produced by the system to do post-mortem analysis on how orders were handled to improve efficiency and adjust pricing. The projects were completed with the support of the National Research Council's Industrial Research Assistance Program (IRAP).
The ultimate goal of all the investments is to add more value to the products the company produces both to generate income and become more competitive, Turner says. Lenmak is vertically integrated, able to take coils of metal and do all the processing necessary to produce a gamut of finished products.
"I want to put as much value into each square foot of material as I can," Turner says. "A piece that started out costing you $1, you can sell for $10 because you chose to invest in processes."
An added bonus of high-tech machinery is the edge it gives Lenmak in attracting the best skilled workers from the millennial generation.
"You give them high-end stuff that has nothing but computers, and it talks to them."
Planning push into the U.S.
Lenmak is preparing to begin exporting to the U.S. and Turner says he's confident the investments are going to pay off.
"We have industry leading technology and equipment to handle the volume. So when the momentum builds, hold on to your seat."