Food safety certification: What's the difference between GMP, HACCP, GFSI and SFCR?
Understand which food safety certification is right for your business
5-minute read
Food safety is an important concern for every food business, but the industry's many safety certifications can seem complex and difficult to interpret.
The sheer number of acronyms can make the certification process baffling. But for small and medium-sized businesses, the consequences of not having a food safety program in place could be severe.
"If a customer complains about you, and the Canadian Food Inspection Agency decides to open an investigation, not having a good food safety program in place opens you up to all the risks. It could wipe you out," says Rowda Mohamud, a Solutions Development specialist who helps entrepreneurs in the food industry prepare for third-party audits for HACCP and GFSI certifications.
Mohamud offers the following clarification to help understand which food safety system is right for your company.
Why do I need a food safety program?
A food safety system is something that will improve the quality and safety of your products.
It also has the potential to greatly diminish the risks and expense of a product recall because you can quickly identify what batch of your products are affected by bad quality and only recall those products.
A food safety system is also something that builds brand value, because you're demonstrating that you've put in the effort to implement a science-based methodology to address the risks in your business.
It also helps your company to grow because your customers are asking for it.
For example, the vast majority of BDC clients who requested help to implement a food system have actually been prompted by a client request—because they want to sell to a large retail chain, like Whole Foods, Sobeys or Loblaws, and one of the first criteria of qualification is to have a robust food safety program in place.
No retailer wants to put a product on their shelves that isn't backed up by a rigorous approach to food safety.
Safe Food for Canadian Regulations (SFCR)
Most Canadian food companies needs to comply with the Safe Food for Canadian Regulations (SFCR), a federal standard introduced by the Canadian Food Inspection Agency in January 2019. SCFR covers consumer protections requirements for labelling, packaging, standards of identity, grades, and net quantity.
As the new benchmark for food safety across the country, SFCR applies to food for human consumption (including ingredients) that is imported, exported or traded across provincial boarders for commercial purposes.
Outside of catering, which usually services a local client base, most food businesses sell outside of their home province or territory in order to turn a profit and stay in business.
"If you have any retail aspirations in Canada, you need to get SFCR licensed," says Mohamud. "It's a binary scenario: either you have a SFCR license and are allowed to sell your food products interprovincially, or you don't, and then you stay at home in your own province and you don't grow."
If a major supermarket chain wants to stock your products, then your business must comply with SFCR, as the supermarket chain will likely distribute the product across multiple locations in different provinces.
"Even if your customer or distributor sells your product elsewhere, as the manufacturer you are obligated to make sure you're food safety compliant," says Mohamud. "The SFCR license is like a business permit—you wouldn't want to operate without one – and it helps you grow your business."
To be SFCR licensed, companies must have a rigorous food safety program based on the Hazard Analysis and Critical Control Points (HACCP) methodology. However, your company doesn't need to be HACCP certified, it only needs to demonstrate that you have implemented the right controls.
To find out more, you can consult BDC's short guide to SCFR.
GMP, HACCP, and GFSI
Companies that want to go beyond regulatory requirements can obtain their certification in voluntary food safety programs. These certifications allow you to tell your clients that you have a level of quality and safety they can trust.
Think of the different food quality programs as climbing up the stairs. At the foot of the stairs are the GMP, which stands for Good Manufacturing Practices, which is the minimum that any business should have.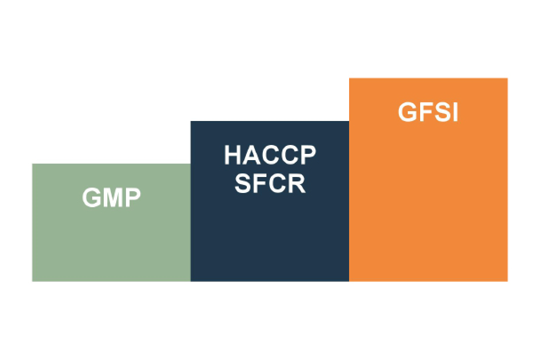 GMPs lay the groundwork for the production and preparation of safe food in several general areas, such as pest control, sanitation and employee hygiene. GMPs can be seen as the equivalent of the prerequisite programs to HACCP.
The main difference between HACCP and GMP is that HACCP adds requirements for risk mitigation around your products and ingredients, as well as requirements for traceability requirements.
HACCP is mostly equivalent to the new government food safety regulations. If you have HACCP certification, you will be well-prepared for the SFCR licensing. You don't need to be HACCP certified to be government licenced for export outside your province; you only need to show compliance with SFCR which are largely HACCP-equivalent.
The next level up from HACCP is GFSI, which is a series of norms. The three most popular for Canadian retailers are BRC, SQF and FSSC 22000. The three are considered equivalent, but businesses will prefer one or the other based on their experience and geographical location.
GFSI norms are even more stringent than the HACCP's, so for example they require verification of medical antecedents for employees and a food defense plan. GFSI also has additional requirements for suppliers.
Your suppliers need to conform to certain norms. They will ideally be HACCP certified or provide certificates of analysis and letters of guarantees.
GFSI certification will often open doors to large international clients. "The idea of the GSFI is to facilitate trade by ensuring you have a food safety system that is internationally acceptable and can give confidence to your customers in foreign markets," says Mohamud.
An investment that pays off
Getting food safety-certified is not just important for keeping your consumers safe and healthy—it keeps your business safe and healthy as well.
Mohamud regularly deals with food business owners who dragged their feet in reviewing their food safety procedures, only to receive a poor result in their safety audits.
"Entrepreneurs sometimes tell me: 'We never had a problem all these years, why does the Canadian Food Inspection Agency care about what I'm doing?'" she says.
"And I ask them: With the complexity of our food supply chain, you need to understand the risks and have a plan to deal with them. This is not only your role as a responsible business, but it also helps protect what you have built. Do you know the risks if there ever was a recall and you couldn't respond properly? It would have massive reputational and financial implications for your business, not to mention putting consumers at risk."
Although some business owners are put off by the costs and time associated with getting properly certified, there is a good commercial incentive behind it. Canadian food businesses with their SFCR certification in order will find fulfilling other industry standards easier, allowing them to export more products and appear more attractive to retailers.