Succession planning: Secrets of a smooth transition in a family business
4-minute read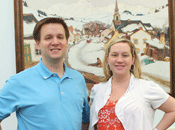 Thomas Glowczewski was just three years old and his sister Catherine five when their parents—two chemical engineers from Poland—started a small baking operation in Toronto.
Over the next 30 years the brother and sister grew up with Tradition Fine Foods Ltd. and are now running the 120-employee company that exports 80% of its baked goods to food giants in the U.S.
Mentoring, trust and a deep knowledge of the business have been the keys to a smooth transition from one generation of the Glowczewski family to the next.
"We grew up seeing the challenges our father had to overcome," says Catherine, 35, Vice President at Tradition Fine Foods Ltd. "We loved the company because we saw how much he loved it."
"We literally learned things from the ground up. This helped us a lot in our actual roles," Thomas says.
During their high school years, Catherine got her start in the company office, while her brother worked in the plant. They both went on to earn MBAs from the Schulich School of Business at York University. However, for Thomas, it wasn't a straight path to becoming President of the company.
"Catherine knew early on she wanted to work in the business, but this wasn't my plan when I was younger," Thomas, 33, says. "I was actually studying to become a doctor."
Eventually, he embraced the family business 10 years ago and has been running the day-to-day operations with his sister for the last five years.
Learning the business from the ground up
Transition processes are some of the most important and delicate challenges in the life of an entrepreneurial business.
One thing that made the transition process easier for the Glowczewskis was their father's willingness to hand major decision-making to his children gradually. "Lately, he hasn't been giving us direct answers to our questions," Thomas says. "He is providing examples of similar situations that could help us make a decision."
Muffins, cookies and croissants have been the heart of the company's product line over the years. In 2008, Tradition started to expand with pastries including filled croissants, cinnamon rolls and strudels. More recently, Tradition has been developing granola bar-type items.
While exporting accounts for the majority of the business, Canadian customers include retailers—such as Loblaws, Sobeys and Metro—and the food-service industry in hospitals, schools and airlines.
With the help of BDC, the company invested $10 million in its 105,000 square-foot (9,800 m²) facility in the Scarborough district of Toronto.
"New equipment has allowed us to improve quality and productivity and be more competitively priced," Catherine says.
These efforts have paid off—over the last three years sales have grown by 50%.
When Thomas stepped in officially as President in May 2011, his father Peter took the Chairman position. "He is still working full-time, dealing with the financial side of the business," Thomas says, who is an equal owner of Tradition, with his sister and parents.
"Our father will be in business for as long as he lives. This is keeping him young and in shape."
Not every decision can be made by family
The young Glowczewskis faced the same question that most entrepreneurs have to face at a certain point: How to make sure to have the right management structure in place for growth? Tradition approached BDC Advisory Services for help. The result was an offsite session with all managers that led to a reduction of direct reports to Thomas to just 4 from the previous unwieldy 14.
Out of the process also flowed the need to hire a controller—mainly to find ways to save on costs, develop departmental budgets and better understand margins. The company also introduced performance reviews for employees and expanded its R&D department.
The company is now gearing up for launching 30 new products and is forecasting a 30% revenue increase in 2012.
"We hope that our children will take over the company. But just because they share the last name doesn't necessarily mean that they are the best for the job," Thomas says. "They will have to prove that they are the best leaders for the company."