Succession planning:
3 exit

strategies for entrepreneurs

Decide which option best suits your needs and your retirement choices

4-minute read

Chances are you're focused on building your business, not the day you will leave it behind. But failing to plan for your transition out of your business can result in a messy succession process and lost value.

Turning the page is never easy or simple, but it's a reality facing more and more Canadian entrepreneurs. Almost 60% of Canada's small and mid-sized business owners are aged 50 or older, nearly double the proportion of the overall workforce, indicated a 2017 BDC study on The Coming Wave of Business Transitions in Canada.
50 years old or older
---
59% Canadian entrepreneurs
SOURCE: Statistics Canada, CANSIM Table 282-0001, and Statistics Canada, Survey on Financing and Growth of SMEs, 2014.
Canadian businesses are set to change hands
Four out of 10 entrepreneurs in Canada are likely to leave their businesses within the next five years, up from one in three in the mid-2000s, our study also found.
More than half of these entrepreneurs intend to sell or transfer their business to someone outside their family. A quarter of them see a family succession in the cards, while just over one in five expects to wind down the business and sell its assets.
4 out of 10 entrepreneurs plan to step away from their business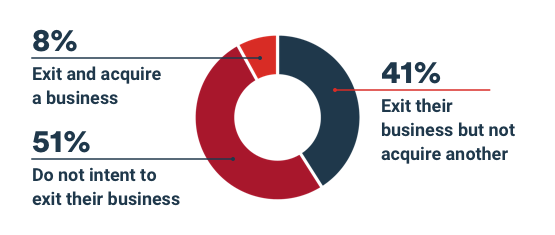 Selling a business is like selling a house
As with a homeowner putting a house up for sale, an entrepreneur planning to sell a business, typically his or her biggest asset, wants to realize the highest possible return. It's essential to choose the best option for your needs and retirement choices.
The first step in a successful business succession planning process is to look at the available options and decide which one best suits your needs. Here are three common exit strategies for entrepreneurs who want to put up their small business for sale or pass it on.
1. Passing the business to a successor
In this case, the successor can be a family member or a manager in the company.
Advantages:
reduces third-party involvement
gives you the possibility to maintain involvement and influence in business
Disadvantages:
it can be difficult to identify and train the right successor
potential for conflicts at work and/or in the family
The first step when choosing this option is to establish the ideal profile for your successor. Then, identify and evaluate potential candidates using fair, measurable criteria.
Here, the management team or a group of employees pool resources to acquire all or a part of the company. This is one of the best options for owners who don't have a candidate for succession or who want to preserve the corporate culture of the business.
Advantages:
limited due diligence usually necessary
rewards management for their long-term support for the business
protects legacy and business independence
Disadvantages:
management often has limited access to capital and this could affect the price and the terms
vendor take back likely (seller loans part of purchase price to buyers)
failed purchase attempt can affect business morale and performance
3. Selling the business to a third party
There are several options for business owners who are looking to sell their small business.
Initial Public Offering (IPO)—The sale and/or issuance of shares in a private company on a public stock exchange.
Private equity—The sale and/or issuance of shares to a financial investor.
Sale to another business—The sale and/or issuance of shares to another operating company. This is a good option for shareholders looking for a clean exit and the highest possible value.
Before making a final decision, make sure the type of transition you choose will be aligned with your retirement choices. And don't forget to start planning early, at least two years before your planned exit.
New buyers prefer a strong, stable business
It's also important to note that more buyers are looking to purchase stable businesses (61%) rather than growing businesses (31%), according to another 2017 BDC study on business transition.
61% of buyers are looking for a stable, profitable business
---
31% of buyers are looking for a growing, profitable business
Very few buyers (8%), regardless of their size or interest in taking risks, are looking for declining or unprofitable businesses (i.e., companies that need to be turned around before they can start reaping the benefits).
A warning for sellers: Before considering a sale, it's best to ensure the business is strong and profitable. The market for those looking to turn around a struggling business is very limited.
Select a good team of professionals to help you navigate through the succession planning process and communicate often and clearly with all the stakeholders.
To learn more, download our guide on selling your business..