From chemicals to nature: These entrepreneurs left everything to get a fresh start
Driven by passion during the early years, Alain Ménard had to learn to rely on others
5-minute read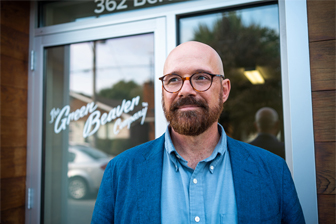 It was a phone call that changed everything for Alain Ménard. His distraught sister, the mother of three children, told him that she had just been diagnosed with an aggressive form of breast cancer. A week later, he quit his job to start a business dedicated to producing natural products.
"It was at that moment that I understood," explains the trained microbiologist who was working in the pharmaceutical industry at the time. "We eat pesticide residues, food colouring and artificial fruit flavours; we breathe in synthetic cleaning products. Some of us will certainly die from illnesses caused by these types of ingredients."
Almost 20 years later, Ménard aspires to replace conventional cosmetics and personal care products with greener, less toxic options. This is the purpose of the business he co-founded with his wife, Karen Clark, who studied biochemistry.
Located in Hawkesbury in Eastern Ontario, Green Beaver specializes in producing and marketing biodegradable natural care products that pose no health risks.
Her first toothpaste tasted like soap
For almost a year and a half, Ménard watched as his wife replaced all their household cleaning products with natural products. He then served as a guinea pig for his wife's initial creations. She had left her job in the pesticide industry to start making natural creams, toothpastes and soaps in the family kitchen.
"I'll never forget her first toothpastes," he recalls with a laugh. "They were horrible! They tasted like soap!"
Bit by bit, the couple put their scientific training to work to perfect their formulas. They also busied themselves choosing packaging, a company name (settling on Green Beaver to distinguish themselves from their U.S. competitors) and commercializing their products.
"Our office was in the house. The warehouse was in the basement. We lived in the business," Ménard says . "It wasn't very well balanced, but we were driven. We were living a dream. We truly felt that we were helping people."
The company, which has since moved into larger premises now sells its products across Canada and online. It employs more than 20 people.
Trying to do it all
Green Beaver grew organically thanks to word-of-mouth. For a long time, its products were sold almost exclusively in natural product stores and consumer trade shows.
However, as the business grew, cracks in the organization began to appear. Affected by a neurodegenerative illness, Clark was forced to leave the daily operations of the business. Ménard, for his part, was scrambling to try to do everything.
"We said: 'We need to make some changes.' I can't be repairing a pump in the morning, and then, an hour later, try to sell our products to stores," he explains. "When you're trying to run a company and you're putting out fires in every direction, there comes a time when it's no longer efficient. Someone needs to stand at the helm and steer the ship."
The couple was also taking notice of the growing interest of consumers for natural products, but they didn't feel equipped to handle the growth.
"We've seen a huge change in the last 20 years. There are a lot more people open to the idea of using natural products," he said. "We decided we wanted to continue to grow, but we didn't know how."
Learning to delegate more
After hesitating for several months, Ménard finally decided to join BDC's Growth Driver Program. It helped him put in place the necessary structures to help his business grow.
"It's as if they had given me an outsider's perspective on the company," he says. "I just wrote my first business plan in 16 years."
One of the things he realized while taking a step back was that he had never created a marketing department. "A company like ours… with no marketing, that's not normal!"
But the biggest change came when Ménard decided to delegate more responsibility to his employees.
"When you've been involved in everything for 15 or 16 years and then, suddenly, you're hiring people, it's scary," he said. "My job is to ensure our culture is maintained and we're heading in the right direction."
The best is still to come
With a marketing team, a business plan and a new leadership vision, Green Beaver is ready to take off. The business has already started selling to major Canadian chains and is looking at the U.S. and Chinese markets.
Ménard, for his part, is excited by the growing interest of consumers in natural products, and he remains convinced that the future is bright.
"The big turning point still to come; I don't want to miss it," he says. "We've been trying to convince people to use natural products for 20 years. And now, everybody suddenly wants to make the switch. That's the reward!"
3 tips to help your business grow
1. Have a purpose above and beyond making money
Ménard admits that being an entrepreneur isn't always easy. His belief that he could have a positive impact on the health of his customers and on the environment helped him stay the course despite the hardships he encountered along the way.
"If you're just doing it to earn a buck, you'll lose interest after a while," he says. "It has to be something that excites you."
2. Write a solid business plan
It took the CEO of Green Beaver 16 years to write his first business plan, but it helped him to prioritize his efforts.
"I went for training and learned a lot. If that hadn't been the case, I wouldn't have known what to do to grow my business," he explained. "My company might have been twice as big today if I'd had a business plan a few years ago."
3. Surround yourself with the right people and delegate quickly
It's better to work on the business than in the business. Ménard's experience taught him the importance of building a solid management team.
"I should have surrounded myself with the right people a lot faster and a lot earlier in the evolution of the company," he concludes.