How to tap into Canada's
$136-billion

marketplace

E-commerce is booming in Canada. There are millions of people using the Internet to purchase goods and services both at retail and wholesale level and it just keeps growing. At the BDC, we want your business to take full advantage of e-commerce.

We realize that not all small businesses can or should be selling online, but many more should be involved than are today.

In fact, only a relatively small fraction of Canadian small businesses are selling their goods and services online. Statistics Canada tells us that 82% of the Canadian population uses the Internet and 56% shop online, but only 17% of small businesses use e-commerce to sell their products or services.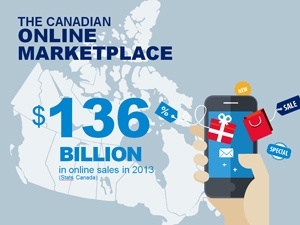 That's a troubling disconnect. And it's why we organized an e-commerce webinar especially for entrepreneurs. It offers a wealth of information from our business consultants to help you get started in e-commerce or improve your existing online business.
We received a great response from those who attended and received lots of great questions. The response was so great that we decided to post the recording online for anyone to watch. Just click the link to go to the e-commerce webinar page.
The online space can be a challenging and confusing place for entrepreneurs, but it's also an essential way to attract customers and do business. We're confident you can find your place online with some planning, patience and sound advice. BDC is here to help you do it.
Do you see opportunity selling online? Are you doing it now? Has it helped your business or fallen flat? We'd love a comment below.