Net zero
by 2040

:

Edmonton-based

company leads the shift to a sustainable construction industry

A focus on social and environmental values has helped this commercial builder grow rapidly

7-minute read

A non-traditional company in a traditional field, Chandos has long been an innovator.

The Alberta-based construction company launched in 1980 and soon became a 100% employee-owned organization, with just a single class of voting shares. This ownership structure has meant that Chandos' executive team have as much of a stake in the success of the business as its front-line staff.

Chandos has evolved as an organization focused on balancing profits and people, and on bringing more collaboration into the sector; it had a vision of leading change in the construction industry.
Targeting net zero by 2040
In 2020 Chandos began working to decrease its greenhouse gas (GHG) emissions.
"It's not easy to work for a construction company that has seven offices and 100 and some sites over the course of a year. You're having to figure out all of the things that are emitting GHG, through the use of diesel, gas, and electricity, so it was a big job to tackle," says Jen Hancock, VP of Collaborative Construction at Chandos.
Having taken the first step of measuring its carbon emissions, Chandos then purchased carbon credits to offset its emissions.
Chandos is also taking steps to reduce the environmental impact of its operations. They've started shifting from diesel to electric equipment and vehicles, and they've made an effort to digitize their work by using accounting software and virtual design and construction technology. They plan on eventually transitioning to clean energy at their job sites.
After a year, they took the plan a step further, announcing a net zero target for 2040. This plan is all the more ambitious that it reaches beyond their own operations to include emissions from materials they purchase and use in their construction projects.
"We can start to work with our supply chain and say, 'Are you tracking GHGs on your concrete? How do we get the lowest carbon concrete?' […] Hopefully over the next number of years, we can say, 'This steel supplier has the best process. They have really reduced their emissions, we are going to buy only from them,'" says Hancock.
Using sustainability as a recruitment and retention tool
Chandos' Human Resources Director, Julie Wilson, believes the company's collaborative approach to its project delivery, its attention to diversity and inclusion, and its focus on social procurement and environmental impact will play a key role in recruitment and retention moving forward.
"Having people feel a sense of pride in the organizations they work for because of the work they are doing, I think is critical for businesses now—and I think it is going to become increasingly important over the next five to ten years," she says.
The company is already seeing these corporate values resonate with younger workers.
"The younger generation is beginning to ask about sustainability. We've started to see a change at student fairs over the last five years. I think it is going to be a really key component for employee retention and attraction, maybe not right now, but definitely in the future," Wilson adds.
Hancock also believes sustainability will play an increasingly important role with clients.
"There is no question that we have secured jobs that we normally would not have been looked at for, and we secured them because of our climate and integrated project delivery approach," she says.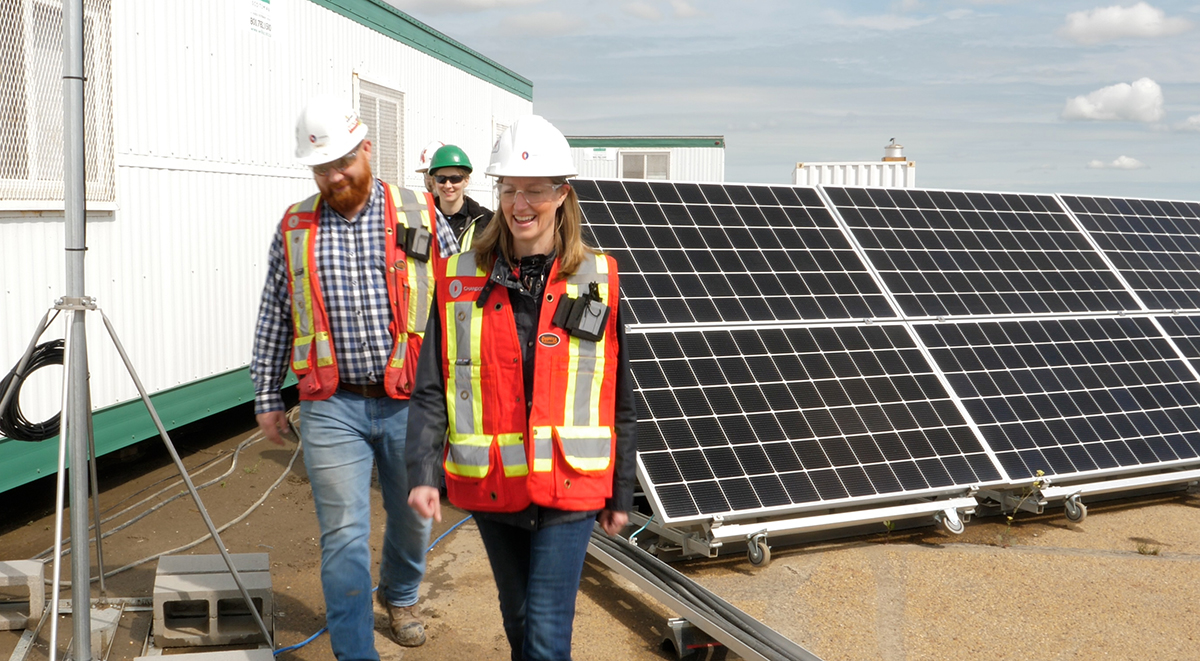 The first
B Corp

certified commercial builder in North America

In 2016 Chandos became the first and largest B Corp certified commercial builder in North America.

B Corps are businesses that act in ways which benefit society as a whole, by looking at social and environmental good as well as profits.

"Completing the B Corp certification application and doing the work to become a B Corp certified company is not for the faint of heart," says Hancock.

She adds that BDC, a long-time Chandos partner, was a great mentor in the process.

"They said, 'We are here for you,' and they were very supportive in helping us through the process that led to our certification."

As a B Corp, Chandos is committed to meeting rigorous standards of social and environmental accountability, public transparency, and legal responsibility. The certification measures a company's entire performance and evaluates how its operations, business model and profits affect employees, the environment, customers and the community.

Chandos had begun recycling around 2008, working to divert waste from the landfill on as many jobs as they could. The B Corp certification process helped increase the company's waste diversion rate—Chandos targeted 80% diversion of waste from each of its projects, by recycling as much of its concrete, wood, paper, plastic, metal, and drywall remnants as possible.

"The B Corp certification identified some of the great things that we were doing, but it also pointed out some holes in things we weren't doing," explains Hancock.

Chandos created an impact team to monitor B Corp initiatives, focusing on corporate improvement in diversity and inclusion, reducing the impact Chandos sites have on the environment and increasing the company's social procurement practices.
Focused on zero emission growth
Chandos's focus on environmental sustainability is growing the company's client base, leading to overall growth of the organization. In 2019, Chandos expanded from 400+ employees in two Alberta locations, to 600+ employees in seven locations across Canada.
"There are absolutely projects we win because of our sustainability approach. We have a client right now that said, 'I chose you because of your climate approach and your focus on embodied carbon materials,' so we absolutely have landed projects where sustainability is a core piece, and it often goes with the collaborative construction approach," says Hancock.