B Impact

Assessment

Measure and manage your company's economic, social and environmental impacts

Build a sustainable business with this free B Corp assessment tool.

This tool is part of the B Corp certification process for entrepreneurs, designed to estimate the impact your company is having on your employees, customers, the community and the environment.

It evaluates your performance against your peers around the world and measures whether you have the 80 points needed to pass the B Corp certification. It also gives tips on how to improve your score and enables you to proceed to full certification as a B Corp.

Certified B Corps are as profitable as traditional businesses, plus they enjoy advantages when it comes to brand affinity and recruitment.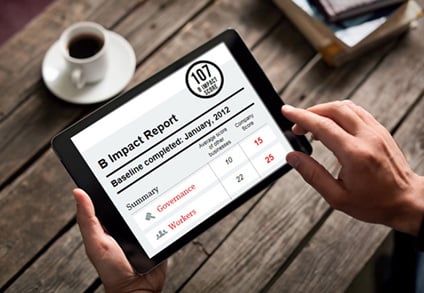 Take this free, online and confidential assessment to:
benchmark your company's positive impacts
get a snapshot of how you compare to your sector peers worldwide
start planning strategically and target everything that matters: people, place and the planet!
This assessment includes multiple questions and takes four to five hours to complete. You will have immediate access to information, tools and reports to assist you on your journey.