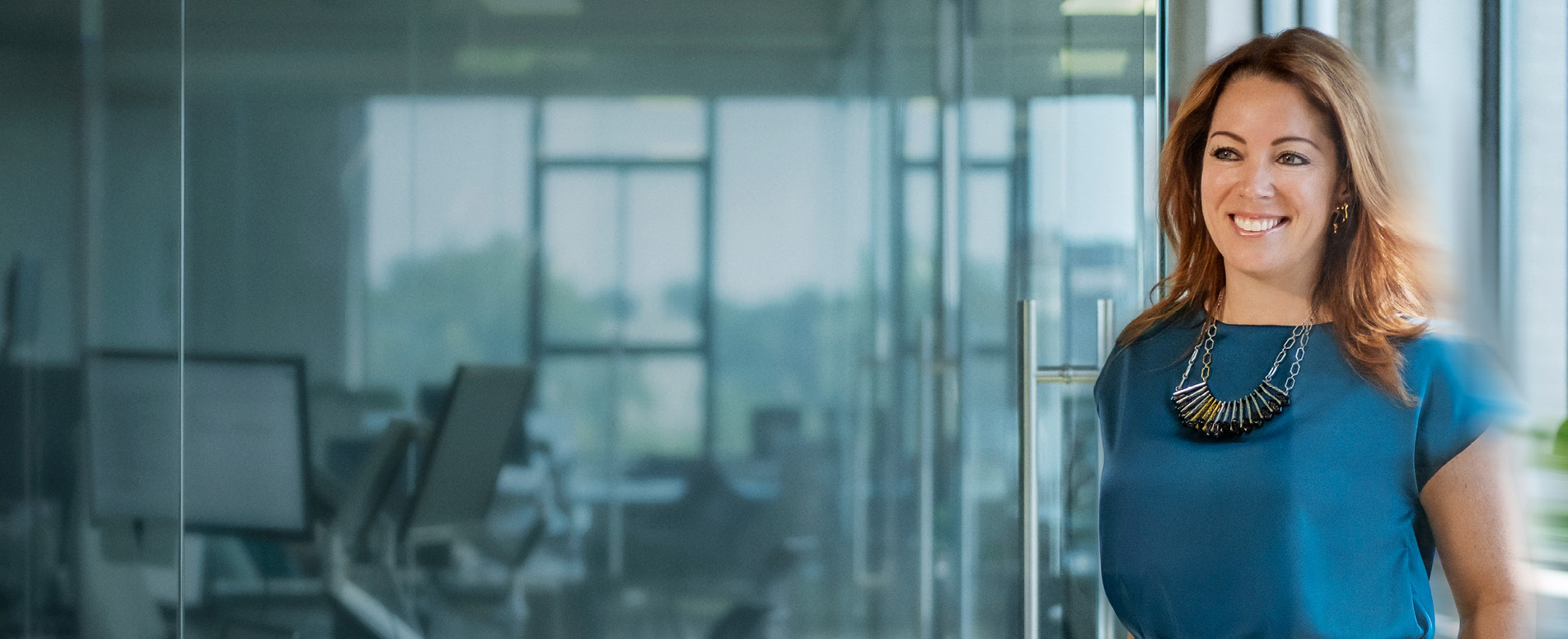 Climate leadership
Case study

|

8-minute read
"Everyone thinks being green is expensive, but it's not that expensive."
Company name
Zorah Biocosmétiques
Company size
6-19 employees
+25% water saved
from production process
210,000 trees planted
through Forest Stewardship Council (FSC)
-2 tonnes

packaging
by using biodegradable styrofoam for shipping
Context
Zorah Biocosmétiques balances skincare with care for the planet
Mélissa Harvey, founder:  At Zorah, we are natural skincare specialists who meet the specific needs of different skin problems, whether it's for pigmentation spots, rosacea or acne. But what's also important to us is the health of the environment. Being green is part of our core values: we're already like that at home, so that's how we are in our company. It's not always easy, but we try.
Challenge
We needed to drastically reduce our business mileage on
gas-powered

vehicles

Anyck Wilford, Vice President of Sales: Zorah Biocosmetiques products are carried in 225 stores across Canada. Our sales representatives need to drive to the stores periodically for training and demonstration purposes. We also have employees who drive to work at our headquarters in the Parc-Extension neighbourhood of Montreal. Cutting down on car travel would be great for our bottom line and the environment
What we did
Optimized car routes through software
Our team created an internal software system called GIZ (Gestion Interne Zorah) to optimize the sales representatives' travel routes to cut down on car emissions. GIZ uses geolocation to take into account the distance between each customer and suggests the best (shortest) route between each customer to save time, distance, and gasoline.
Started a

low-carbon

transportation program for employees
We began a project at headquarters to encourage employees to come by bike or public transportation. We installed showers for bikers, and we reimburse 50% of the monthly STM fees of employees.
How it turned out
30-50%

reduction in travel time and costs

After Cohey started using the GIZ in 2021, the business saw a 30-50% reduction in travel time and costs, depending on the territory covered by the representatives.
Increase in visits with lower expenditure
By being more efficient in their travel, our sales reps cover more stores while spending less on fuel.
 Want to do something similar? Check out our page Optimize your vehicle fleet.
Challenge
We needed to reduce the footprint of our production and distribution chain
I wanted to take an eco-friendly approach with how we source our display cases and product boxes. We are Ecocert certified, which shows our customers that they're buying products that respect the environment. Ecocert requires products to be sold in recyclable packaging. I looked for suppliers that could meet our needs.
What we did
Found a local Quebec supplier for our packaging needs
Our supplier, Litho Mille Iles, is an independent printer based in Terrebonne, Quebec. Our cardboard display cases and boxes are Forest Steward Council (FSC) certified, which promotes responsible forest management. Most of our raw materials are sourced from women's cooperatives, but 90% of my packaging suppliers are in Canada.
Concentrate on using recyclable materials where possible
Our cardboard shipping boxes are made of 70% recyclable fiber. Our pamphlets are also printed on recycled paper and printed with vegetable inks. For plastics, we use either PEG or PETG or glass. We also use biodegradable styrofoam. Recyclable packaging is harder to find, but it's possible. It is more expensive, but not that much more expensive. I decide it's worth the pain.
How it turned out
2 tonnes

of packaging saved

We also recycle and reuse packing materials in our shipping processes
210,000 trees

planted through FSC

By working with the FSC, we replant trees to prevent deforestation.
Increased flexibility and resilience of our supply chain
We save time by working with local suppliers because they reach us faster. It's also safer because it reduces delays. Ultimately, it's just better for the local economy and our environment.
Want to do something similar? Check out our page Integrate climate into your business strategy
Our roadmap
2006
I get the idea to start Zorah after an internship with Oxfam Québec. I wanted to help Berber women's cooperatives in Morocco. A biochemist told me I can help them by turning the argan oil they produce into cosmetics. And so, Zorah was born. My co-founder Richard Morin and I used our savings to start the company. We also entered several business competitions and applied for grants and funding.
2009
I sacrificed 3 years without a salary to pay my first employees because I believe in what we do. In 2009, Zorah got the stringent Ecocert certification to show that we're committed to sustainability.
2013
The company keeps growing—after years of research, we expanded our product range to offer makeup as well as skincare.
2019
Our products are produced and packaged in Montreal. To save water, we installed a new filtration system in our laboratory.
2021
With our products in so many stores, we have a lot of sale representatives travelling around. We introduce a system called GIZ (Gestion Interne Zorah) to optimize the driving routes of our sales representatives to cut emissions.
2022
With multiple projects in place, our next goal is to develop a zero-waste product line. This means that nothing in a product's lifespan is wasted. I'm looking at waterless formulas that have minimal environmental impact.
Mélissa's final thoughts
If I could meet my younger self, I would tell the younger Mélissa that she is extraordinary as a person. I will take her in my arms and tell her: "Even if you are not perfect, you will succeed in everything you do. So go for it and believe in yourself." Then I would tell her to go find financing and investors because her project is so beautiful and unique that it will make things easier to surround herself with financing!
My advice to other entrepreneurs is that you should be a specialist in your business. We're no longer in the past where you can just focus on one thing. You have to be multitasking! And you must train your employees to be multifunctional as well.
Following the Gazelle method has helped me enormously with planning and managing my business. Gazelle are graceful animals that are famous for being very fast. For a company to grow fast, it must be strategic about its priorities and great at communicating between teams. I have to balance profitability with our environmental practices, and planning well is critical.
Finally, I would say that everyone thinks being green is expensive, but it's not that expensive. It's worth the effort.