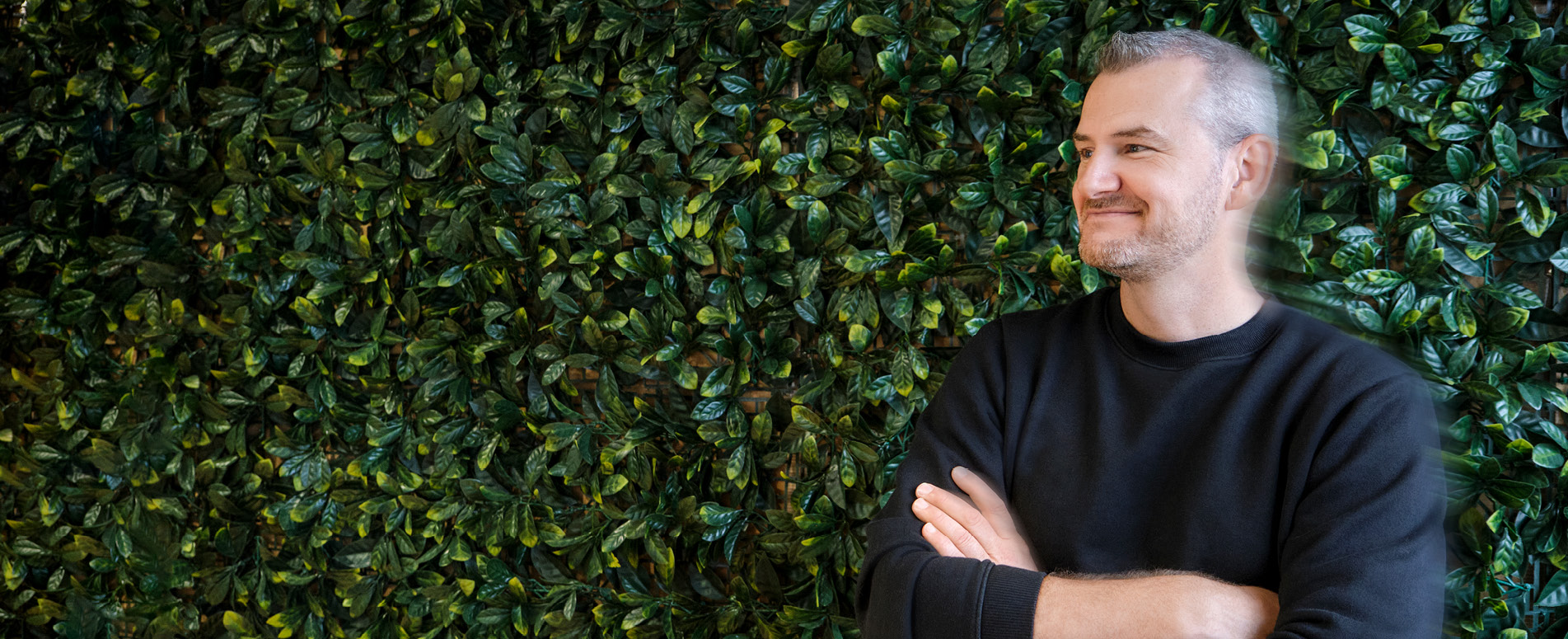 Climate leadership
Case study

|

9-minute read
"If you do something for the planet, do it from the heart, and do it for real."
Industry
Digital consulting services
Company size
20-99 employees
35.75 tonnes

of CO2 compensated
in 2023
B Corp and Carboneutre
certified
Context
Axial is a digital agency specializing in the development of
e-commerce

sites that makes a difference wherever it can.

Daniel Giroux, CEO: At Axial, we take care of our people and our planet. We try to influence our partners, our customers and our staff by setting an example, whether it's through small gestures like using a local bulk coffee supplier, or even larger-scale initiatives like our blog that promotes sustainable development.

This is what we love to do at Axial: sowing seeds and seeing that it makes a difference as green initiatives sprout among our partners.
Challenge
Becoming
carbon-neutral
Powering our servers and traveling to the office and meetings were among the biggest contributors to our greenhouse gas emissions.
What we did
Reduce our carbon emissions
After an exhaustive report on our emissions and a plan to become carbon-neutral, we considered several options for reducing our emissions. In the end, we chose to have our servers be hosted on sites powered by solar energy. We also cut down on transport for our meetings, conducting more of them online. The pandemic sure helped us to change our habits.
Offset our emissions, and then some
At Axial, we like to go the extra mile. We have therefore decided to compensate for the transportation of our staff members to the office, even though this is not required for carbon-neutral certification. We also obtained our B Corp certification. Although we met all their criteria, we nevertheless decided to draw up a three-year action plan for improvement. There's always place for improvement.
How it turned out
32.5 tonnes

of CO2 emissions offset

for 2023

We offset our 32.5 tonnes of CO2 emissions with CO2 Québec and added a further 3.25 tonnes with Carbone Scol'ERE, which educates young people about environmental issues. A cause close to our hearts.
Challenge
Greening our direct environment
Our workplace is linked to a significant proportion of our greenhouse gas emissions. We need ways to make it more energy efficient and a more pleasant place to work.
What we did
Analyze possibilities for improving the building
To improve the building's eco-efficiency, we replaced our two old air conditioning units. On top of saving energy, we feel much more comfortable.
We've also considered installing solar panels on the building. However, my analysis showed that with the installation of the new panels, keeping the hydro-powered system was the least polluting solution. But if the situation changes and the installation of solar panels becomes the greener solution, we won't hesitate to change.
I did the same exercise for windows, and the result was the same: it was more polluting to install new windows than to keep the old ones.
Create a cleaner environment
The choice of our suppliers is important to us. We want to choose companies that share our values of local purchasing and eco-responsibility. The company that does the cleaning in our offices, for example is very environmentally mindful.
Our whole team at Axial also take part annually in the clean-up of the banks of the Saint-François River, an activity that reflects who we are and brings us together.
Another initiative we did was to organize a composting pilot project for businesses in collaboration with the City of Sherbrooke. Recycling and composting have been part of our habits at our office for a long time.
Plan to green our parking lot
Our parking lot is mostly made of asphalt. We want to transform this heat island into a green space with grasses, trees and other plants that will attract pollinators. We like bees! An eco-responsible landscaping plan is on the agenda, with the first phase due to be completed next spring.
How it turned out
A healthy, clean and green working environment
The replacement of air-conditioning units has reduced emissions of freon, a high Global Warming Potential gas.
Other initiatives also contributed to creating a working environment in which customers, staff, partners and suppliers can recognize themselves and flourish. Since happiness at work is one of our core values, we do everything we can to create an environment that leads to well-being.
This, along with other initiatives, such telemedicine and teambuilding activities help keep employees happy and healthy, which results in attraction and retention. Many have been part of the Axial team for over 10 years.
Challenge
Extending our current influence
Axial is often cited as a model company, being different and modern. However, we wanted to reach out even further and extend our reach.
What we did
Launch an inspiring blog on sustainability
Laixa is the voice of sustainable e-commerce. It's our way of making a bigger difference by spreading one of our values. We share on our blog environmental best practices and inspiring stories. Our goal is to encourage other companies and people to embrace the change.
We are so committed to the cause of sustainable development that we have an employee who dedicates 30% of his time on this project.
Discuss the environment with our partners
When a customer comes to visit us, we always talk about the environment. We are proud to talk with them about best practices in sustainable e-commerce, our planned parking lot greening initiative, or the other green ideas that we want to implement in our company.
We're convinced that by the discussion, others will be inspired, creating a snowball effect that's good for the planet. And everyone wins. To stimulate discussion and reflection, we will also be organizing a conference on sustainable e-commerce.
How it turned out
Many of our partners are inspired to make a change
By talking so much about sustainable development and setting an example, we have positively influenced our clients and partners. The business that shares our office has given itself a sustainable development plan. Our corporate clothing provider has obtained its carbon-neutral certification following our advice. Finally, another example which shows well our internal culture influence: our intern Jade has created a circular economy business, PickPack, after her internship with us.
Our roadmap
2002
In 2001, lots of people wanted to have their own websites, but few of the sites were business oriented. Seeing the opportunity, I launched Axial with my cousin Sébastien Giroux, who worked in IT. Our goal: create strategic websites focused on business objectives of our clients. We become partners and open a place of business in Sherbrooke (where I live), and another in Gatineau (where Sébastien lives).
2011
As environment is of concern to us, we create our first sustainable development plan with a consultant. No one was doing that back then. We begin to calculate our environmental impact in rough terms and offset our greenhouse gases, always adding an additional offset of at least 10%.
2014
Since our visions for the future no longer coincided, I buy out my cousin's shares with the help of BDC. Sébastien still remains today a valuable partner.
2018
We are looking for a building to rent or buy. We cross paths with another company which is also looking. It evolves into a business project, and we become the two 50% owners of the building. Sharing common spaces, a cafeteria and a place for happy hours around a barbecue creates synergy between our two groups.
2020
In 2020, we are proud to have obtained the B Corp certification and the LCL Carbon neutral certification.
2021
Sharing what we do and inspiring others have always been a part of our DNA. As we want our influence to be greater than the sum of our actions, we create the Laixa blog (Axial in reverse). The blog showcases sustainable e-commerce initiatives to our customers and the public.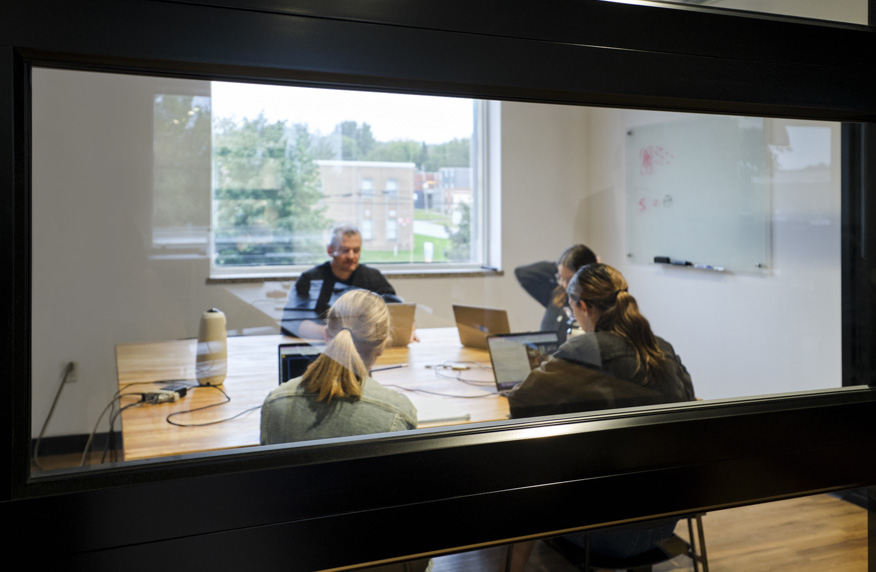 Daniel's final thoughts
Over my career, I've come to realize that a that a lot of things are done by companies to give themselves a good image and boost sales. It's the infamous greenwashing! What I believe instead is that if you're going to do something for the planet and the environment, do it from the heart, and do it for real. We may say we don't have the time, we don't have the money, but it's choice we no longer have. We must do something.
The environment has become at Axial part of our company culture. It's so ingrained in our culture and in our partners that I'm even sometimes taken to task when I let my guard down. It might be my vision, but going green is supported by the whole team.