ESG pioneer wanted to build different flavour of business
Organic snack firm DeeBee's is a
B Corp
whose founder lived and breathed ESG before she knew what it was
7-minute read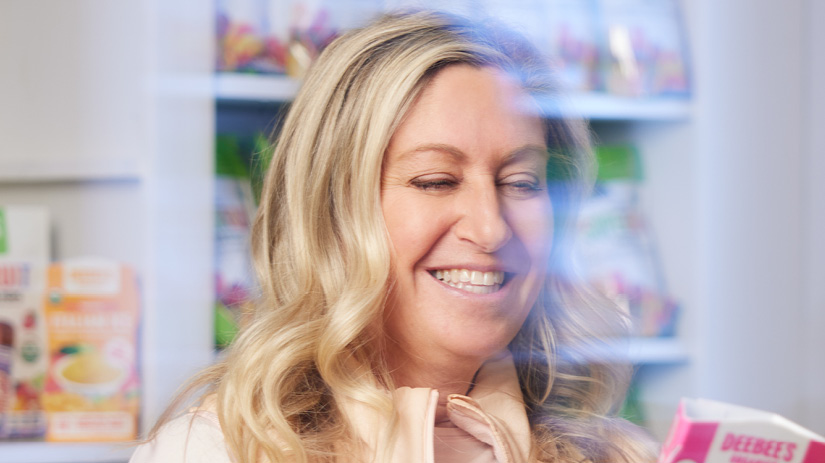 Dionne Laslo-Baker, CEO and founder, DeeBee's Organics
Through her work as a PhD medical researcher in maternal-fetal toxicology, Dionne Laslo-Baker was concerned about the impacts of harmful chemicals in food on children and farmers who handle the products.
As a parent of two young kids, she had noticed a lack of organic snack options. That drove her to start DeeBee's Organics in her kitchen in Victoria, B.C., to fill the gap.
But Laslo-Baker also wanted to build a different kind of company with a deep focus on environmental, social and governance (ESG) issues. "My goalpost from the beginning was to be proud to tell my children this is how I built the company," she says. "This guided me; it was my North Star."
Supports employees' charities and volunteering
Another key motivation for starting the business was to earn enough money to fund a mission by her husband Steve, who is an ophthalmologist, to travel to lower-income countries to offer treatments to save and restore vision and train medical personnel to do the same.
This inspired Laslo-Baker to also support charitable ideas of her employees at DeeBee's. She created an initiative she calls DreamLauncher, which donates money to charities proposed by her team. Employees also get several annual paid days off for volunteering.
DreamLauncher has supported salmon restoration in B.C., LGBTQ+ organizations and an orphanage in Honduras.
Long list of ESG initiatives
DeeBee's doesn't stop there. Its long list of other ESG initiatives includes using 100% solar-powered factories; composting food waste; reusing rainwater; offering employees stock options so they can participate in the company's financial success; and a strong commitment to employee diversity and inclusion.
The strong ESG focus is also at the heart of the company's marketing. "We always talk about it," Laslo-Baker says. "It's part of every conversation we have when we're introducing our company. We're not just a food company. There's so much more about what we're doing, why we're doing it and how we're doing it."
DeeBee's targets 140% growth
Customers have embraced the company—literally. "Buyers hug us at the end of our meetings," Laslo-Baker says. ESG has played a key role in securing business with larger retailers, such as Walmart and Costco. "That's part of our story and it helps our business," she says.
The warm reception has translated into extraordinary 100% annual sales growth since the company's founding in 2013, with 140% growth targeted this year. DeeBee's team has grown to 29 employees, with another four on contract.
As the Victoria-based company and its ESG efforts have grown, managing it all has become more of a challenge for Laslo-Baker. As it happens, an employee volunteered to take on responsibility for coordinating many of the ESG efforts.
This is in line with a 2023 BDC report which found that 31% of Canadian small and mid-sized suppliers have hired a specialized employee to help them meet sustainability requirements, while 27% have brought in outside advisors. A quarter have used external auditors to verify that their practices meet standards.
Obtained B Corp certification
The BDC report also found that many businesses are improving their ESG efforts by pursuing certification, such as ISO 14001 (for environmental management), ISO 14064 (for carbon emissions) and ISO 26000 (for social and environmental practices).
Laslo-Baker, for her part, got DeeBee's certified as a B Corp, a "Beneficial Corporation" that periodically goes through recertification for compliance with rigorous ESG standards. She heard about B Corps at a trade show and felt DeeBee's was a perfect fit. "I thought, 'Oh my God, this is everything we already do,'" she says. "We didn't call it ESG. This was before ESG was in the forefront for businesses. ESG was just in the fabric of everything we already were before we knew there was an official name for it."
In 2017 and 2018, B Lab, the nonprofit that administers B Corp certification, named DeeBee's as a "Best for the World" Changemaker, an award recognizing B Corps with the world's leading ESG performance.
Mentoring and inspiring others
Laslo-Baker's future plans include moving toward plastic-free packaging and making DeeBee's carbon neutral through emissions reductions and offsets. She also enjoys giving back to the community by mentoring female founders, investing in female-led businesses and spreading the word about ESG to inspire other business leaders.
"I love being able to share experiences so I can pass it forward," she says. "I hope I can inspire as many people as possible."
ESG can help you reach larger clients
Discover how ESG criteria are changing procurement practices and impacting suppliers in Canada in BDC study ESG in Your Business: The Edge you Need to Land Large Contracts