Passion for the planet behind launch of overnight business success
Indigenous values inspire
FILL,
an innovative new green company
9-minute read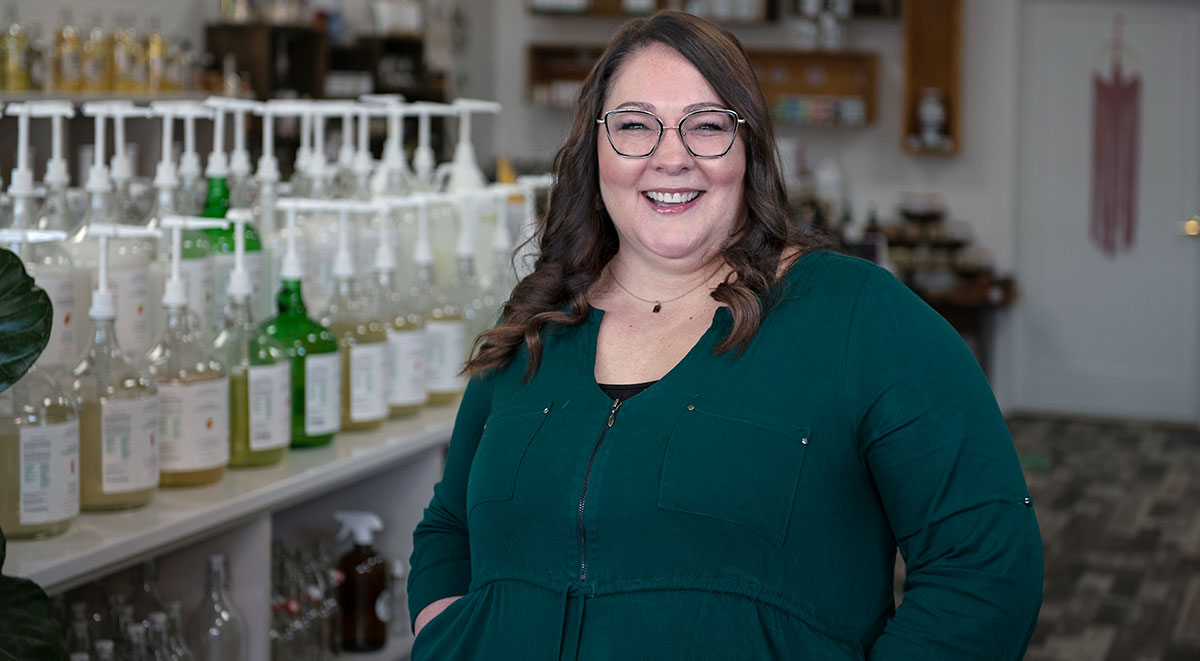 Teresa Sanders, Founder, FILL – Vernon's Refill Store
In December of 2018, Teresa Sanders read an article about the rate of plastic recycling in the world—and it changed her life.
Sanders had a successful 20-plus year career as a health provider, with seven weeks holiday a year, a robust benefits package and a great pension. In December of 2020, she gave it all up to start FILL – Vernon's Refill Store in her town of Vernon, BC.
It sounded like a crazy plan to many of her friends and colleagues, but Sanders felt driven to make the change.
"I read an article that blew my mind. I discovered that just 9% of plastic worldwide is actually recycled, which means that 91% is ending up in the landfill or the ocean, and Canadian stats aren't that much better," says Sanders.
She immediately began researching the numbers and was shocked by what she found.
"I felt bamboozled. I thought I was doing my part by recycling just to find out that there was less than a 10% chance that my plastics would end up actually being recycled," Sanders says.
Overnight she began building a plan to start a refill company, to help residents in her home community of Vernon reduce their use of plastic containers. She spent a year researching the sector and building a business plan.
As a Métis entrepreneur, Sanders says her Indigenous heritage helped shape the values of the company she was building.
"When you look at Indigenous culture there is a sense of responsibility for the earth, so it was an easy alignment of values for me to jump into refilling. When I look at FILL values, we are very much trying to do whatever we can to make the world a greener place."
Taking the entrepreneurial leap
In 2019, with a business plan in hand, Sanders entered the BC Community Futures Enterprize Challenge, winning first place. The award gave her access to prizes that played a key role in her first year of operation. Among those was access to an accountant who looked at her plan, her numbers and told her whether her plan would be viable or not. The thumbs up she received gave her the courage to take the leap.
"It was a real confidence boosting moment because if at the end someone who knows, says that this is a viable business, then it makes it much easier to quit your job of 20 years," Sanders says with a laugh.
In December of 2020, Sanders opened the doors of "FILL – Vernon's Refill Store" to Vernon residents.
"It was an absolute rocket launch. From the moment we opened the doors we were making money! We were so very fortunate. Our community completely embraced us and were really excited about the opportunity to reduce plastics."
Environmentally responsible products, locally sourced
The store encourages customers to bring in their own used (and cleaned) containers and bottles to fill up, and it could be anything from shampoo and wine bottles to yogurt containers. The containers are weighed as the customer enters the store, the customer chooses their product and fills their bottle, and it is weighed again before the customer is charged.

FILL offers a wide, every-growing, range of environmentally friendly products, many produced by Certified B Corporations, including dish soap, laundry soap, fabric softeners, hand soaps, shampoos, conditioners, body wash, lotions, face wash, face masks, moisturizers, shampoo bars, toothpaste, and deodorant.
"About 90% of our products are Canadian-produced products. We try to support local as much as possible, so we work to purchase from Vernon, Armstrong, Invermere, another Kootenay product lines, Vancouver, Victoria and then products from Ontario and Quebec," she says.
Over time the volume of FILL products sold has increased dramatically. Sanders used to order 2500 dishwasher tabs to last her store 6 months. She now orders 6,000 tabs per month, and she buys shampoo in 240 litre batches.
The effect of a refill store is measurable: after her first month of operation, Sanders counted the plastic containers saved through FILL's container re-use process. She was stunned to realize the store had saved 6,000 plastics from hitting the landfill.
By the end of 2021, the store has saved more than 126,936 plastics containers from the landfill.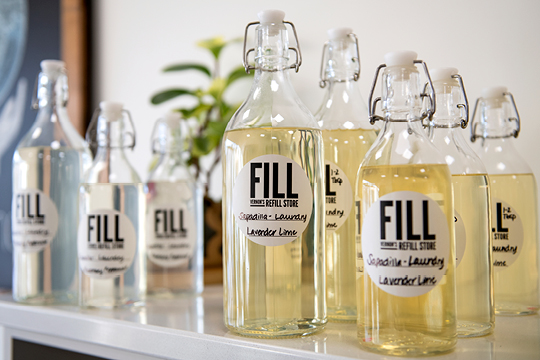 How to sell
3800 litres

of hand sanitizer

The arrival of the pandemic and the resulting lockdown in March of 2020 brought new challenges to a store that asked customers to bring their own containers for their products.

Sanders made some quick decisions: the store pivoted to filling glass containers, which were returned to the store for re-use when it was able to open to the public later that spring. She also began working with a Kelowna company that was making hand sanitizer to secure a supply of natural hand sanitizer that was Health Canada approved.

FILL began supplying doctors' offices, dentists' offices, golf clubs as well as the local library. Hand sanitizer became such a popular item she had to bring in the product in 3 x 210-litre drums.

Sanders used the opportunity to set up a recycle process for the barrels used in transporting the sanitizer from Kelowna. Once empty, the barrels were sent back to Kelowna for re-filling.

To date, FILL has sold more than 3800 litres of hand sanitizer.

"We try to do as much as possible with our suppliers to help close the loop and make our process a circular economy," says Sanders.
Expanding to Kelowna
The summer of 2021 brought a heat wave and then devastating forest fires to the Okanagan. It cemented Sanders's resolve to do everything she could to promote environmental practices.
"I am haunted by what is happening to our earth, and what is happening to our world, and what is happening to our waters. We have to be able to make a difference and turn this around – that's become my motivation."
It was then that Sanders began considering franchising.
Customers were asking her to consider opening stores in other communities. Still driven by her passion to reduce plastic use globally, Sanders decided to open another store. In November 2020 she opened a FILL in Kelowna.
"It was a harder start because ten days in COVID restrictions were implemented and people were required to wear masks and avoid socializing, but by April things were much more open for us and our sales took off," she says.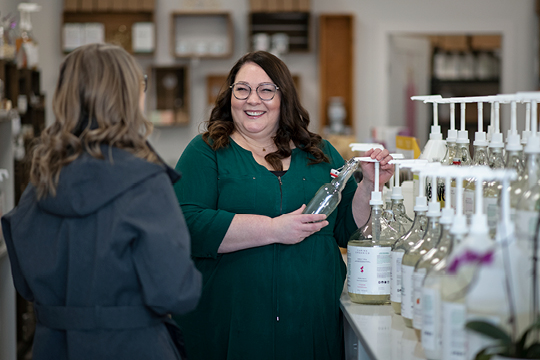 Transforming passion into a successful franchise
A chance meeting between her Kelowna business partner and a representative from BDC led Sanders into deeper discussions about franchising. Not only did BDC give her a business loan to cover the cost of franchising, the BDC representative connected her with a business consultant who has since been working with Sanders on the development of a franchise business plan.
"He's really streamlined what I need to do to try and get my business franchise ready, so I have much more confidence in proceeding with a franchise model. I've found that BDC is really cheerleading for me, and that's not something I've had before with a bank," says Sanders.
In November she was a finalist in the Pow Wow Pitch, which included submissions from more than 1600 Indigenous entrepreneurs. She was also awarded the 2021 Small Business of the Year by the Vernon Chamber of Commerce.
"BDC has been cheerleading for me all the way. I made a presentation, with another entrepreneur from the Yukon, to BDC staff, just to talk about how BDC is standing behind us, and to give their staff an understanding of what their work really means for entrepreneurs," says Sanders.
She is excited about what the future holds for FILL.
"I would love to be able to see refill stores in every community whether its FILL or another store – I really feel that it's a benefit to our earth."
For now, Sanders plans to continue her franchise journey with BDC, focusing on BC. Eventually she hopes to look more broadly at opening refill stories in communities all across Canada.