When environmental concerns guide growth
The elimination of plastic packaging motivates the growth of this
Quebec-based
company
5-minute read
Anie Rouleau finds perfumes intolerable because they give her dreadful migraines.
Trying to find fragrance-free laundry detergent, body lotions and shampoo used to be a search that took her all over town. It was so difficult that she started making her own products.
Coming from a family of entrepreneurs, Rouleau always envisioned launching her own company. She knew she could create a line of fragrance-free, natural, effective products with a sought-after visual identity. However, while she was thinking about her business, something else kept her awake at night.
"With a continent of plastic in the Pacific Ocean, I couldn't believe I would be getting into one of the industries that contributed to the great scourge of the plastic bottle," she says.
"It was clear from the outset that I was going to do everything I could to eliminate or minimize their use."
Certifications for company structure
Entrepreneurs are increasingly concerned about the impact of their activities on the environment, according to the results of a study published by BDC in 2021.
The study, based on a survey of 1,515 Canadian entrepreneurs, found that 83% of them consider it their responsibility to take concrete action to protect the environment. About the same proportion (83%) say they have already adopted concrete measures to reduce the environmental impact of their activities.
It's these kinds of fundamental environmental principles that Rouleau had in mind when she created Unscented in 2016. Her company holds the B Corp certification, awarded to companies that believe that their purpose is not just profits, but also social and environmental good.
"B Corp helped me structure my company and grow it based on my values," Rouleau says. "My vision for the organization is much clearer thanks to their rigorous certification process."
Her company is also Leaping Bunny certified, which ensures that no product testing is performed on animals.
Holding clear values has not hindered the company at all, but instead guided its growth. In one year, Unscented's sales increased from $2.7 million to $7 million.
Innovating to eliminate plastic
Rouleau's desire to free her company from plastic draws her into a never-ending race for innovation. This choice greatly influences the development of new products.
Unscented offers bulk-buying at several points of sale. But while these products account for nearly 40% of the company's sales, not every customer shops that way. Rouleau has found other solutions. For example, she sells her laundry detergent in a 2-litre plastic container, with the option of buying 4-litre or 10-litre refills in a cardboard box that includes a plastic bag.
"We have also just launched laundry soap tabs sold in cardboard boxes," Rouleau says. "We won't be able to get rid of plastic overnight because we have to change people's consumption habits. It's a process that takes time, but it will come."
The entrepreneur is also increasing efforts with her shampoo. While it's possible to buy their product in plastic bottles, Unscented also offers bar shampoo sold in cardboard packaging.
"We were five years ahead of our time, but we've already sold 50,000."
Rouleau is also working to reduce labelling and the use of glue. "If we can make origami, we do," says the entrepreneur, who is located in the Ville-Émard neighbourhood in Southwest Montreal.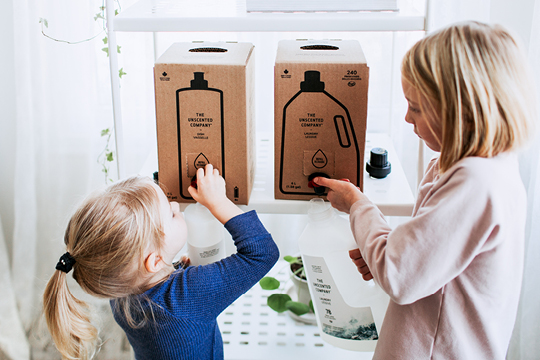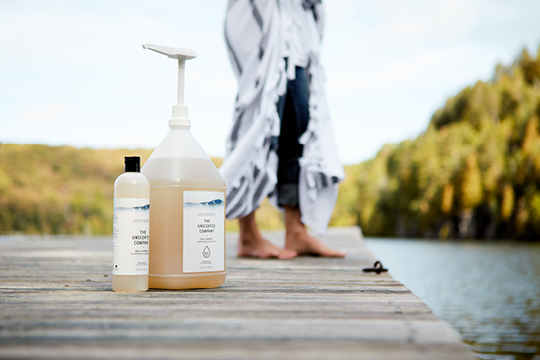 Local sourcing
Long before the outbreak of the pandemic in the spring of 2020 revealed the importance of local sourcing to the world, the issue was on Rouleau's mind. She estimates that she sources 90% of her supplies within a 500-km radius.
However, importation remains unavoidable for some of her products, due to the lack of available machinery in Canada.
"For example, I sell dishwasher detergent tabs, but I have to buy the finished product in France because we don't have the technology locally to produce them," Rouleau explains. "Here, we are very efficient with pods that include liquid, but I don't want to produce them because they require plastic packaging due to the risk of breakage."
She also has components she cannot find locally, such as the pumps for soap bottles. "I import them from China. Their price increased fivefold at the beginning of the pandemic."
Bringing expertise back to Canada
Rouleau wants to convince local companies to invest in machinery that can produce what is currently unavailable in Canada.
"Quebec has let the manufacturer down for these kinds of objects because it's not sexy compared with other high-tech sectors like aerospace," she says. "But we need it. The pandemic has re-emphasized what is essential. I think that will stay. We must all work together to allow Quebec companies to source their supplies here."
This willingness to work with her community to bring about change is something she gets from her parents.
"My parents were entrepreneurs and they showed it throughout the village of Saint-Isidore, in Montérégie," she explains. "My father used to organize the Santa Claus parade. He even carried out a fundraising campaign to buy a house so that a Cambodian family that arrived by boat could settle in the village. Times have changed, but I think we're going back to the idea of community. Entrepreneurs are expected to get involved."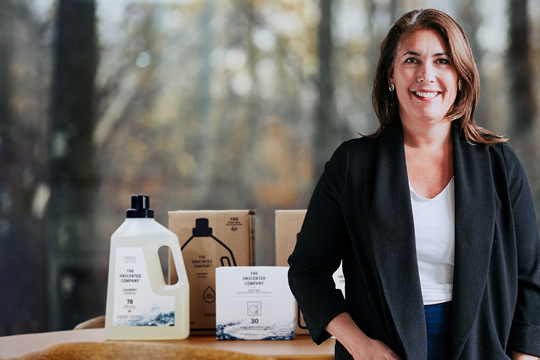 Controlled growth
If Unscented's story began as a small local business specializing in natural and environmentally friendly products, the company has now made its way into several large Canadian chains.
"I'm taking it one step at a time to control my growth, according to my means," Rouleau says.
Next, she wants to take her products to the American market. Her goals are ambitious, but she keeps her initial motivation in mind.
"There are still challenges, for example with body lotion, but one day we will have a full range of body and household products without plastic packaging."