What is an electrified fleet?
An electrified fleet is made up of electric vehicles (EVs) or zero-emissions vehicles (ZEVs), two terms that are both used to describe the following types of vehicles: battery-electric, plug-in hybrid electric and fuel cell electric vehicles.
From cargo vans to pick-up trucks, buses to commuter cars, more and more automobile manufacturers are producing viable replacements for fossil fuel-powered vehicles. But you need more than just vehicles for a thriving EV fleet—you also need the appropriate charging infrastructure and a thorough fleet management plan.
The benefits of electrifying your fleet
Driving an EV is more energy-efficient than a gas-powered car, because EVs are more efficient at converting electricity into forward motion. The annual fuel costs for EVs can be nearly seven times less than it is for gas- or diesel-powered vehicles. EVs also generally have lower maintenance costs.

However, there are some drawbacks: EVs have high upfront costs, diminished battery performance in cold weather, and negative social and environmental impacts from the resource extraction required to make batteries.
Positive impact on your business
Cost reduction
Low impact
Although the upfront costs are high, they can be offset by decreasing your reliance on gasoline.
Employer brand
Medium impact
Investing in electric cars demonstrates your commitment to reducing GHG emissions.
Risk management
Medium impact
Future-proof your business by keeping up with electric vehicle technologies, which are becoming increasingly common.
Roadmap to electrifying your fleet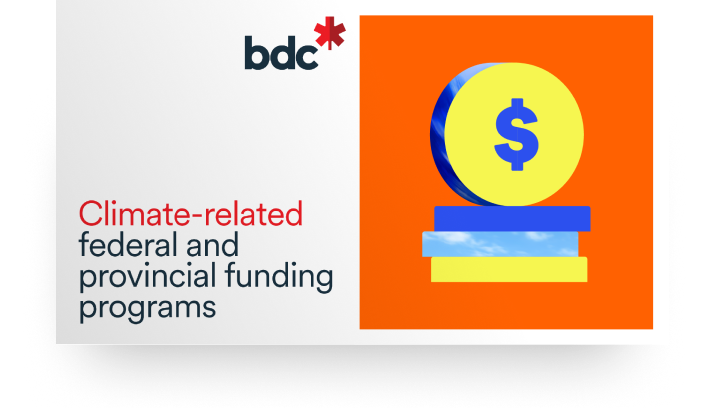 Find the right grant for your climate action
Discover our list of over 60 governmental active grants, tax credits and loan programs to support the environmental initiatives of Canadian businesses.
Resources
Free consultation on electric vehicle (EV) adoption
Register for a one-on-one call with an expert who can answer your questions about adopting EVs in your business. Available for a limited time.
Natural Resources Canada: Zero Emission Vehicle Infrastructure Program
The Zero Emission Vehicle Infrastructure Program helps communities and businesses offset the costs of EV charging infrastructure.
The content of this webpage is provided for information purposes only, and the reader is responsible for any decisions resulting from its use. The results of applying the content are not guaranteed by BDC and may vary depending on the context, market, sector, financial situation and size of the company. Content originating from a source outside of BDC is the sole responsibility of the author of that source.