Transportation management
Article

|

16-minute read
How to install electric
vehicle (EV)

charging stations for your business

The ultimate guide to workplace charging in Canada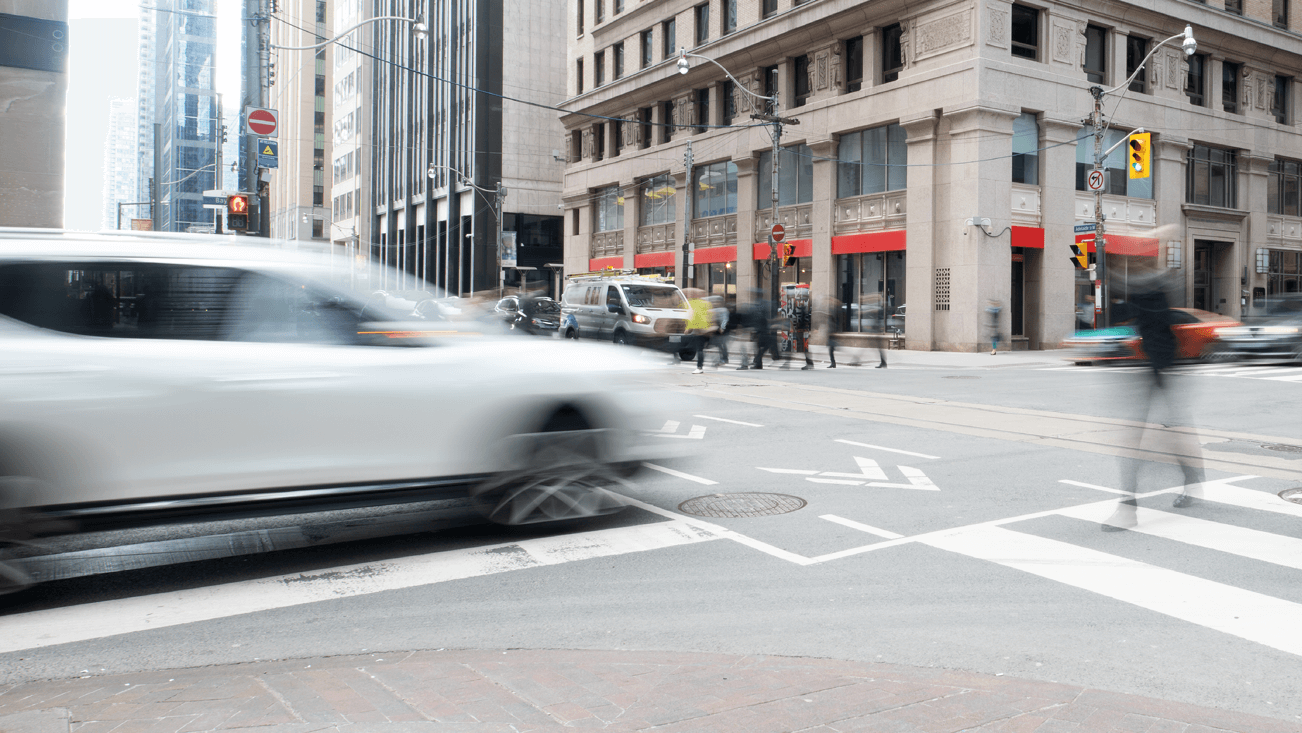 As the number of electric vehicles (EV) rises, so is the demand for charging stations (Electric Vehicle Service Equipment or EVSE) from customers and employees.
Book a free consultation on electric vehicles (EV)
Still have questions? Sign up for a free, 50-minute-long consultation call to learn more about how to select and maintain EVs, how to install charging stations, how to apply for financial incentives, plus anything else you need to know to start your project.
Below, this article will introduce EV basics and discuss how to assess demand and capacity to see if charging stations are right for your business. Then, it'll explain how to begin with the selection, installation, and budgeting for EV charging stations.
The basics of workplace charging
Types of electric vehicles—there are two main types of electric vehicles.
Battery electric vehicle (BEV)
T

Plug-in

hybrid electric vehicle (PHEV)
Fuel type
Electric battery
First powered by electric battery, then gasoline, driver selectable
Typical range

100-500

km

25-80

km

all-electric

range 400-1,000 km gasoline range
Tailpipe emissions (CO2 g/km)
0 g/km

30-150

g/km
Recharge time

5 to

12 hours (on Level 2 charger)

2 to

4 hours

(on

Level 2

charger)

Source: Plug'n Drive
Charging stations—these work because they are connected directly to an electrical distribution panel or electrical outlet. Most charging stations come equipped with one or two charging cables, often referred to as charging "wands." Each charging cable can charge one vehicle at a time. Once a driver plugs the cable into their car, a light indicator comes on notifying the driver that A) a secure connection has been made and B) the car is now charging.
Some other features you might see on a charging station include a credit card/RFID reader, a cord management system that prevents the cables from falling to the ground when they are not in use and/or a digital screen with instructions on how to use the station, information about the charging session (duration, energy used, charging speed, etc.) and/or other content.
Diagram of a charging station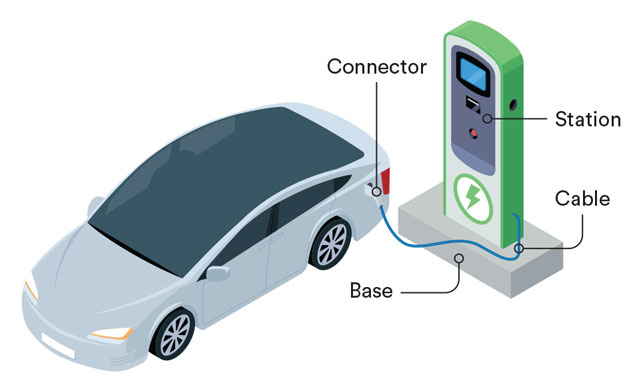 3 most common options for installing workplace charging
Buy the charger outright and operate it yourself (either install a dumb (

non-networked

) charger or install

third-party

operating software).
Create your own network of chargers (if you want to pick a supplier from a list of EV charger manufacturers).
Ask a network to install their charger on your property. The network owns and operates the equipment and pays a small land lease fee back to the property owner.
Below, we put together a guide for installing workplace charging grouped into five steps. It would be most useful for businesses interested in options 1 and 2, but it presents a simple summary of the installation process that could benefit option 3 as well.
Step 1: Assess the demand for EV charging stations in your business
Before you put money and time into installing EV charging stations, make sure that it's right for your business and its people.
Assessing demand from your employees—Surveys are a useful tool to determine existing demand for EV charging within the workplace and to better assess future demand.
Here are questions you can ask employees to assess existing demand:
Does the employee already have an EV? If so, what EV type (fully electric or

plug-in

hybrid), make and model?
Does the employee think that EV charging at work is required?
Would the employee use EV chargers if they were available?
Would the employee pay a fee? If so, determine an acceptable price range.
What is the distance of the employee's daily commute?
How many times during the workday does the employee move their vehicle?
Is the employee interested in participating in an employee working group for workplace charging?
You can also ask employees questions to assess future demand:
Is the employee considering purchasing an EV in the next 12 months?
Would the availability of EV charging at work increase the likelihood of the employee purchasing an EV?
Assessing demand from your customers—Customers and visitors to your business are harder to predict. There are third-party survey companies that can help you ask questions, or you can do your own research about EV adoption rates for your province and client demographic. The important thing is to think ahead: even if your customers and visitors do not own an EV now, how likely are they to buy one in the next year? The next five years? In 2021, one out of every twenty new cars registered were zero-emission vehicles (5.2%). Would installing EV chargers at your place of business offer an amenity to your customers that would give you an advantage over your competitors?
Step 2: Assess the capacity for installing EV charging stations
Next, take stock of your infrastructure to see if the project is feasible.
Several factors affect the difficulty of the project: whether you own and operate the property, whether the property is located inside an urban area, the accessibility of electricity, etc.
Ownership—the installation would be easiest if you own the building. If not, then contact the property owner or facility manager to discuss the project.
Parking capacity—do you have the space in your parking lot to accommodate the chargers? It is important to note that once the parking spot has been designated for EV charging, non-plug-in cars cannot park in that spot. Local bylaws often enforce this. It is a charging spot, no longer just a parking spot. Similar to a gas pump, you would not park your car beside a pump and walk away to do grocery shopping. Here are some factors that will help you determine your workplace charging parking capacity.
Number of available parking spots
Number of employees who park

on-site

Number of employees interested in workplace charging (now and possibly in the future) and their average parking time
Remember to account for future demand as well—people who do not own an EV today may buy one in the next few years.
Electrical infrastructure—work with your electric utility provider or electrical contractor to determine the location of the power source, the existing amount of available power, and the capacity to increase power supply. The higher the level of charging, the more power is required to supply the station.
Station power level
Power requirements
Level 1
120V, dedicated

15-20A

circuit
Level 2
240V, dedicated

30-80A

circuit
DC Fast Charge
3-Phase DC power supply, 400-800V,

100-400A
To figure out what level charger you require, read on.
Step 3: Choose what EV charging stations to buy
You'll probably undertake Steps 2 and 3 at the same time, shopping around for EV charging stations and assessing if it is possible to install them at your business. With the multitudes of EV stations and manufacturers out there, how do you choose among them?
The expert's advice for selecting the most appropriate hardware is to make a list of your most desired features and check them against the vendor's equipment specifications and their operating network. In simple terms, write down what you are looking for and then see if vendors can meet your needs.
Here are some questions to guide you.
1. Which charging level do you need between
Level 1

vs.

Level 2

vs.

Level 3

(DC Fast Charge)?

At a glance: Comparison of charging levels
Level 1

Level 2

Level 3

(Fast Charge)
Voltage
120V
208V or 240V
400V to 800V
Current type
AC
AC
DC
Useful power
1.4kW
7.2kW
50kW
Maximum output
1.9kW
19.2kW
150kW to 350kW
Charging time (for a completely discharged

16-kWh

battery)
Around

8 hours

Around

2 hours

20 to

35 minutes

for 80% charge
Connector
SAE J1772/Tesl
SAE J1772/Tesla
SAE/CCS/CHAdeMO/ Tesla Supercharger
Most commonly used
At home
At home and at work
At work (useful for scenarios where time or parking capacity is limited
Cost of installation
Least costly to install
Costly, but note that most federal and provincial incentives require at least a

Level 2

charging speed
Most expensive to install
If parking capacity is low, using Level 2 or DC fast chargers along with an imposed time limit will maximize the use of the charging stations.
If your parking capacity is high or medium—as in, your business has both the parking space and time allowance for people to leave their EVs for a while—consider using Level 1 or a mix of Level 1 and 2 charging. The longer charging times will allow people to recover more of their vehicle kilometres for the daily commute.
In recent years, there has emerged another type of EV charging station that uses battery-integrated electricity storage. These stations have their own batteries inside that draw and store energy from the energy grid. This allows for high-powered charging on low-power infrastructure. Battery-integrated EV chargers have lower installation costs and lower operating costs. That is because using this type of charger can avoid the higher cost of electricity when consumption exceeds utility price thresholds (often called "demand charges"). Only a few manufacturers offer this option at present.
Keep in mind that in Canada, most federal and provincial benefits for EV charging stations require at least a Level 2 charging speed.
2. What kind of access?
Charging stations can be open access, meaning that anyone can use it, or member-only access. Member-only access can be controlled through a RFID card, smartphone app, or an activation code.
You might also decide on special access for employees at certain times and publicly available at other times.
3. Who will take on the operating cost?
Workplaces have the option to fully own and operate the charging stations or outsource this to a third-party owner and operator.
The cost includes the equipment activation fee as well as a monthly communication and data access fee.
To offset this, you might want to charge a fee per charging session plus a fee per minute or hour (you can provide special rates for employees versus the public). One benefit of this is that even a small-time fee (that continues even when the car is done charging) motivates drivers to vacate charging spaces, allowing more drivers to use the stations.
Once you've answered these questions, start shopping around for EV stations.
Step 4: Make a budget (with the help of provincial incentives for EV charging stations)
Our list of EVSE manufacturers includes a non-exhaustive list of price estimates, but the installation will cost more than just the price of the equipment. When you're making your budget, potential budget items include:
EV charging equipment
Contract labour
Internal labour
Materials/incidentals
Equipment rentals
Pavement demolition and repair
Signage and paint
Permits and inspection costs
Civil work and electrical upgrades are typically the most expensive costs. Keep in mind that the further the charging station is from the electrical panel, the more expensive the installation will be!
Book a free consultation on electric vehicles (EV)
Still have questions? Sign up for a free, 50-minute-long consultation call to learn more about how to select and maintain EVs, how to install charging stations, how to apply for financial incentives, plus anything else you need to know to start your project.
Depending on your province or territory, there may be financial incentives for installing EV charging.
Step 5: How to install EV charging stations
Now you're ready to start the actual installation. You can get an idea of how difficult the project is in the list of scenarios.
Workplace charging scenarios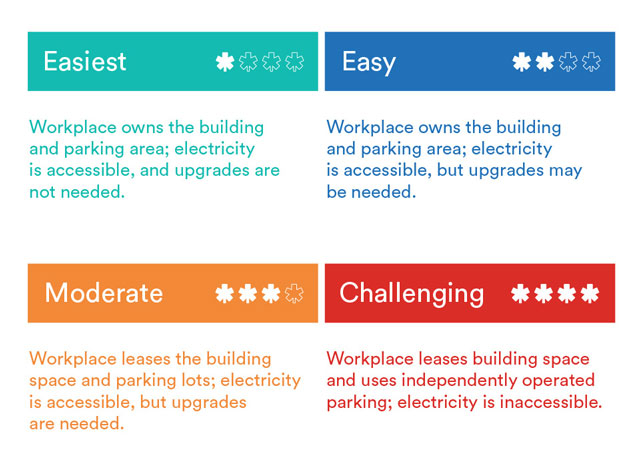 The key decision makers who need to be involved include the property owner, parking lot operator (if different from the building owner), building and facility operations staff, human resources staff and legal counsel.
In summary, below are the most important steps.
1. Hire an electrical contractor (and draw up an engineering plan for installation)
Your contractor can help you by preparing an engineering drawing for installation. They will also help you assess your capacity and work out technical details (e.g., speak with electric utility company about your power needs).
Workplaces should check the following:
Ensure the installer is a qualified, certified electrical contractor.
Confirm that all equipment is certified for use in Canada by a nationally recognized certification agency – for example, CSA, cUL, cETL.
One tip to keep in mind: to minimize installation costs, place the charging stations as close as possible to the power source.
2. Discuss the project with the property owner/facility manager (if required)
If you're not the property owner, let them know what you're planning. Answer the following questions to plan out the project.
How many EV charging stations are required?
Where will the EV charging stations be located?
Who has ownership?
How are costs shared?
Who has maintenance responsibilities?
Will you take user payment for service?
Who is responsible in case of vandalism?
Are there lighting/shelter requirements?
Who will put up necessary signage?
Will you have smart grid/load management?
3. Acquire the necessary permits from the governing authority
These differ by location, but things to consider include public planning, funding/grant requirements, siting locations, traffic, and signage.
Frequently asked questions
Can I make money with EV charging stations at my business?
The short answer is, "it's complicated." The long answer is that while you can charge a fee for using the stations, it is unlikely to recover the installation and equipment costs within a few years of use (i.e., you are unlikely to turn a profit through charging alone).
One way to think of EV chargers is that they are an investment for the future: the number of EVs on the roads is rising. By 2035, the Government of Canada will require 100% of new cars and trucks to be zero-emission vehicles. Installing charging stations can help you attract and retain employees, as well as boost customer traffic to your business by attracting the growing number of EV drivers.
Can any EV use any charging station?
Almost. The biggest split is between Tesla and non-Tesla EVs.
For Level 1 and 2 charging—as a standard, all non-Tesla EVs use the SAE J1772 connector. Tesla cars require an adapter, but they can also use the SAE J1772. This means that all EVs in North America can use any charging station with the standard J1772 connector.
For Level 3 (DC Fast Charge)—for high-speed charging, there are three different connector types: CHAdeMO, Combined Charging System (CCS), and the Tesla connector.
The CHAdeMO standard originated in Japan and was used on the Mitsubishi i MiEV and Outlander and the Nissan LEAF. Because the LEAF has been in the North American market for over 10 years, almost all the DC fast chargers currently installed include a CHAdeMO connector. Most DC fast chargers continue to be equipped with CHAdeMO. Tesla vehicles can use CHAdeMO with an adapter.
The CCS standard was developed in North America and combines the J1772 charging inlet for L1 and L2 with charging lugs for L3, all in one neat connector. All other non-Japanese-manufactured cars use CCS. Tesla can use CCS with an adapter.
Tesla Superchargers are installed and maintained by Tesla. Non-Tesla EVs cannot use them.
Are EVs better for the environment than gas-powered cars?
Yes, although the carbon footprint would be the lowest in a province that has the most renewable energy. Even in a province with a larger amount of fossil fuel-generated electricity in the mix, such as Alberta, it is still more energy efficient to drive an EV. Compared to gas-powered cars, EVs are more efficient at converting electricity into forward motion. The efficiency of energy conversion from on-board storage to turning the wheels is nearly five times greater for electricity than gasoline, at approximately 76% and 16%, respectively. If both an EV and a gas-powered car travel 100 km, the EV "burns" less fuel overall vs. gas for the same distance.
Technology moves fast. What if I install EV charging equipment and it goes obsolete, or the company goes out of business in a few years?
What you want to do is avoid stranded assets.
Technology continues to move quickly, and the last thing you want to do is buy EV charging equipment that will be obsolete in a couple of years. Smart-networked EV chargers use a software operating system that is sometimes proprietary to the machine. If the network that operates your machines uses proprietary software and goes out of business, the machine may stop working. Thus, a useless stranded asset. Most of the reputable EVSE manufacturers use an operating system called OCPP or Open Charge Point Protocol. An EVSE using OCPP as its operating system can be controlled by any network that also uses OCPP as their operating system. This way, if your network goes out of business, you can choose another that uses OCPP to run your machines. This eliminates the risk of a stranded asset.