Transportation management
Article

|

8-minute read
How to switch over to electric vehicles in your business fleet
With some research and a solid plan, you can make a
cost-effective
transition to electric vehicles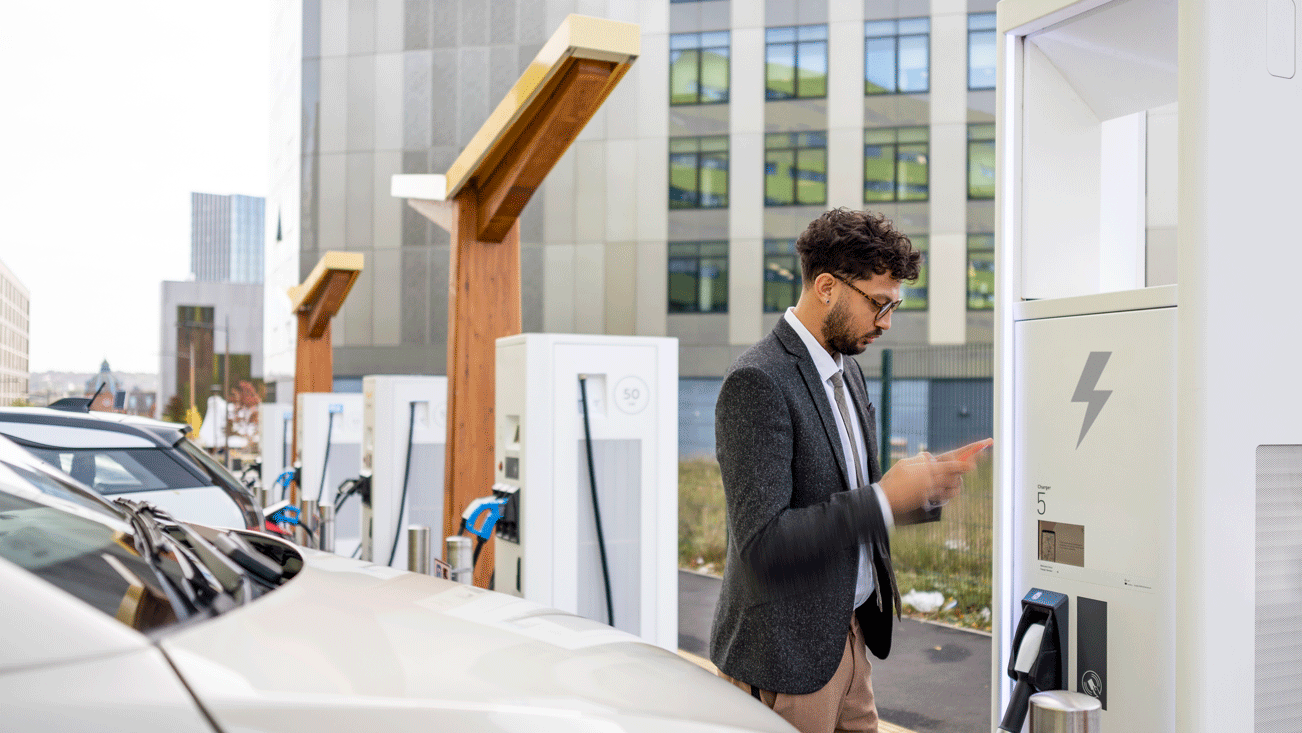 Not so long ago, there were only a handful of electric vehicles (EVs) on the market. Now, manufacturers are rolling out a growing array of models, including trucks, vans, buses and other commercial vehicles.
Book a free consultation on electric vehicles (EV)
Still have questions? Sign up for a free, 50-minute-long consultation call to learn more about how to select and maintain EVs, how to install charging stations, how to apply for financial incentives, plus anything else you need to know to start your project.
That's allowing more and more companies to transition to an electric fleet and reap the benefits of not only lowering their greenhouse gas (GHG) emissions, but also cutting their operating costs.
However, as you make the decision to switch to EVs, also consider the drawbacks. The lithium mining required to make batteries has social and environmental impacts. Also consider what you'll do when cold weather diminishes an EV's battery performance and reduces the driving range, an unavoidable reality in Canadian winters.
Why go electric in your vehicle fleet?
Reduce emissions—EVs and plug-in hybrid vehicles emit little to no GHGs into the atmosphere while in use. The electricity that powers them might be generated from a range of energy sources that are renewable or not, depending on your location. However, no matter where you plug in, a fleet of EVs emits significantly smaller quantities of GHGs and other airborne pollutants compared to gas-powered vehicles.
Going electric is a pertinent decision at a time when pressure is building from governments, customers, employees and other stakeholders for companies to help in the fight against climate change.
Lower fuel costs—Depending on where you're located in the country, fuel costs for EVs can be up to seven times lower than for gas- or diesel-powered vehicles. Switching to EVs can save a lot of money at the pump, says Ron Groves, a Product Specialist with Plug'n Drive, a Toronto non-profit that works to promote the adoption of electric vehicles.
EVs can also save you time, Groves adds.
"One of the greatest advantages of owning an EV is being able to refuel at home and at work—whether that's your driveway or garage, or your business's parking lot or fleet yard," he says. "When that vehicle is done for the day, it doesn't have to stop at a gas station and fill up."
Lower maintenance costs—Even though EVs cost more upfront to purchase, they are less expensive to maintain and require fewer repairs because their engines have fewer moving parts. You can do away with oil changes, coolant flushes and transmission and exhaust system issues, among other savings.
Performance of different vehicle types
Internal combustion engine (ICE) vehicle
Battery electric vehicle (BEV)
T

Plug-in

hybrid electric vehicle (PHEV)
Fuel type
Gasoline or diesel
Electric battery
First powered by electric battery, then gasoline, driver selectable
Typical range

400-1,000

km

100-500

km

25-80

km

all-electric

range 400-1,000 km gasoline range
Tailpipe emissions

(CO2 g/km)
250 g/km (typical passenger vehicle)
0 g/km

30-150

g/km
Recharge time
A few minutes for refueling

5 to

12 hours (on Level 2 charger)

2 to

4 hours

(on

Level 2

charger)

Source: Plug'n Drive
Improve your fleet efficiency—EVs are equipped to provide data to keep your fleet running smoothly. They have sensors that constantly monitor a vehicle's operation, providing real-time information, such as mileage, driver performance, charge level, service status, tire pressure and more.
"Right from their desk, a fleet manager can log into a truck to see where it is and how fast it's going or get historical data, such as how many kilometres it's travelling daily," Groves says. This information gives you a better understanding of your vehicles' performance and how to improve fleet management.
How to make the transition to an electric fleet
1. Assess your current fleet
A good place to start a vehicle electrification project is by evaluating how much you're currently spending on fuel, maintenance and repairs. This data will help you calculate potential gains from transitioning to electric vehicles.
"Businesses often find that their assumptions about their energy use and their hesitations about switching to electric are disproved by the data," says Stéphane Pascalon, Senior Project Manager with Propulsion Québec. "That's why it's important to have an educated understanding of your current operation."
Gathering data on your fleet will also help you plan changes to driver routes and refueling times that might be necessary after your transition, given that EVs have different refueling requirements than internal combustion vehicles.
2. Plan the transition
Before you buy new EVs, you need to look at your entire electrification project, including the investments involved.
Are equivalent EV versions available to replace your current fleet? Will they do what you need them to do?
What's involved in setting up charging stations? Do you have adequate space and power supply?
What is an estimated budget for your project?
Besides answering these and other questions, project planning will help you time your vehicle acquisitions. That's important not only for your financial management, but also because increasing demand for EVs and charging infrastructure means you may face delays in getting vehicles and equipment.
It will also give you time to line up external financing, which is a better option for most businesses because it protects your cash flow for day-to-day expenses and unforeseen circumstances.
In addition, there are many government incentives (federal, provincial and municipal) designed to encourage businesses and consumers to buy EVs as society shifts away from fossil fuels. The federal government's Zero Emission Vehicle Infrastructure Program can help you offset the cost of setting up your EV charging infrastructure.
3. Start with a pilot project
It's wise to start small to get the proof you need that EVs will work for your business. Groves recommends that companies begin with one or two vehicles and the necessary charging infrastructure.
A pilot program will enable you to collect information from vehicles, drivers and chargers to determine how EVs fit into your day-to-day business before you go ahead with a major rollout.
A pilot project will also allow you to take stock of your current infrastructure to see what steps you might need to take to transition to an electric fleet, including:
whether you have space to install charging infrastructure
whether you will need to upgrade your electrical capacity for greater demand
4. Invest in the right charging infrastructure
Buying and installing the charging infrastructure for an electrified fleet can be one of the biggest investments you make. Groves suggests installing all chargers at once—or at least roughing in the infrastructure for the entire fleet—to reduce the costs of bringing an electrical contractor in multiple times.
There are three different types of EV chargers. The higher the level of charging, the more power delivered to the vehicle and the faster the charge.
Level 1 charging uses a common

120-volt

household electrical outlet. All EVs or

plug-in

hybrids can be charged with this type of charger. However, Level 1 is the slowest way to charge an EV. Typically, it takes about

20 hours

to charge a battery enough to go

200 kilometres.

Level 2 chargers are plugged into a

240-volt

outlet and require a slightly more complicated setup. These chargers allow you to charge your EV up to

10 times

faster than a

Level 1

charger.

Level 3

chargers, or direct current fast charging (DCFC) stations, are considerably more powerful than

Level 1

or

2 stations,

so they can charge an EV much more quickly. It usually takes about

30 minutes

to charge a battery from zero to

80 percent.

Although all EVs can be charged with

Level 1

and

2 stations,

only some models can use

Level 3

chargers.
At a glance: Comparison of charging levels
Level 1

Level 2

Level 3

(Fast Charge)
Voltage
120V
208V or 240V
400V to 800V
Current type
AC
AC
DC
Useful power
1.4kW
7.2kW
50kW
Maximum output
1.9kW
19.2kW
150kW to 350kW
Charging time (for a completely discharged

16-kWh

battery)
Around

8 hours

Around

2 hours

20 to

35 minutes

for 80% charge
Connector
SAE J1772/Tesl
SAE J1772/Tesla
SAE/CCS/CHAdeMO/ Tesla Supercharger
Most commonly used
At home
At home and at work
At work (useful for scenarios where time or parking capacity is limited
Cost of installation
Least costly to install
Costly, but note that most federal and provincial incentives require at least a

Level 2

charging speed
Most expensive to install
Because higher-powered chargers pull large amounts of electricity from the grid in short amounts of time, they will cost you more in power. That's why Pascalon suggests businesses aim to charge their vehicles as slowly as possible while still meeting their on-the-road needs.
Once you've determined the type and number of chargers you will need, contact your electrical contractor and utility to get answers to important questions like:
where the power source is located
whether your current power supply will meet your needs
whether you have the capacity to increase your power supply if it becomes necessary
5. Educate your employees
Chances are many of your drivers will have never operated an EV, so getting them on board is critical. First, make sure they understand the benefits EVs offer. Next, provide them with training on things like:
how to charge vehicles efficiently
how to maximize range by reducing power consumption
how to increase regenerative braking and

one-pedal

driving
the importance of slow acceleration and moderate highway speeds
This training is critical to your transition's success and will support the necessary culture shift.
"A few months in, we often see the most skeptical of drivers become the most ardent supporters," says Pascalon.
6. Monitor and measure progress
After the pilot program is completed and you have begun the transition to a fully electric fleet, continue to monitor your fleet's performance and emission reductions.
Is your new electric fleet meeting the goals you set out in the beginning? If not, tweak the plan. While switching to an EV fleet takes planning, investments and staff buy-in, the rewards can be long-lasting.
"An electrification project is a chance to stop and question your operations to find efficiencies," says Pascalon. Done right, it can save you money and help you cut
down on direct greenhouse gas emissions—and that's a win for both your business and the environment.