Successful mergers are all about compromise
While the choice of merging two companies is first and foremost a business decision, it must also come from the heart.
6-minute read
In August 2021, original equipment manufacturers (OEMs) Mecfor and Advanced Dynamics merged to create EPIQ Machinery, which makes equipment for primary aluminum production, pulp and paper and railways. Altogether it employs 225 people in Quebec, 250 in India and five in France.
The merger was far from an impulsive decision. In 2018, when Éloïse Harvey bought Mecfor, a Saguenay-based company owned by her father, a future large acquisition or merger was already on her mind.
"I always told my team that it was important to grow in order to reach a critical mass that would allow us to have the means to match our ambitions," recounts Harvey, now CEO of EPIQ Machinery.
A larger company can, for example, afford to hire different support professionals.
"This way, we avoid having one person wearing five hats and spreading their energy thin," Harvey says. "When you have an expert who gets up in the morning and goes to bed at night thinking about his or her expertise, that's when you see a difference, and the company gets better."
Merging business and values
Mecfor turned to Advanced Dynamics, based in Saint-Bruno-de-Montarville, for reasons beyond pure business logic.
The two companies both had about 100 employees in Quebec, and they had worked together for several years on large projects for primary aluminum production plants around the world. Their clients span from Brazil to the United Arab Emirates.
"Our work was complementary: Mecfor provided a key piece of equipment at the heart of the handling line for anodes produced by Advanced Dynamics," Harvey says.
"Sometimes Mecfor was the project leader, sometimes it was Advanced Dynamics. The technical teams were already used to working together and had the same passion to take on challenges."
The companies also shared the same family values. "They were both companies that took care of their employees, and when their clients asked for impossible projects, they never let them down, no matter the effort or cost," Harvey says. "If these had not been shared values, a merger would have been impossible."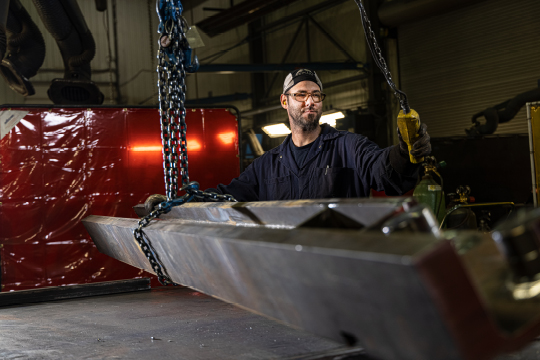 Merger partly motivated by labour shortage
At a time when 55% of Canadian entrepreneurs indicated having difficulty recruiting qualified employees, this merger allowed Mecfor to reach a new pool of qualified workers in the Montreal area.
Acquiring new talent is now a motivation for 30% of entrepreneurs who are thinking of buying another business, compared to 20% before the pandemic, according to a BDC study released in 2021.
The merger was also attractive to Harvey because Advanced Dynamics had established a manufacturing facility in Pune, India eight years ago that now employs 250 people.
"We will be able to continue to grow even though it's very difficult to hire in Quebec because of the lack of applicants," Harvey explains. "In India, the situation is completely different."
Both companies were also diversifying their non-primary metal businesses in interesting ways: Mecfor in railways and Advanced Dynamics in pulp and paper.
"By joining forces, we cover three major areas of activity," Harvey says.
The power of compromise
Even if two companies seem destined to be together, a merger is still a complex transaction. The process started with initial discussions between key players in both companies.
"I wanted to be sure it would work, so after getting confidentiality agreements signed, we started sharing information between department heads," Harvey says. "About 10% of our Quebec employees were involved in the merger process."
Professionals such as lawyers, accountants and tax specialist were then brought in to make sure nothing was overlooked. Their role was to identify anything that could end up being a problem in the merger.
"The key players in the transaction at both companies talked to each other almost every day," Harvey says. "We didn't want to leave any questions unanswered. We put our hearts and souls into it, it was very emotional at times. A business merger also means merging people and values. There's a lot of negotiation, a lot of unspoken words, a lot of perceptions. You have to talk to each other and make a lot of compromises."
For example, an agreement had to be reached on who would run the new company. Investment firm SeaFort Capital had been the majority shareholder of Mecfor since Harvey's purchase of the company. It was agreed that SeaFort Capital would also be the majority shareholder of the merged company. This private equity fund then allowed Mecfor to buy out most of the shares of two of the four Advanced Dynamics shareholders who were closer to retirement.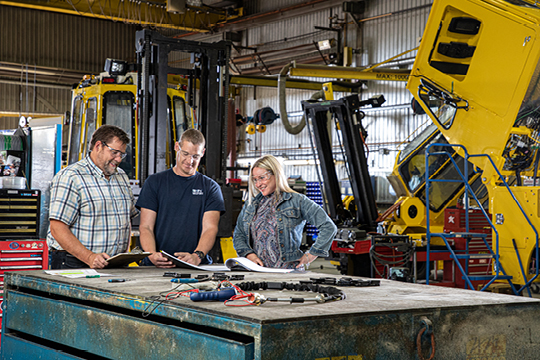 Creating an integration office
BDC Advisory Services supported the two companies in their merger, notably by creating an integration plan for the first 100 days.
"We had our businesses to manage, so we needed support to force us to take the time to structure the integration, with specific actions to take, and to determine who would do what and when," Harvey says.
This included preparing to break the news to employees. "Their working conditions had to be clear, and everyone had to understand the new governance system," she explains.
A team of executives from both companies got together at the integration office, which is responsible for carrying out the initial 100-day integration plan. Its role will evolve once the merger between Mecfor and Advanced Dynamics is completed and the structure of EPIQ Machinery is well established.
"We are the first OEM in Quebec to reach the critical mass that allows us to develop shared services. These will enable us to become a magnet for other small businesses that will want to focus on what they do best," Harvey says. "The integration office will target and welcome these companies."
While EPIQ Machinery will have $55 million in annual revenues this year, that number is expected to rise to over $70 million in 2022 and $100 million in five years through organic growth and acquisitions.
"We want to bring out the best in our homegrown talent, and then make our work known and recognized at home and around the world by becoming an iconic Canadian company," Harvey says.