Cheese entrepreneurs reap tasty growth from
well-planned

acquisition

After some initial bumps, Len and Kevin Thomson's business purchase is paying big dividends

5-minute read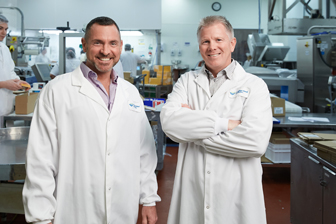 Len and Kevin Thomson thought they'd made the perfect acquisition when they bought Bothwell Cheese.
The brothers already owned Paradise Island Foods, a thriving business on Vancouver Island that packages and sells cheese for sale in B.C. grocery stores, restaurants and other commercial establishments.
In Bothwell, they were buying a cheesemaker with a national brand and reputation for quality.
What's more, the company had capacity in its southern Manitoba factory to meet all of its own and Paradise Island Foods' needs, with lots of room remaining for future growth. That meant the brothers would no longer have to buy cheese from a supplier in Alberta, who was also a competitor.
"The plan was all based on scaling up Bothwell's production, developing the Bothwell brand and supplying Paradise Island Foods," Len says.
They secured financing from BDC and another lender, beat out two competing bidders and closed the deal in 2010. It wasn't until they started to gear up production at Bothwell that the surprises began.
"We found we'd bought an old car," Kevin, 49, says with a laugh.
"Tired iron," Len, 50, adds. "We scaled up very quickly, and we very quickly learned the equipment in place was not going to keep up to the volume we wanted to produce."
Major investments were required
The brothers can laugh now, but back then they had to make major investments to refurbish and upgrade the plant and its equipment. The previous ownership group, which included a venture capital investor, had been more focused on generating profits than on upgrading the plant.
The Thomsons don't fault the decisions of the former owners. Instead, they blame themselves for not doing enough due diligence on the factory—a key lesson they learned from the acquisition.
"Now, we would know how to do the due diligence, but the first time around we should have sought some professional help," Kevin says.
Fortunately, they went into the acquisition in a strong financial position and were able to make the necessary investments. The acquisition turned out to be an outstanding success. Growth at the companies—which together have about 215 employees—has been over 20% a year since the acquisition.
Brothers followed a structured approach
The Thomson brothers had purchased Paradise Island Foods from their father in 2005, but they'd never made an outside acquisition.
Still, despite the due diligence misstep, they avoided many of the pitfalls identified in a new BDC study , which is based on a survey of nearly 1,000 Canadian entrepreneurs.
They'd already been considering a series of growth avenues when Bothwell approached them about a possible purchase. They were familiar with the Manitoba company because it served as one of their suppliers at Paradise Island Foods.
"We immediately recognized that it would be a good fit because now we would be vertically integrated," Len says. "We would be manufacturing all our own cheese. And we could control the quality of that cheese."
With the help of their accountant, the brothers prepared an acquisition plan, including clear strategic objectives for the purchase.
Many companies don't plan adequately
The BDC study found companies that take this kind of a structured approach to an acquisition are 94% more likely to experience high-revenue growth in the three years following the deal. Yet, just over 40% of companies surveyed didn't have a plan in place with defined objectives during their last business acquisition.
The Thomsons were also well-prepared financially. They'd diligently paid off the debt from buying Paradise Island Foods from their father and were ready for the Bothwell deal, including the unforeseen investments that cropped up after they bought the company.
They made another good move when they kept Bothwell's CEO on board during a four-year transition period to help them learn the business. Kevin is now Bothwell's President, while Len is President of Paradise Island Foods in Nanaimo.
After the purchase, they focused on gaining the support of Bothwell's employees for their growth plans and bringing a family atmosphere to the business like the one they had in Nanaimo. That's why Kevin spent a lot of time talking to production workers at the plant in New Bothwell, Manitoba, southeast of Winnipeg.
Workers encouraged by investments
It helped that the workers could see the new owners were investing for future growth and their jobs were secure. In fact, one the first investments the brothers made was to air-condition the plant—a huge relief for workers during southern Manitoba's hot summers.
In 2015, the brothers made another, smaller acquisition when they bought Notre Dame Creamery, a business founded in 1921 in Notre Dame de Lourdes, Manitoba. It added new products such as butter and ice cream to their lineup.
After investing to boost production at Bothwell, including with an operational efficiency drive guided by BDC Advisory Services, the Thomson brothers now have ambitious plans for the future.
Plans to begin exporting
They want to increase Bothwell's sales across Canada and also turn Paradise Island Foods into a national brand. And they plan to begin exporting cheese in response to free trade agreements with the U.S. and the European Union that will bring more foreign cheese into Canada.
"It's created more competition, but it's also going to create new opportunities for us with exports," Len says.
What advice do the brothers have for other entrepreneurs who want to grow through acquisition? Be well-prepared and don't be afraid to get outside help, Len says.
"Bring in the right people to ask questions about what you're actually buying."