This Vancouver pharmacy uses automation to address a severe labour shortage
A
medication-sorting
machine improves processing time for orders by over 80%
5-minute read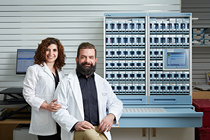 Arash Pourzare had experienced hiring difficulties before at the bustling pharmacy that he and his wife, Behnaz Alijani, own in North Vancouver. Then the pandemic hit.
Miracle Prescriptions lost 80% of its pre-pandemic employees during the COVID crisis. Some quit to care for family members; others changed jobs or careers. Finding replacement employees was extremely difficult.
Labour shortage a "huge, huge problem"
The labour shortage problem at Miracle Prescriptions was made worse by the fact that employees were often off work due to illness or while awaiting COVID-19 test results.
The result was an extreme workload and elevated stress for Pourzare and Alijani. Pourzare says that between them, the couple often work 180 hours per week while also parenting their two children.
Pourzare has only had half a dozen days off since the pandemic started. Even on those days, he was still on call to resolve issues at the pharmacy.
"Labour shortages are the most important challenge we face," he says. "It's a huge, huge problem."
Health care especially
hard-hit
Labour shortages have hit many Canadian small and mid-sized businesses, but companies in the health-care field have especially struggled, particularly during the pandemic. Over 20% of Canadian job vacancies were in health care and social assistance in November 2020, more than any other industry, according to Statistics Canada.
In a BDC labour shortage report, researchers found that a key solution for many businesses is to accelerate automation to make up for the lack of employees.
Pourzare and Alijani considered buying automation equipment to speed up the processing of prescriptions, but in previous years they abandoned the idea due to the cost.
Although such equipment is appearing in many large national pharmacy chains. the labour shortages at Miracle Prescriptions before the pandemic didn't seem serious enough to warrant an investment costing hundreds of thousands of dollars.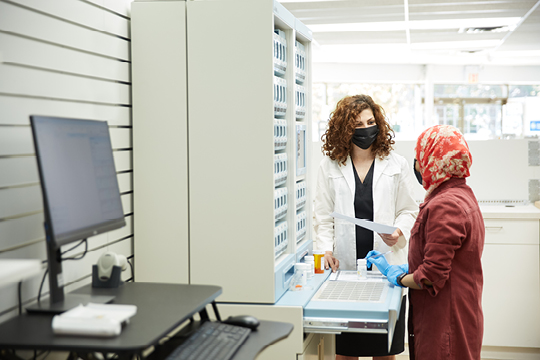 Customers have complex prescriptions
In 2019, with the help of BDC financing, Pourzare and Alijani invested in an expansion project that significantly increased their customer base and revenues. Their new customers included many seniors with complex prescription needs, some taking five or more different medications each day.
After a year, the additional customers provided enough additional revenue to justify the cost of a machine to help fill complex prescription orders.
With their revenue growing but their pool of employees dwindling, Pourzare and Alijani took the plunge and bought an automated medication-packaging machine in January.
The machine automates the labour-intensive process of creating what are known as blister or compliance packages. These are customized packages of medications that help people with many prescriptions remember what to take when. A single package may contain a week's worth of medications. The medications are all organized by the date and time when each set of medications should be taken—breakfast, lunch, dinner or bedtime.
Quicker and more accurate
Pourzare's machine holds over 200 different medications that it uses to fill orders. When the machine receives a patient's electronic prescription order, it automatically creates a package with the medications sorted into little pouches for each day and time of day. A pharmacist then checks each package to make sure no errors were made.
When done manually, two pharmacy technicians need three days of work to complete a week's worth of compliance packaging for all of Pourzare's customers. His new machine takes only three hours to do the same work.
And as a bonus—the machine makes approximately 90% fewer errors than a human doing the same task manually.
However, it doesn't replace humans entirely. An employee still needs to fill the machine with new medications, monitor the software and trouble-shoot any issues. But this requires far less work than preparing prescriptions by hand, and it can be done by someone with less training.
60% productivity increase
Pourzare estimates the machine has increased productivity by 60% for compliance packaging preparation. And when the pharmacy is short of assistants or technicians, Pourzare or his wife aren't obliged to fill in and abandon their other work. They use the machine to fill in for the absent employee.
"The machine has reduced our stress enormously," Pourzare says.
"It allows us to focus on our clinical and administrative work, and it gives us security in terms of our labour needs. We know that if an assistant can't come in and I don't have time to do their job myself, I can just do a double batch with the machine."
Boosting scalability
The machine not only reduced labour costs, but also allowed the pharmacist duo to optimize inventory expenses. It gives a notification when a certain medication needs to be refilled, which gives Pourzare and Alijani a better sense of when to make reorders.
"This allows us to manage our inventory much better," Pourzare says.
That, in turn, translates into significant savings because some medications cost hundreds of dollars per bottle. Pharmacies generally need to keep extra stock on hand to make sure they can complete orders.
As restrictions continue lifting and the vaccination rollout continues, Pourzare sees other advantages from automation. Even if labour shortages become less of a problem, the machine creates opportunities to scale up the business quickly as part of the couple's expansion strategy.
"If our customers double, we could easily handle that and we don't need to put ourselves under much more stress," says Pourzare. "We can just run the machine more. Automation allows you to have the scalability."
Additional automation planned
Automation has worked so well for Pourzare and Alijani they're now considering new machinery and software to streamline other processes. This could include more automation equipment and software to speed up other aspects of prescription processing.
"These investments could have a major impact in terms of our efficiency," Pourzare says. "Automation is a huge advantage."