Looking for internal efficiencies: The key to this molding company's success
Airwood Flooring Accessories' commitment to continuous innovation helps them manage current challenges and plan for
long-term
growth
7-minute read
Mike and Carmi Mooser, Co-owners, Airwood Flooring Accessories
Rising labour costs, competition from imports, spikes in raw material prices and energy costs are just some of the financial challenges Airwood Flooring Accessories has faced head on in recent years.
"These are costs that we can't pass on to our customer. We have to absorb them as a business, and they cut into the margin. To address these challenges, we're looking at our internal processes to find efficiencies," says Carmi Mooser, who co-owns the Niagara Falls business with her husband Mike.
Airwood is specialized in the production of high-quality, Canadian-made products. They want to be fair and competitive employers, and grow their company, ambitiously yet sustainably. It isn't easy in an economy that is putting pressure on small- and medium-sized businesses.
"We see these costs constantly rising and sometimes it can be volatile," Carmi says.
Airwood isn't the only company facing these challenges. A 2023 survey of over 1,200 entrepreneurs found that 66% experienced larger than expected cost increases in the past year. Meanwhile, 64% of entrepreneurs said cost increases was negative for their business.
Financial management practices and a focus on efficiency keep the business steady
To make it all work, Mike, who has a background in accounting, keeps a close eye on the company's finances. Budgeting is a cornerstone of the financial management strategy, and he reviews the data on a daily, weekly, monthly, quarterly and annual basis.
"Mike is always looking at the numbers—sales, bottom line, margins, fixed costs, variable costs. We have to anticipate where new sales are taking us and what we have the capacity to do at any given moment," said Carmi.
The couple has also benefitted from a focus on operational efficiency, managing to build a culture of continuous improvement over the years.
In 2019, the company was experiencing growth pains and needed to optimize its output. The Airwood team undertook a process mapping project with BDC to identify ways to make their operations more efficient.
"Our work is labour intensive and we wanted to adopt new technology into our business. A BDC expert helped us visually lay out our process to produce a vent on our shop floor and see how many touchpoints it took to do the work from start to finish," Carmi says.
The couple realized employees were putting a lot of efforts into moving unfinished product around their facility, which was inefficient work they were paying for.
"It really cemented the reality that we needed to find suitable tech that could essentially offline as many of those touchpoints as possible," Carmi says
New equipment was a game changer
Carmi and Mike decided to take out a loan with BDC to invest in a new CNC wood milling machine that includes a tool changer. The machine makes it possible to work on a panel of wood in one spot rather than several.
"It reduced the touchpoints from 22 to 12. We have so much more capacity to cut a panel multiple times as opposed to taking it on carts around the shop and cutting it in different processes on different machines," Carmi says.
With the new equipment, they redesigned workflows and cross-trained employees to work in other areas, creating a more versatile workforce. They also doubled their production capacity and increased revenue by 30%.
Carmi points out that investing in this costly new technology was not without risks. "It was new to us so there was a big learning curve. It took us about six months to realize that it was a huge home run success."
However, they also found unexpected benefits. "The efficiencies snowballed into other areas and new products we wouldn't have been able to offer if we hadn't invested in the equipment. The new stair tread product will be manufactured from start to finish on the CNC machines," she says.
All about Airwood
After selling his successful flooring retail business in 1998, Carmi's father Cosimo Sgambelluri established Airwood Flooring Accessories, producing hand-crafted wood vents in a small woodshop in Pelham, Ont. The wood vents are sold to homeowners and contractors who use them to cover aeration tubing in floors.
When Carmi and her husband Mike took over the business, they moved operations to a 25,000 sq. ft. technologically advanced manufacturing plant in Niagara Falls. Today they employ 16 full-time employees, most of whom have been with the company for years.
In 2013, Airwood expanded their product line to offer matchable wood vent moldings made from prefinished hardwood floors. In the coming year, they'll launch a matchable staircase tread as their third product offering.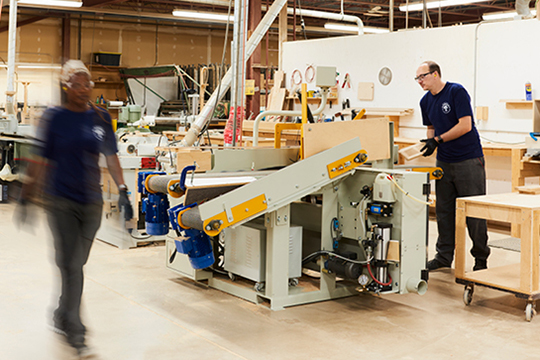 Technology and sustainability on the drawing board
Increasing the technology on the shop floor is a priority over the next two years. The company signed up for the Canada Digital Adoption Program and recently completed the assessment process with a BDC advisor. "We'd like to online an ERP program that would allow us to harness the data available in our equipment. It can help give us insight into ways we can improve efficiency in our processes even more," said Carmi.
The ERP would also help with financial management. "We have glorified spreadsheets that contain our daily, monthly, quarterly, yearly budgets. The data is useful but isn't in real time, so we have to manipulate those spreadsheets by adding in lumber costs this month, payables, receivables, etc. It requires a lot of manipulation on our part because the system can't extrapolate that information. An ERP system could have a program that lets us know the margin today and what it costs to make this product in real time."
While decarbonization is something Airwood is looking at, Carmi says more energy-efficient processes will require an investment in a new facility. To reduce their reliance on fossil fuels and volatile energy costs, they would install in-floor radiant heating, solar panels and have an improved dust collection system that would significantly reduce energy consumption.
"We're optimistic about the future growth of our business. We're planning two- to five-year growth phases. If things are as bright as we hope they will be, we'll be prepared."