The power of personalization: Tailoring to customer desires was key for these fashion entrepreneurs
Learning more about clients led to strong sales growth at this e-commerce start-up
4-minute read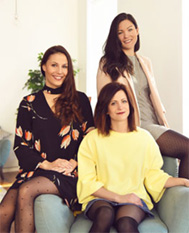 Carolyne Parent admits she and her partners were feeling discouraged after months of trying to get traction with their e-commerce start-up.
Parent and her partners, Alyeska Guillaud and Mélanie Heyberger, had enjoyed lots of interest in their concept of selling stockings online by subscription after launching in 2014. But sales growth at the company, From Rachel, had been disappointing.
The idea seemed sound: Offer great looking, high-quality stocking, tights and leggings online. Women who sign up for the company's service receive two pairs of stockings every one, two or three months in a beautiful box.
After getting advice and encouragement from a pair of veteran entrepreneurs, the young women decided not to give up. Instead, they organized a survey of 300 women and also conducted focus groups to get feedback on how From Rachel could improve its customer experience.
The feedback led them to zero in on one issue: They were sending everyone the same style of stockings each month. "We found that women wanted recommendations and a selection personalized to their tastes and needs," Parent says. "It was a turning point."
Gather information on each client
The next step was to develop a questionnaire to be filled out by every new client of From Rachel. It gathered information about the customer and her preferences in stockings, including colour, design and where she typically wears them—at the office, out on the town, at school or elsewhere. Based on the information, the company began personalizing the stocking selection for each customer.
Sales took off. From Rachel, a BDC client, has quadrupled sales each year since and the three partners, who are in their late twenties or early thirties, were featured on the French language version of "Dragons' Den".
The company is an example of an e-commerce business that has been shaped by the emergence of highly connected consumers who want products tailored to their desires. Consumers now value a personalized experience over price and want to engage and interact with companies on different platforms, including social media, according to a new BDC report Future-Proof Your Business: Adapting to Technology and Demographic Trends.
Before founding the company, Parent, Guillaud and Heyberger worked together in a Montreal office where they shared the frustration of buying stockings with boring designs and poor quality.
The fact they worked together as advisors at an entrepreneurship centre meant they could not only identify a common problem for women, they also knew how to solve it by starting a business.
Saw opportunity to create an online brand
"We saw an opportunity to create a brand online that would connect with women of the millennial generation," Parent says.
The company's recommendation algorithm became the fuel that powered that brand.
"We can predict and make recommendations to the person based on the information that she has shared with us. The vision is to become that person's advisor when it comes to stockings and leggings. The client trusts us 100% to send the best selection for them."
From Rachel has worked continuously to perfect its questionnaire and the algorithm that's based on it. The company creates a "style profile" for each From Rachel "member" to send a selection of stockings tailored to them. (Non-members can make one-time purchases.)
The company is currently developing a new software system to ensure the right stockings are being shipped to the right customers. It recently hired a full-time developer who will be working on the website and the algorithm.
"Imagine the complexity," Parent says. "If each client gives you 10 answers to the questionnaire, and you have thousands of clients, you need a powerful system to analyze the data efficiently, optimize the recommendations and manage the orders."
Few products returned
She says From Rachel products have a return rate that is far lower than the industry average—2% versus 25%.
The stockings are manufactured in Italy, but designed by the team in Montreal. Here again, there's participation by the customers.
The company regularly surveys its 30,000-strong Facebook community on what designs they want to see in upcoming collections.
"Instead of following trends in the stores, we have our own collection that has been validated by our customers on Facebook. This is part of our social media strategy. It creates engagement and gives us a way to predict what will sell. You have lots of girls interested in a product even before it's in our inventory."
While the company currently sells only in Canada, Parent says the partners have plans to expand to the U.S. next year.
"Our goal is to dominate this niche."