How to prepare your business for sale
5-minute read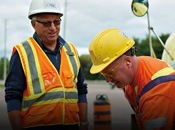 Phil Lafleche was in his early 60s when a sudden health scare made him start thinking about selling his business.
Lafleche had lovingly nurtured Ontario Excavac for more than 15 years. When he bought the Mississauga, Ontario, excavation and utility service company in 1998, it had four employees and two hydrovac trucks. They use pressurized water to excavate near sensitive utility lines, extracting the slurry with a powerful vacuum.
By 2013, Lafleche had built the company up to 50 employees and 21 trucks. He also had a strong management team, lean operations and high customer satisfaction ratings.
The company was booming, but Lafleche knew it was time to let his baby go.
Attracting the right buyers
Fortunately, he didn't have much to do to get his company ready to attract bidders. With its solid profits and operations, it was already a highly desirable candidate for sale at a good price.
Lafleche didn't have to look long or far for a buyer. At a business event, he had a chance meeting with Barry Wood, a chartered accountant who headed a group of investors in the market for an acquisition.
The two men quickly agreed on a valuation, and six months after that first meeting, the sale was completed.
Prepare your company well in advance
However, many entrepreneurs aren't as well positioned as Lafleche to attract buyers and a good selling price. Just over half of business owners who plan to leave their company don't have any kind of succession plan, a 2011 survey by the Canadian Federation of Independent Business found.
The consequences can be dire. Poor planning can mean a suboptimal sale price and unfavourable conditions, or even losing your company if you're forced to sell in a hurry but no one wants to buy. That, in turn, can have a drastic impact on your retirement.
Ensuring your company fetches the best possible price can take several years of preparation, says Angelo Zeni, a director at BDC's Growth & Transition Capital.
"Entrepreneurs should have a five-year plan so they don't have to scramble to get their company ready for sale," says Zeni, whose group provides mezzanine financing for business transitions.
Put yourself in a potential buyer's shoes
Think about who may want to buy your company and what they'd like to see in an acquisition target. That can help you position your company to make it more valuable.
Buyers tend to look for companies that are profitable, have good prospects and are lean, Zeni says.
Buyers are especially on the lookout for growth. "A buyer is not looking to see the status quo. They want to see top-line and bottom-line growth," Zeni says.
They also want to see strong management, repeatable processes and solid financial information. "You want a potential buyer to be confident the business will flourish when you're gone," Zeni says.
Solid prospects for future growth
Barry Wood saw all of these traits at Ontario Excavac. He had led five previous business acquisitions, so he knew exactly what type of company he wanted to buy. For his latest acquisition, he considered 60 to 70 different businesses before finally finding Lafleche's company.
It satisfied his main criterion: solid growth potential. He also liked the company's close relationships with customers. "I saw Ontario Excavac as having great business opportunities and great customer relationships in a growing market, with more prospects for growth," says Wood, who turned to BDC's Growth & Transition Capital to help finance the transaction.
"A great opportunity"
Wood is willing to overlook some problems if a company has good business prospects. In fact, he says, such a company could present "a great opportunity" because improvements in internal processes could quickly boost performance.
Wood's belief in Ontario Excavac's prospects proved spot-on. After the purchase, which took place in early 2014, he made a few changes, including doing more truck maintenance in-house, which led to a 50% drop in unscheduled downtime due to mechanical problems.
Wood also hired an HR manager, improving recruitment as the company added 20 employees and 10 new hydrovac trucks. Annual revenue is up over 25%, while EBITDA (earnings before interest, taxes, depreciation and amortization) is up by nearly 40%, Wood says.
Phil Lafleche, who retains a minority stake in the business and a seat on its board, is happy the company he built is now in good hands. Wood is satisfied, too. "I've just tried to take the best that's there and polish it."
How much is your business worth?
Earnings are key to valuation—A fair sale price for a business is most commonly calculated using a multiple of EBITDA (earnings before interest, taxes, depreciation and amortization), which is a measure of a company's ability to generate operating earnings. Independent businesses will generally earn three to six times EBITDA.
Confirming value—Many other factors can influence valuation, including goodwill, intellectual property and the company's location. A valuator typically seeks to confirm EBITDA by applying other valuation approaches—first, calculating the value of the company's tangible and intangible assets and, second, checking for what a comparable businesses was sold.
Assets may be attractive—Your business may also be more valuable in pieces than as a whole. For example, a buyer may find your real estate holdings more attractive as an asset than the entire business.