How to execute a successful business transition
Read time: 4 minutes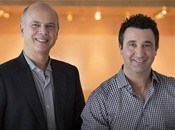 Twenty years after building lg2 into one of the largest and best-known integrated advertising firms in Quebec, the company's founders were starting to think about the future of their company.
Sylvain Labarre started lg2 with Paul Gauthier in 1991 and, five years later, Gilles Chouinard joined them. By 2007, all three were in their 50s and lg2 had grown to a 100-employee advertising powerhouse.
After achieving so much, Labarre, 57, admits it was difficult to think about turning the page. "For sure, it's not easy. But you have to let go sometime," he says. "So we decided to set up a transition plan."
Sale idea rejected
The three partners began the process by meeting with international agencies interested in purchasing lg2—an option they quickly discarded.
"We would, of course, have made more money. But we risked losing jobs in Quebec, as well as our organizational culture," Labarre says. The owners decided to sell their business to the next generation of managers. They set up a 10-year plan that involved taking on new partners and in the process reducing the founders' ownership interest.
Hundreds of thousands of Canadian business owners will soon be faced with the same kind of decisions as the baby-boom generation of entrepreneurs gets set to retire. According to Statistics Canada, 60% of Canadian business owners are 50 or over. That works out to more than 600,000 of the country's 1.1 million entrepreneurs.
Many not prepared
However, only 9% of small and medium-sized business owners have a formal succession plan in place, according to the Canadian Federation of Independent Business.
Not having a plan poses many risks. The first is that the firm will be sold for a low price. In addition, a poorly planned transfer can weaken a company, threatening its continued existence.
At lg2, the transition planning is bearing fruit. The company is now well on its way to a smooth succession, seven years after the process began.
Returned to company
Mathieu Roy, 42, Vice President and Managing Director, and one of the firm's senior partners, started his career at lg2 in the early '90s. He came back in 2007 when the succession process was in full swing, after spending about a decade at another advertising firm.
"Many of the successor partners joined lg2 between 2005 and 2009," says Roy. Lg2's three founders first drew up a list of criteria to identify the right type of person to become a partner. It took into account such factors as age, talent, modesty, entrepreneurial spirit and leadership skills. They also required partners to have worked at lg2 for at least two years before buying an ownership interest.
After the first five years of the plan, the successor partners had become majority owners. By year 10, the three founders will sell what remains of their shares to them.
From manager to coach
Lg2 hasn't skipped a beat through the transition—a major achievement for a company whose client list includes Bell Canada, Desjardins, Ultramar, Agropur, the Société de l'assurance automobile du Québec and Loto-Québec.
The keys to success have been collaboration, openness, sharing of values and beliefs, and communication between the founders and a new generation of owners. The three founders gradually went from being managers to coaches.
Lg2 management gives annual updates on the transition to the firm's employees, a group whose number has grown to 215. Executives also keep key clients informed of important developments.
Work with advisors
"We worked a lot with our lawyers, bankers and tax specialists, and also with a transition specialist, to ensure we had a clear agreement with our partners," Labarre says. "Growth & Transition Capital came to the table and we immediately felt that they had a genuine interest in our group."
Josée Latourelle, Assistant Vice President, Growth & Transition Capital, says entrepreneurs should look for a financing solution that provides maximum repayment flexibility. "It's important that the financing structure be flexible and that debt not strangle the company," says Latourelle, who worked with lg2's partners on financing the transition.
A winning formula
Bringing in a group of new partners has acted as a powerful growth accelerator at lg2. The company doubled its sales to $27 million in the five years to the end of 2013. It has become the top Quebec ad firm in terms of local and international awards, including three Cannes Lions in 2013. The next step is to open an office in Toronto this year. "People want to succeed, because it's their company," Labarre says.
For Roy, the success of the transition has been based on passing lg2's strong values and "DNA" from one generation to the next. "Sometimes our way of doing things is a bit different than the founders'. But we share the same vision—the progress of lg2. We're all pulling in the same direction."
4 tips for selling a business
Start talking about it.
Plan the succession.
Surround yourself with the right people and find the right financing.
Communicate with all stakeholders.