Turning around a struggling business: Little Rock Printing turns adversity into advantage
This father-son team worked 14 hours a day, learning from setbacks to find success
7-minute read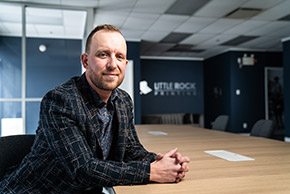 Father and son team Rick and Brian Kroeker were working 14-hour days, feeling like they were "literally in the dirt" as they struggled to save their company, Little Rock Printing.
"We were coming in at four or five in the morning every day and working until eight or nine at night and then back home, trying to figure out how the fine details of our business worked," says Brian Kroeker, who still leads the printing company located near downtown Calgary.
The business was losing money and Brian's parents had to dip into their personal savings to keep the business afloat during a 24-month period of declining sales.
By September 2016, the business seemed to be turning a corner; the team had their first profitable month in nearly two years. But the hard work, long hours and poor diet had taken their toll and Rick had a sudden heart attack just as Brian and his nine-month pregnant wife were moving into a new home.
"All that work that we were putting in led to that kind of episode for Rick," Brian says.
The company then had a loan called from the bank in what was a miscalculation of company receivables.
"When it rains it pours! Had we known how bad it was when we were in it, I don't know if we would have been able to get out of it," Brian says of the critical situation. "The saving grace during this period was that we had faith we were going to come out of it."
Turning hardship into opportunity
Rick Kroeker founded Little Rock Printing when his position at Golder Associates, an engineering consulting firm, was abolished in the midst of a downturn in 1994.
To avoid being laid off, Rick made a deal to remain on-site at Golder while he provided his drafting services to other engineering firms. He then saw an opportunity to lease a Xerox printer and sell colour photocopies.
Rick was eventually joined by his wife, Karla Kroeker, who ran the business while he pursued his MBA. The business grew at a steady space, moved out of its original location and brought on employees.
As Brian succeeded his father as president in 2012, the business was expanding into a brand new shop that still serves as their company headquarter.
"We were sitting ok, but we weren't actually growing," says Brian. "Two customers carried half of our business accounts for four years straight."
Restructuring an ailing business
That's when the local economy hit a rough patch in 2014. Little Rock's two largest clients in the energy industry were downsizing and the company's revenues from these customers dropped by 80%.
For the next two years, Little Rock focused on getting leaner and becoming more efficient with resources as orders dwindled. "We were literally in the dirt every day," recalls Brian.
Through internal layoffs and attrition, Brian and his father took over the entire customer service division, learning the gaps in their business, developing new processes and teaching themselves how to use modern marketing to attract new customers.
"It's almost blind faith," he adds, describing how they just kept going, believing they could do it, facing one challenge after another.
Adapting the business to the times
Brian built the company's website during this period, putting price quotes on the site instead of constantly sending out quotes, something he says wasn't common in his industry.
"We found right away it started getting us work," he says.
He also was able to reach new clients by using Google AdWords and Facebook ads. As part of this digital transformation, the company has moved everything it could to a digital platform, from writing orders to talking with customers primarily using online chat instead of phone calls, putting almost all of their customer service online.
Finally getting a break
Little Rock got a lifeline from a big printing job, which helped the company spend money on signage equipment to diversify its business.
At the time, the company wasn't doing much work in signage. Now it represents about 25% of business and Little Rock has opened a shop dedicated to sign printing. The company also prints books, calendars, business cards, posters, and menus, among other products.
"Adding that department definitely saved us as well and we diversified and expanded our services," Brian says. "We don't rely on big projects anymore."
Finding strength when you're down
Little Rock and its staff of around 25 employees are celebrating the company's 25th year in business in 2019. The father and son team say the business is more productive and has diversified its services with 4,000 clients annually, up from 500, due to their online marketing efforts, referrals and customer retention.
"Our biggest customer is now 5% of our business," Brian says.
Rick is still involved in the operations, but his role is diminishing. He credits his son Brian with turning around the company.
"He was the real driving force behind the growth of the company."
Don't shy away from tough decisions
Brian is reflective about the tough times he and his father overcame. He's learned that difficult decisions shouldn't be put off.
"I had to make some tough decisions that should have been made two years before but never had the foresight to," Brian says.
He's also much more strategic about the decisions he makes. Little Rock recently closed one of its three locations, turning to BDC to help protect their cash flow as they renovated another location, almost doubling their production space for nearly half the price.
He's also determined to never sit back, to keep growing and diversifying the business so it can weather future storms.
"Now, we're trying to remember the hunger that we felt at that time to stay lean and efficient and to make better business decisions, even when things are looking up."
3 tips to turnaround a struggling business
1. Invest when times are good
Thinking back on what got him in trouble, Brian believes he and his father should have invested more into the company when the economy was doing well.
"In general, we didn't make enough tough decisions when we were making money," he says. "And then when we weren't making money, we had no money to survive. Basically, treat everyday like you need the money."
2. Go digital
Brian built the company's website, and both he and his father had to teach themselves how to market their business online when they took over their customer service department.
They want to keep improving their website to attract customers outside their traditional geographic market.
"You have to be really strong online to compete out-of-market because now you're competing with national and multinational players. So, that's one of the things on the horizon."
3. Set ambitious, yet achievable key performance indicators (KPIs)
Brian says setting daily order targets at 100 during his company's downturn helped the team stay focused, even though it took a year to do it.
"That was kind of our North Star during that downturn," he says.
"And I think, looking back, that having some sort of daily or weekly target for your team that is a relevant number for the bigger picture really helped guide our growth and our reformatting of the business."