How this entrepreneur bootstrapped a manufacturing business
Richard Martin has overcome several challenges to realize his dream of reinventing playgrounds
Read time: 5 minutes
The years spent in parks as a teenager inspired Martin to found Dynamo Industries Inc., based in Plantagenet, Ont. His unique designs have allowed him to build a 50-person business from scratch.
"I knew I could create a playground that a 12-year-old child and above would find challenging, and that small children could also enjoy," he says. "It would be for children of all kinds of abilities, whether they're blind, fully-handicapped or looking for a challenge, they would feel sensations and motions."
Bootstrapping the early days
Dynamo was founded in 1994. Martin spent the first few years by himself, criss-crossing Ontario in pursuit of sales, distributing products and even installing some imported European play structures.
"I liked the European products, but I knew the kind of abuse the equipment needed to take in Canada," says Martin. "I knew I could make something better."
He had already designed and patented his own play equipment. After partnering with local welders to develop his prototypes, he again went on the road, this time with his complex playground equipment set up on the back of a trailer.
"I don't know if I would do it over again," says Martin. "Going up and down the highway, wondering about the next call to make so I could survive another day, all while I was on my way to do an installation alone because I couldn't afford to pay someone. My faith and my vision kept me going."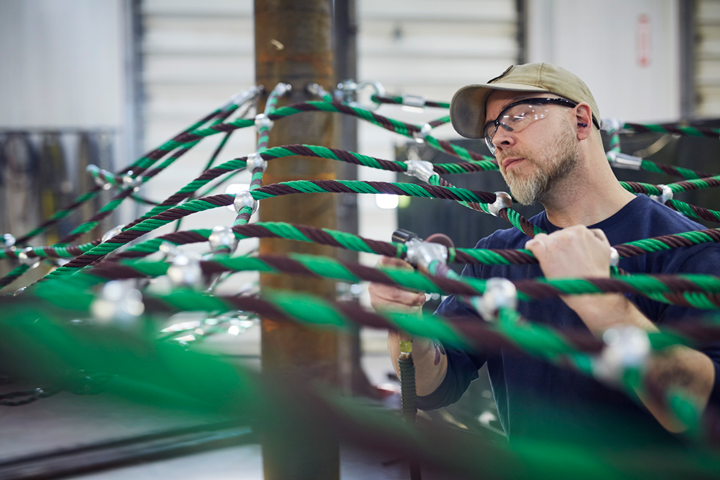 Financing rapid growth
By the early 2000's, Dynamo was expanding rapidly, but with 12 employees, Martin still couldn't secure growth financing.
"Banks wouldn't play," says Martin. "They kept saying, 'you're getting close, you're almost there,' but I was frustrated because the answer was always 'no.'"
Martin eventually secured a loan with BDC's Indigenous Banking Unit. This financing allowed him to expand his business, invest in marketing and set up a distribution network around North America that allowed him to avoid the Canadian market's seasonal dip.
The safety glitch
At the same time, Dynamo was facing a unique challenge—because their play structures were creatively designed, they were also very different from what prospects had seen before. Climbing structures were bigger; they used ropes instead of secure bars; they moved differently.
"The playgrounds were so outside the box," says Martin. "One of the biggest challenges I had was to convince people that my product was safe."
One of the biggest challenges I had was to convince people that my product was safe.
One of Dynamo's core products was a roped merry-go-round. The company was marketing these at a time when traditional merry-go-rounds were being pulled from parks across North America.
"I come to these same landscape architects and cities with a spinner that's 15-feet off the ground, you can imagine their response. I knew they were safe, but I had to convince them."
Martin joined the Canadian Standards Association and its counterpart in the U.S. He got to know every aspect of playground safety testing and eventually helped create new standards for some of his new ideas.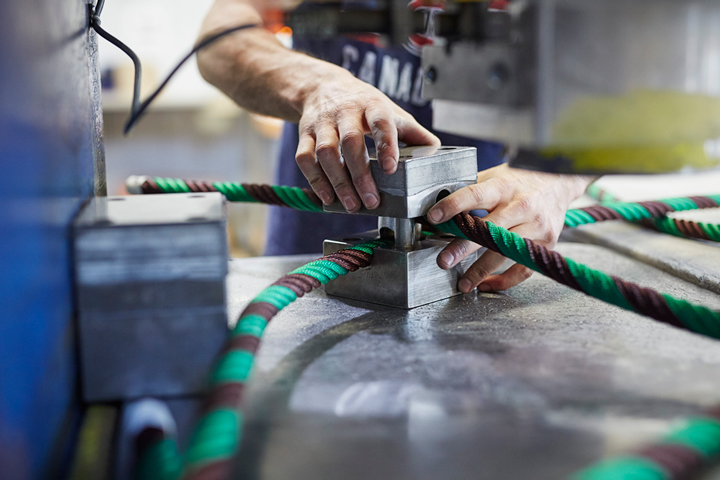 Cutting ties with a supplier
In 2015, Martin discovered that the South Korean supplier he had worked with for a decade was using his ideas to build their own direct-to-client products. He knew it was time to take over the manufacturing.
Martin found a building "in the middle of a field" in Plantagenet, 63 kilometres east of Ottawa. He was able to purchase it with the help of BDC, which financed the full cost of the building. Martin also worked with BDC experts to optimize his operations.
"Overnight, we went from 18 employees—mostly administrative staff—to 50," says Martin. "It was one of the most stressful times of my life."
He quickly set out to buy manufacturing equipment and get payroll established to get his production plant running.
Overnight, we went from 18 employees—mostly administrative staff—to 50. It was one of the most stressful times of my life.
"We grew so fast in two years," says Martin. "I was bringing back all the products that were made in South Korea to manufacture here; we reinvested the profits into everything we needed, including more desks."
With the manufacturing operation set up, Martin continues to pursue his dream wherever it takes him. He regularly travels to Asia and Europe to ramp up sales abroad.
"It's my dream to challenge children to come back to the park and use the equipment for what it was intended to—physical activity and fun, challenge and excitement, no matter your age or ability."