From humble beginnings to a
500-employee

fish and seafood company

5-minute read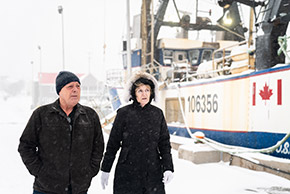 Lori Kennedy and her husband Jim were Cape Breton fish plant workers in their 20s when they saw hard times coming. The Atlantic cod fishery was collapsing, and their region would never be the same.
Instead of falling into despair, they quit their jobs and took a plunge, starting their own business unloading fishing boats. They overcame humble beginnings, being swindled and the loss of Lori's brother at sea, all the while expanding their business. Louisbourg Seafoods now includes several fish plants, 13 fishing vessels and 500 employees.
When the recession hit, they faced hard times again. But the enterprising couple managed to hold on by diversifying into Europe and Asia. Through it all, they've maintained their values of caring for their community and for an ocean that has been unforgiving but has also sustained a way of life.
Here's what Lori Kennedy has to say on:
…her beginnings as an entrepreneur
Both me and my husband Jim were fish plant workers in Louisbourg, Cape Breton, in the 1980s. Jim and I—all the plant workers—knew what was coming before the cod fishery collapsed. The fish were getting smaller. People realized fish resources were being taken out of the water that never should have been taken.
My husband left the plant in 1984. I left in 1986 to get an education because I only had Grade 8. I got my GED and went to business college for a year. But that wasn't enough so I went to university and got an accounting degree.
We started the business in 1984 with a small crew of six unloading boats that would come into port. It was just small stevedoring. That division is still part of our business.
…on growing her business
In 1991, we bought a small processing plant in Louisbourg, where we started to process groundfish. We had 98 plant workers there. We eventually bought a fish plant in Glace Bay, also in Cape Breton. We decided to process all the groundfish there and switch to crab in our plant in Louisbourg.
Seven years ago, we bought a plant in North Sydney, where we process shrimp. And then a few years later, we bought a large fish plant in Canso. It was old and too large, so we tore it down and built a small, more efficient plant there, where we process lobster and other species.
We purchase from over 200 independent harvesters. And we have 13 of our own fishing vessels and about 35 crew members. Today, we have approximately 500 employees in all.
…on lessons learned
Over the years we've learned a lot. Our first big mistake was when we were in our 20s. We bought a load of fish from a gentleman from the U.S. My husband gave him $25,000. Two hours later, he came back and asked for payment. Jim wasn't around, so I paid him as well. I didn't know he'd already been paid.
We never got our money back. That was a lot of money for us back then. We were young, trusting people. We learned there are some dishonest people out there. You're going to make mistakes. You have to learn from them.
…on the importance of a healthy community
There's a lot of tragedy in the fishing industry. I had a brother who drowned while fishing back in 1992. He was only 35. It was very painful. The fishing industry is a brutal, dangerous way to make a living. The ocean is merciless.
Jim and I didn't come from well-to-do families. I know how hard plant workers work. Cape Breton has one of the highest rates of child poverty in Canada. The collapse of the fishery threw this area into a spiral, and we're still trying to get out.
It's important to have a healthy community. We live here, and we're not going anywhere. That's why we give back a lot to our employees and the community. For example, we provide paid days off for employees to be with their kids if they're sick. We also provide them medical benefits. We support the local elementary school by providing breakfast to all the students, and we provide uniforms to local kids' sports teams.
…and on the importance of a healthy ocean
Ocean health is also very important to us. The oceans are at risk from illegal, unregulated, unreported fishing activity in international waters. We're also very concerned about global warming and plastics in the ocean. We're active on these issues as members of the World Ocean Council.
We also promote traceability and sustainability through our partnerships with chefs. Over the last few years, we have become involved in chefs' networks that help us promote our products. Chefs want to align themselves with companies that are honest.
…on a slow economy
We had a tough time when the recession hit. The price of fuel was just astronomical, the dollar had gone to par and demand went down as the economy slowed. Everything that could go wrong went wrong. It affected our business dramatically. Sales went down, we were holding inventory longer and our accounts receivable went up. We had pressure from the banks.
It taught us you have to build a relationship with your bankers. Call them in and show them what you've done to improve. That's very important.
We also learned you have to make yourself lean. You'd be surprised at the money you can save. We were forced to learn that lesson when the economy collapsed in the U.S. We were forced to go internally and save money.
We also learned not to have all our sales in one or two countries. After the recession, we started to diversify into Europe, China and India.
I learn a lot from being a member of the Women Presidents' Organization. We meet once a month in the Atlantic chapter. It's just a pool of different women who have been in business for years. We share similar experiences. We have solved major business issues.
Love what you do. If you love and breathe what you do, you'll work harder and do well.