How this entrepreneur built a leader in funeral products in North America
By refusing inertia, three generations of the Dumont family have made their mark on the funeral industry.
6-minute read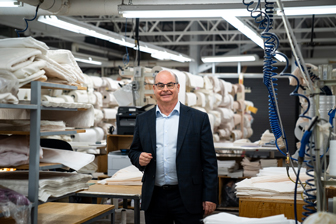 Alain Dumont had a hard time imagining himself leading the family business that manufactured wooden caskets, located in Victoriaville, a two-hour drive from Montreal, in the Centre-du-Québec region. When he was younger, his parents' trade mainly got him teased in the school yard.
"It was always, basically, the same jokes," he said. "It is a very, very taboo field and people have a thousand questions. Even if you want to keep a low profile, it's pretty hard."
So, Mr. Dumont began his career in accounting. However, in 1989, his father finally convinced him to join the family group, now called Victoriaville & Co., by asking him to finalize the acquisition of a competitor that had gone bankrupt.
Mr. Dumont's arrival started a little revolution in the family business. Very quickly, the 29-year-old chartered accountant managed to substantially increase his market shares in Quebec and in the United States. Moreover, the company that used to manufacture only wooden caskets expanded its range of products to include cremation containers, urns, jewellery and funeral cards.
These changes and several others allowed this small business to position itself as the largest family owned business in North America involved in the funeral products sector. An industrial star in the region, Victoriaville & Co. employs more than 425 people and exports its products to 10 countries, the main ones being the United States, England and Australia.
A disaster that led to change
This success is even more remarkable because the business almost disappeared after it was partially destroyed by fire in 1997. Fortunately, the quick response by firefighters saved part of the manufacturing complex, but Alain Dumont and his father still had to restart operations as quickly as possible.
Starting the next day, employees and people from the region swung into action like never before. The business was able to restart operations two days after the disaster, a veritable feat, which got Mr. Dumont thinking.
"When this type of misfortune strikes, everyone has a common objective," he explained. "But, as entrepreneurs, how can we elicit this motivation, this engagement level, from our employees in a normal situation, without a fire?"
Alain Dumont concluded that a change in company culture was needed to successfully rebuild the plant at a cost of $25 million. Going forward, the emphasis would be on communication with employees. Mr. Dumont also presented a new vision for the future of the business to rally his employees around a common objective.
"We say that our creations are ingrained in tribute. This aspect is really what continues to fuel our passion today."
Operations were also diversified. While his father mainly focused on manufacturing, Alain Dumont took charge of product distribution and sales to his customers, who were mainly funeral home owners.
"I told myself that if we wanted to still be in business in 25 years, we needed to have direct contact with our customers, as much as possible," he explained.
Three tips for innovating in a traditional industry
1. Listen to your customers
Alain Dumont says that regular contact with his customers allows him to remain attuned to emerging market trends and to better respond to them.
"It's absolute gold for us when it comes to ensuring that we have the right take on the market and that we are able to respond appropriately," he said.
2. Develop a culture of continuous improvement
After the fire, the company took advantage of the rebuilding of the plant to implement a culture of continuous improvement based on communication with employees and continuous attention to improving the quality and efficiency of its production. Victoriaville & Co. now manufactures a casket every two and a half minutes.
"We put a lot of effort into being efficient and finding ways to improve and to provide a better product at a lower cost. This is our daily challenge."
3. Don't be afraid of change
Mr. Dumont is aware of his family's accomplishments before he arrived and uses them as a base for reinventing the business and building its future.
"I always tell my son, 'If you manage the business the same way I did, it will definitely not work.' Everything around us has changed, therefore, we must keep the same values and objectives, but the ways things are done have to change."
Modernizing a
century-old

business

The origins of Victoriaville & Co. date back to 1907 when a sawmill was set up in Victoriaville. World War II forced the company to find new markets. It first tried producing furniture but finally found its niche manufacturing caskets.
The Dumont family became officially associated with the business in 1939. The Dumonts made three intergenerational transfers, something which is quite rare. They were also able to successfully respond to increased competition from large foreign companies.
"I'm shocked to see that, as soon as a business becomes large, the reflex is always to sell to the Americans or other foreign interests," said Alain Dumont.
But the future is not all smooth sailing. Cremation rates are on the rise, while, in the minds of many people, caskets are associated with old customs. In spite of this, Mr. Dumont remains convinced that traditional rites can ease the mourning process. He also works hard with his customers to ensure traditional funeral rites can be modernized.
"We spend lots and lots of time chatting with our customers, the funeral homes, to understand their needs, to try to be proactive... because we are competing against multinationals who have much deeper pockets than we do," he explained.
Looking ahead
With all these initiatives, Alain Dumont is trying to leave a healthy business to his son for the transfer to the fourth generation.
It is, in part, with this objective in mind that Mr. Dumont embarked on BDC's Growth Driver Program. This two year program supported him as he completed a strategic reflection on the business's growth strategy. It also allowed his son to meet other business leaders to fine-tune his management skills.
"It is very important that it remain a family business and that my son have all the tools he needs for his future success," he said.
"After the fire, we could also have said, 'We're stopping this here, we're selling.' We are a family of entrepreneurs and we want to continue to be entrepreneurs for as long as possible."