How to build a
world-class

business

Investments in advanced manufacturing helped these entrepreneurs grow 25% annually

4-minute read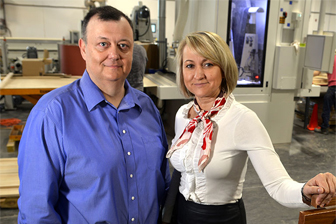 There was no turning back when Vladimir and Natasha Bolshakov left Ukraine to make a new life for themselves in Canada.
They sold all their possessions and boarded a plane for Toronto's Pearson airport in the summer of 2002 with the resolve that failure was not an option.
Now, when Vladimir Bolshakov travels through Pearson on business, he always stops to admire one of the beautiful wooden ceilings his company made for the airport and marvels at how far he and his wife have come.
"It's the place where we arrived and received our landed immigrant paperwork. We have a wood ceiling in Terminal 3 and just put in one at the international terminal."
Investing in growth
The couple owns Geometrik Manufacturing, a producer of wood acoustical ceiling and wall panels that recently opened a new 2,800-square-metre (30,000-square-foot) factory in Kelowna, B.C.
It's the second time in less than a decade Geometrik has moved into a much larger factory to accommodate its 20-to-25% annual growth rate. Each time, Vladimir and Natasha, both47, have invested in all-new, high-speed equipment to automate and boost the efficiency of their operations.
The new facility, with its sophisticated CNC and PLC machines, has four times the capacity of the previous one.
Their willingness to invest is typical of fast-growing, highly profitable businesses. In a recent report, BDC analyzed data from 950,000 companies and found that top-performing firms invest much more in machinery, equipment, and intangible assets such as training, improved processes and innovation. This makes them far more competitive in an increasingly automated, digitized and interconnected economy.
Seize growth opportunities
Vladimir says he and Natasha are conservative about taking risk, but decisive when it comes to seizing growth opportunities. Natasha's role as Geometrik's financial manager is especially important in planning investments.
"Her job is to make sure the risk is minimized," Vladimir says. "Her financial statements and cash flow projections are extremely good."
New equipment has allowed the company to progressively increase the speed and efficiency of its operations as it expands. "The equipment saves labour. The faster we can make a unit of production, the better it is for our profitability. This is how we grow our business."
The couple is now looking to add robots to its operations, which Vladimir says will be a first in his industry because of its highly customized production.
Focus on craftsmanship
It was 2007 when the Bolshakovs took the plunge into business, buying Geometrik from its retiring owner with plans to manufacture wood acoustical panels. At the time, the company was making children's furniture in a modest 325-square-metre (3,500-square-foot) workshop with a few pieces of outdated machinery.
At first, the couple continued to make furniture but soon began receiving orders for the wood acoustical panels that are prized by architects and designers for their beauty and sound absorption. Eventually, the quality of the company's craftsmanship brought them projects for institutional and commercial buildings across North America.
"When we first arrived, I would not have believed this was possible," Vladimir says.
He is an industrial engineer who first learned the craft of making the panels while managing a small factory in Ukraine. Natasha, whose university training was in economics, kept the factory's books.
With the post-Soviet economy in disarray, the couple made the difficult decision to emigrate. "It was absolutely hard," Vladimir says. "But we purposely sold everything and set ourselves to succeed. There was no other option, no going back."
After some time in Toronto, the couple was recruited by a wood acoustical panel company in the U.S., where they worked for four years before moving back to Canada to buy Geometrik.
Training employees for the future
The company, a BDC client, has 32 employees and retains workers by paying a competitive wage and offering job stability. Vladimir says he prefers to take talented young people and train them to become craftspeople.
"We look for that person who is eager to share in the story we have here."
His advice to young entrepreneurs is to focus on learning everything they can about their industry with the goal of becoming the best.
"Never look at business as a supply of money. A business is like a child. You love it. You grow it. You participate in its life and put everything you've got into it."
How far can they go?
He and Natasha have no intention of slowing down the aggressive pace of growth at their company.
"We could have stopped growing a long time ago, but we will not. It's the drive to see how far we can go."