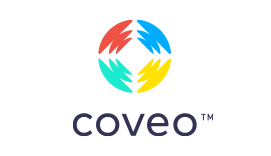 Portfolio company
Coveo Solutions Inc.
Details
Region
Quebec
Industry sector
Information technology
Learn more
About the company
Relevance is what creates winners in digital experiences. Coveo is the world's leading cloud-based relevance platform. Using applied AI, the Coveo Relevance Cloud™ is the intelligence layer that injects relevance into all digital experiences.
In its most straightforward implementation, Coveo delivers relevance in search, thanks to unified indexing and AI that fine-tunes results with each query. Coveo also specializes in relevance for personalized ecommerce, journey- and context-aware customer services, and knowledge-enhancing workplace implementations, with customers reporting results like 2,800% lift in add-to-cart shopping, 300% increase in support case deflections, and 1,600% improvement in ESAT scores.
Coveo has more than 1,500 successful implementations around the world, with clients including Tableau, Dell, Palo Alto, Xero and Motorola Solutions. Coveo is supported by a network of over 200 global partners, integrators and alliances, including Salesforce, ServiceNow, Sitecore, Accenture, Deloitte, and Ernst & Young.