Recipe for success: Green and healthy products
Wanting to feed their family with local, organic and tasty tempeh motivated a couple to create Les Aliments Merjex and its Tempehine product line
8-minute read
Sonel Merjuste (left) et Jasmine Exael (right), Owners, Aliments Merjex
At age eight, Ruben informed his parents that he would no longer eat meat. He had never really been fond of it and the whole family was already in the process of reducing its meat consumption.
"We were looking for meat alternatives and this decision by our son motivated us even more," says Jasmine Exael.
Eliminating meat is one thing, but she and her spouse, Sonel Merjuste, were concerned about preparing healthy and nutritious meals for their children. During their research, a friend told them about tempeh, a fermented soybean product from Indonesia.
"I cooked a block of tempeh from the grocery store and it didn't go over well with the family," she says with a laugh. "The taste was very strong. I wondered if I had prepared it wrong. I tried again without much improvement."
However, the literature she read on the product was unequivocal: Tempeh is excellent from a nutritional point of view. It is an excellent source of protein and iron—much more so than tofu, which is made from soy milk.
"I thought tempeh had far too much nutritional value for me to give up cooking it for my family," recalls Exael. "So we tried to prepare our own tempeh. After some trial and error, we came up with a worthwhile product, which I marinated. It was good—much better than what I bought."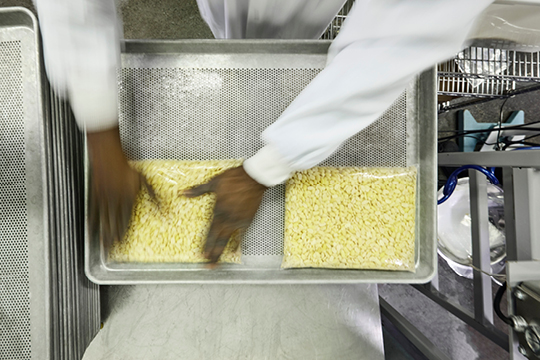 From idea to fruition
This is how Merjex was born in 2019. However, because of its fermentation process and the fact that it is still relatively unknown in Canada, tempeh is not the easiest product to make and sell.
"But you know, leaving your country to settle somewhere else and offer your children a better future is one of the hardest you can do. Everything else after that was easier. Even if there were challenges that we overcame by focusing on innovation," says Merjuste, who left Haiti with Jasmine and their oldest son, Jason, to settle in Montreal on January 23, 2008, in the dead of winter.
Sonel, who had experience in industrial management in Haiti and a Bachelor of Business Administration from HEC Montréal, adapted his skills and knowledge to the food industry. "And Jasmine is really passionate about cooking, so we joined forces," he adds. We did it first for the love of our children."
The couple was also keen from the outset to source locally and to obtain organic certification.
In addition, there was no question of taking shortcuts to make their products taste good. "We don't add sugar and very little fat or salt, so we have products that are really healthy from a list of ingredients that are very simple but also very tasty," says the entrepreneur, who set up his plant in Montréal-Nord in an attempt to also improve the reputation of this neighbourhood that is often portrayed negatively in the media.
The efforts are paying off: at the Salon international de l'alimentation Canada (SIAL Canada), their minced tempeh won the 2022 SIAL Innovation Silver Grand Prize.
Building a distribution network
The couple also managed to quickly convince Quebec supermarket chains such as Métro, IGA, Avril, Mayrand and Supermarché PA to make space for their products, in addition to becoming the tempeh supplier for Copper Branch vegan restaurants.
The challenge that remains is to better familiarize the public with tempeh. "Quebec is our home now, so we definitely want to anchor ourselves here and become a must-have for Quebec families," says Merjuste. "But by the end of 2023, we will be taking on the rest of the Canadian market and by 2025, the U.S. market.
Support for diversity
Merjex is now incubated at Groupe 3737, an organization devoted to entrepreneurs from ethnocultural diversity. Since starting the business, the couple has received a lot of support, including from the Black Entrepreneurship Loan Fund offered by BDC and administered by the Federation of African Canadian Economics (FACE).
By sharing their story, the couple hopes to encourage other entrepreneurs from diverse backgrounds to start their own businesses. "We have to keep fighting, but things are getting better," says Merjuste. "I firmly believe that, when it is my children's or grandchildren's turn to go into business, bias will be a thing of the past."