Mentoring newcomer entrepreneurs allows Kin's Farm Market owners to pass on their values
Family arrived with nothing and built a 30-store produce business
5-minute read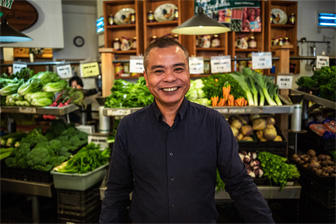 Kin Wah Leung and his family had little money and no business experience when they rented a folding table to sell produce at the Granville Island Public Market in the early 1980s.
Family members had been working odd jobs in restaurants and doing babysitting to earn a living after they arrived in Vancouver from China.
"We borrowed money from relatives and bought airline tickets to come to Canada," says Leung. "We had nothing. And for knowledge, we had only finished high school. We had never been in business."
A friend took them to the Granville Island Market and convinced the family to open a stand there to sell fruits and vegetables. They took a chance and started selling a small variety of produce in 1983.
The family went from operating a table to owning a store at the Blundell Centre in Richmond, B.C., four years later. Over time, they built Kin's Farm Market into a 30-store business specializing in fresh produce across the Vancouver area.
Role model for immigrant entrepreneurs
As the family built its business over the years, they've helped other newcomers go into business.
"We have seen lots of new immigrants come to Canada and they don't know what to do," says Queenie Chu, Director and Vice-President Operations, who is married to Leung.
"Some have money, some don't have money. We have a platform here to help immigrants build their business, if they want to, and actually we have counselled many people," she says.
Kin's also helps its employees, who are mostly immigrants, by offering rewarding, long-term careers as store managers. They have also introduced a manager partnership program and a franchise program in which store managers may become a business partner of Kin's Farm Market.
The couple is thankful for their own opportunity as immigrant entrepreneurs.
"We don't think there's anything we would do differently, even 31 years ago, because we love this country. We love Canada," Chu says.
Leung adds: "Our company is recognized by local Canadians of different ethnic backgrounds to be a place to shop for fresh produce."
A lasting impact
Leung and Chu have no immediate plans for retirement and want their impact to be lasting.
Leung says his parents always instilled in the family that hard work can make dreams come true, even if you start out with nothing. The family now wants to maintain these values while continuing to grow the company.
Transmitting family values
The family also takes pride in giving back to the community to set a good example. Ten years ago, Kin's also started donating to various hospitals and non-profit organizations in addition to hosting fundraising events and other donations.
"The transmission of values is important in our family and we apply this same vision in our business," Chu adds.
Their son, Victor Lau, has worked at his family's business for 15 years and his parents want to see him further expand Kin's Farm Market. The company has enrolled in BDC's Growth Driver Program, helping prepare Kin's Farm Market for its next phase of growth and strengthening its management team.
Personal connection remains key
With plans for expansion, Leung worries about losing the personal connection with customers.
"I'm thinking how can I do that from one store to 30 stores? How can I give the same service? It's not easy," Leung says.
To this end, the family is considering establishing a training school for their employees to coach them in their philosophy of connecting with customers while providing the best quality, fresh produce.
"We connect and engage the customer every time they come in," Chu says.
"We treat them like family and we talk to them about what is good today. We tell them how to prepare the product. In a really short time, we are able to earn their hearts for our business."
Doing produce differently
When Kin's Farm Market opened its first store, Chu recalled, curious farmers and produce competitors made a point of visiting.
"They were thinking: What makes you think you can compete with us? But Kin Wah smiled and he said, 'I know how to earn my customer's heart,'" Chu explains.
"In Canada, we are the only chain doing 100% produce. I wanted to do it a different way with a focus on people," Leung adds.
3 tips to help your business grow
1. Focus on your customers
Meeting customer needs is central to your success. They will respond to what is working and what isn't.
"Our core business is to engage the customer so that we can provide the best quality, fresh produce experience to the customer," says Chu.
"So every time you know who is your customer and what they want."
2. Don't let mistakes stop you
A mistake can be a learning opportunity. Don't let it defeat you.
"Throughout the years, we have made many mistakes but I am not afraid to make mistakes. Obviously, I do not want to fail, but I am willing to take risk. When I am faced with 'Why', I ask myself 'Why not?' When others say, 'No', I will say 'Yes,'" Leung says.
"Not only will I always try to achieve and overcome all obstacles but I will always try to do things in the most efficient way. I am focused on how I can be better."
3. Help your employees flourish
Employees want opportunities to challenge themselves. They want to grow on the job.
"We are thinking about different incentive programs to make them feel like they are in charge and not just an employee. We want them to have opportunities to run the store rather than being told what to do," says Chu.