Start-up's

scary pivot leads to successful mobile travel app

Serial entrepreneur reinvented company with a "scary pivot" to get the right product-market fit

8-minute read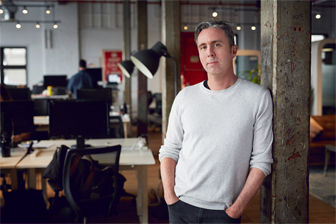 Hopper tells its users to "Relax—booking travel just got easy." But behind the scenes, it was anything but relaxing before its re-launch as a travel booking app.
The Montreal start-up had abruptly shifted its business strategy, causing chaos in its ranks. Hopper pivoted from a content aggregator to a data-driven business telling travellers the right time to book their hotels and flights three weeks after receiving major attention from U.S. media.
"This is not generally known but most start-ups pivot: YouTube was a dating site, Slack was a video game, and Twitter was an enterprise platform," says co-founder and CEO Frederic Lalonde.
"Having said that, I wouldn't wish one on my worst enemy. We went through a very scary pivot."
The final step in the pivot was to launch as a mobile-only travel app. The reinvention focused the company, an outcome Lalonde attributed to better product-market fit. Hopper has since obtained over 35 million app installs and has helped travellers plan over 90 million trip on mobile devices. It has surpassed $1 billion in sales.
Big data leads to bigger things
Founded in 2007, Hopper started out aggregating content from travel-related blogs, generating recommendations for travel destinations. But it didn't grow as expected despite additional funding.
What it did have, though, was lots of data. Hopper's engineers mined the data they collected to produce research reports and insights for journalists.
Lalonde realized the media wanted data-driven stories that could explain events or trends. Hopper's first media sensation was a 2014 story about Colorado airfares increasing 20% after the state legalized marijuana. Lalonde laughed, "That went nuclear. We got hundreds of pieces of national coverage on it."
The New York Times' Frugal Traveler then ran a story called "Crunching the Numbers to find the Best Airfare," which featured Hopper research telling travelers how to lower their costs. Shortly after, Good Morning America ran a segment about the article and traffic flocked to Hopper's website.
"Our traffic increased one hundred times what we had done over the past four years. Over a million people visited our site in three weeks," says Lalonde.
Hopper becomes a
mobile-only

travel app

Hopper shifted its business model three weeks later and changed to a data-driven website that helped travelers choose where to fly and when to buy their tickets.

As a result, Hopper's team of 15 was cut almost in half.

"The three investors split between the pivot, stay the course and don't know."

In 2015, Hopper launched as an app for iPhone and Android smartphone users. Lalonde anticipated a shift to using mobile devices to book travel. Younger consumers also showed a preference for mobile.

Costs were lower with mobiles and users didn't switch between apps, allowing Hopper to keep its customers.

Hopper says over 50% of its sales come from repeat bookers. Users, on average, engage with the app every four to five days while planning a trip. Almost 90% of Hopper's sales come directly from its push notifications to travellers, an opportunity unique to mobile devices.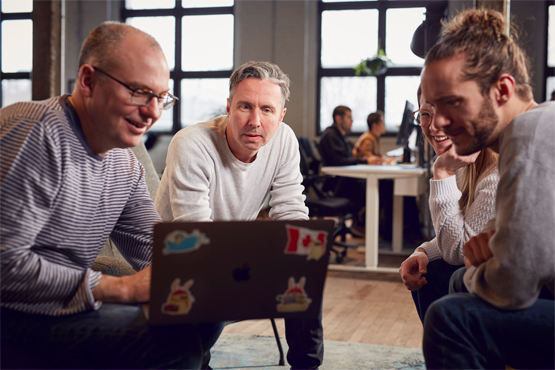 Optimism about VC funding in Canada
As a serial entrepreneur, Lalonde chose to remain in Canada to build and scale his company. "We swore we would keep Hopper in Canada for as long as we could; we were in it to win big," he says. "If Canada can build a 10,000—employee tech company […] that will change the fate of Canada forever."
We swore we would keep Hopper in Canada for as long as we could; we were in it to win big.
This vision—building a Canadian tech champion—has been supported by the country's evolving VC ecosystem. The company has participated in six rounds of financing since 2007, bringing Hopper's total funding as of January 2019 to $235 million, with most of its investors Canadian. It also announced one of the largest rounds of financing of 2018 after it raised $128 million in October. BDC Venture Capital was a partner on the deal and has been an investor since 2015.
"I am finally getting the sense that Canadian venture capitals will write that $50 million cheque that allows companies to scale."
A hacker and virtually unemployable
Lalonde's path to becoming co-founder and CEO of Hopper wasn't traditional.
Lalonde's father ran a large research group in Quebec City in the 1980s. "I had access to a lot of computing power in my home. We had 20 computers—this was a time when most families had none," he says.
I quit school at 19, and essentially, I was unemployable. I had never held a job and didn't want to. I wanted to start a company.
By age 15, Lalonde was a self-proclaimed hacker in the pre-Internet days. He and his friends would crack the security on video games and make copies for $5 each. Hacking phone lines to avoid long-distance charges followed.
"I finally realized it was better to use my skills to build something rather than to steal someone's property. I quit school at 19, and essentially, I was unemployable. I had never held a job and didn't want to. I wanted to start a company." His first business was an unsuccessful graphic design firm.
Tapping into tech in travel
In the mid-1990s, he and colleague Benoit Jolin consulted for Bell Canada and coded at night, bootstrapping what would become Newtrade Technologies Inc., their first foray into the travel industry.
They saw an opportunity after the launch of online travel service providers, Expedia and Travelocity.
Lalonde said that after users booked a hotel through Expedia or Travelocity, the reservation and confirmation process with hotels was almost entirely manual and done through faxes.
"There was no connectivity, no automation. Without too much strategic vision, we started solving that problem, not realizing it was one of the most profitable e-commerce verticals in the world."
Newtrade launched in 1997, connecting hotel reservation systems with electronic distribution channels, such as Expedia and Travelocity. This allowed real-time processing of hotel rates and availability and reduced missed bookings. The company raised $7 million in two financings from local venture firms and grew to 70 employees.
Expedia brings opportunities
In 2002, Newtrade was bought by Seattle-based Expedia. "The Newtrade technology still runs out of a 200-person Expedia office in Montreal. It is the largest e-commerce platform for hospitality and powers all of Expedia's brands," Lalonde said.
He remained in Montreal, working for Expedia for four years running its hotels and packages business and managing teams in Bellevue, Wash., Dallas and Montreal.
By 2007, Lalonde had left Expedia and co-founded Hopper with former Expedia and Newtrade engineer, Joost Ouwerkerk. Hopper opened an office in Boston in 2012, but remained headquartered in Montreal because Lalonde didn't want to be "an outsourcing shop—cheap labour—for the U.S."
Being an entrepreneur is a calling
As a serial entrepreneur, Lalonde has rules.
Don't get too big too fast. "At Expedia, I ran a $4 billion business with 21 engineers. Before you cross 12-15 people, you had better have a lot of things figured out."
Lalonde also stressed the importance of fit. "If you weren't paid would you want to show up to work to hang out with these people?"
Lalonde believes being a good entrepreneur involves having the right skillset or finding a good co-founder, although having co-founders added risk. "You need to know how technology and money work, and how to communicate your vision. I now spend most of my time building trust and context to make sure everyone in the company understands what they should do in the near-term without knowing all the reasoning behind it."
"This is a calling—many people think they can make easy money; nine out of 10 start-ups fail and it will consume five years of your life. The conversation gets interesting when a person keeps trying and will work for free—that is an entrepreneur."