High tech in the Arctic: A Nunavut aerial drone company takes off
100%
Indigenous-owned
and
Iqaluit-based,
Arctic UAV is like no other drone company in the world.
13-minute read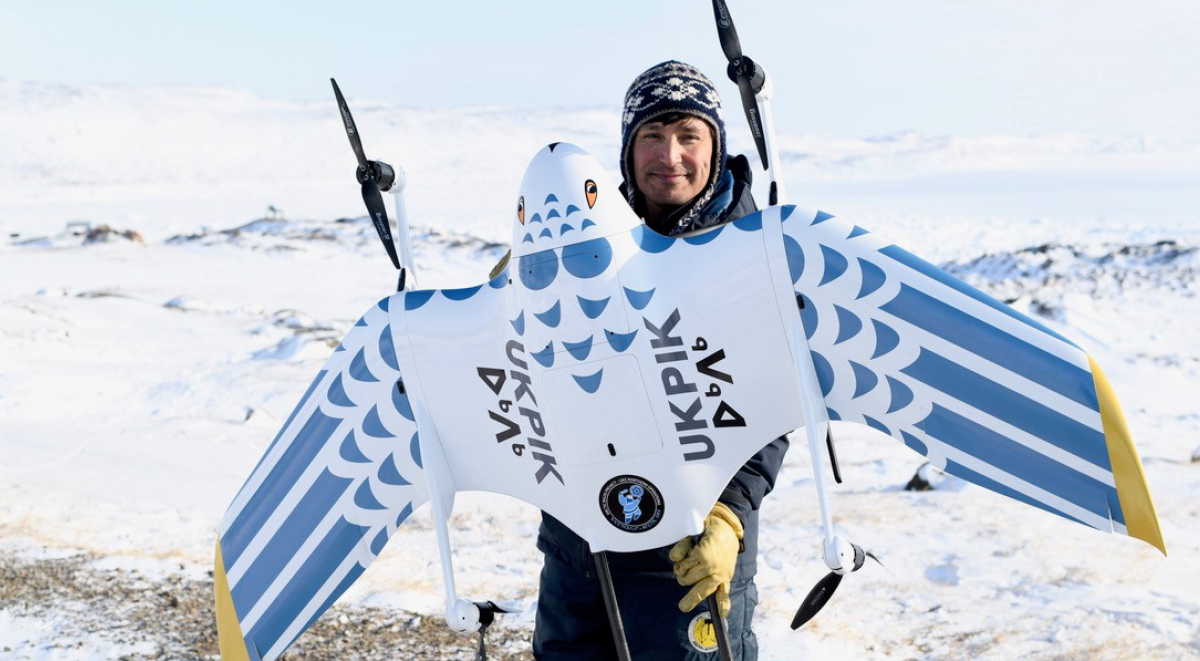 Kirt Ejesiak, founder and CEO, Arctic UAV
As a boy growing up in Iqaluit, Nunavut, Kirt Ejesiak spent his time hunting and fishing. Once, he built a boat out an old oil can. He couldn't have imagined that one day, he would work with vessels a thousand times more complicated than that to take on complex projects such as mapping, aerial photography, site surveys and more.
Ejesiak is the founder and CEO of Arctic UAV, a company operating on the cutting edge of technology.
The UAV in its name stands for Unmanned Aerial Vehicle, or what is more commonly known as a drone. Arctic UAV's drones are equipped with high-tech cameras. Flying over the chilly Arctic landscape, the systems take high quality photos that can be turned into detailed maps at a fraction of the cost of normal surveying.
100% Indigenous-owned and Nunavut-based, Arctic UAV is like no other drone company in the world.
"We have very specialised teams with extensive experience and local knowledge. It's hard to beat," says Ejesiak.
Introduction to drones
Ejesiak was one of the first people in his family to go to university. After studying science and engineering in southern Canada and the U.S., he embarked on a life of serial entrepreneurship.
He has spent the last 25 years running or managing his own businesses.
"In engineering, they teach you how to take a large problem and chop it into small bits—I found that I was quite good at that, even if I had no idea what I was doing!" Ejesiak says.
In the early aughts he branched out into real estate, renovating old houses as well as selling prefabricated ones. He bought his first building for $25,000 and sold it for $70,000. The success motivated him to continue in the industry for another decade.
When he landed a big 30-unit project, Ejesiak had a new idea for how to sell the building.
"How do I one-up everybody? I thought, using a drone was a way to do that," he says.
He purchased a small drone to take aerial photographs of the property and the neighbourhood, which he used for marketing materials. After a friend heard about it, she asked him to use the drone again to take photos of her leaking roof.
"That was my first paid gig; I think she paid me 70 dollars," Ejesiak says with a laugh.
But the introduction into the drone business piqued his interest. Ejesiak then spent three months putting together a business case for a drone company in the North. Drones are the way of the future, he believes.
"I think it's only a matter of time before we're doing everything with drones—from deliveries to looking at the Northwest Passages to doing ice surveys."
He established Arctic UAV in 2016.
The beginning of Arctic UAV
Initially, Ejesiak lost money on equipment that did not work. Drones were expensive and often malfunctioned in the cold.
But in 2017, Arctic UAV landed a two-year project with Transport Canada to test-fly drones under Arctic conditions. They rented an American system from the University of Alaska called the SeaHunter and flew half a dozen missions over a hundred nautical miles, flying above 3800 m (12,500 ft) in Class B airspace.
"Our revenues grew twentyfold from one year to the next, and it just gave our guys loads of experience to work on a national project," says Ejesiak.
However, the project was based in Alma, Quebec. After it wrapped up in 2020, Ejesiak and his pilots decided to return to Nunavut. They felt confident that they could manage the technology on their own.
The focus of the Transport Canada project had been patrolling the Arctic. Ejesiak realised they had to find their own niche for Arctic UAV to stand alone as a company.
Over the last two years, he shifted the focus of the company to producing images and maps.
"We're capturing videos and stills and recreating maps, so we need to find derivative products from there."
Drone versus satellite
The customers of Arctic UAV's maps include mining companies and local governments.
One of its recent clients is the Inuit hamlet Kinngait, formerly known as Cape Dorset. Arctic UAV mapped 25 square kilometers within the community limits. The map will be used for community planning, making drainage studies and developing a small craft harbour.
"That would take two weeks by traditional surveying methods using rod and stick. But for our guys it takes two or three days to make a map," says Ejesiak.
"The way I like to view it is that we're Google on steroids, just because the quality is much better."
Compared to satellite imaging, the spatial resolution from drone photography is higher. Spatial resolution refers to the size of a single pixel on the ground. If a map has a spatial resolution of 60 m per pixel, it means that each little "dot" (pixel) shows a 60 m by 60 m area on the ground—the quality of NASA's satellite data back in the eighties.
Today, a top-quality, high-resolution satellite image can focus down to 50 cm per pixel. But Arctic UAV's drone-made maps can take it even further, showing 1.5 cm per pixel.
"That's easily 15, 20 times better in resolution. If people are camping outside, you can see what they're having for breakfast," Ejesiak says.
For scientists and archeologists searching for small details like geographical features and old graveyards, this kind of high-resolution drone map is more useful than satellite images. The fine detail is also more useful for inspecting infrastructure.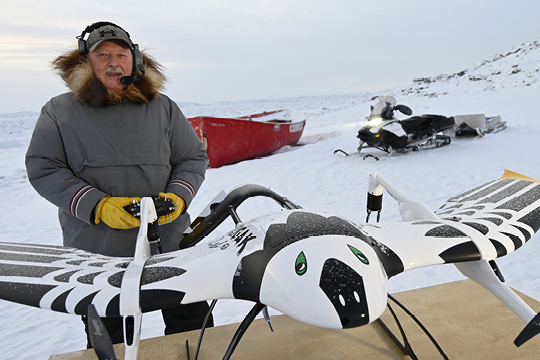 Braving the elements
Arctic UAV specialises in mapping large, rugged areas that are difficult to access by means other than air.
Flying drones in the Arctic is no easy task. Severe weather conditions like high winds, ice, freezing temperatures are just the beginning of the logistical nightmare. Access to the site itself could be difficult—Ejesiak and his team often travel by helicopter or boat to get to the point where they could deploy the drones.
"A typical project would be that we travel to a remote site 800 km away in a small vessel, do the survey and then travel 800 km back," says Ejesiak.
The problems don't let up once they arrive. Not all batteries work in negative 30-degree weather, so getting power for the drones is another headache. Arctic UAV works with its suppliers to get cold weather-suitable batteries, but Ejesiak says much of it is still down to trial and error.
"It's another challenge: how do you keep things warm when it's minus 30 out? At that temperature the cables snap like toothpicks."
To solve the issue, Arctic UAV brings along portable generators and power packs to the field. Ejesiak and his team also do their most to limit the gear's exposure time to the freezing cold by rigging up heating systems.
The pilots who operate the drones are also local hunters and fishermen, accustomed to traveling hundreds of kilometers in harsh conditions.
"To do this, you need guys who are expert outdoors people, who understand the dangers of being in a remote place," says Ejesiak, who adds that his team also carry licensed firearms in case they meet polar bears.
"The fact that we're based in the middle of nowhere in the Arctic, doing world class stuff—I think that really speaks to the expertise that we have. We're doing stuff that everybody else wants to do. That's the magic mix."
Nonstop innovation
Over the last two years, Arctic UAV has also expanded into underwater imaging for a research project by Fisheries and Oceans Canada. They bought a small boat and a new underwater robot that could explore deep waters. The new remotely operated underwater vehicle (ROV) could descend down to 305 meters in frigid waters.
Arctic UAV works with these robot manufacturers and offers them cold weather testing.
"Those types of partnerships are win-win for both companies. We get to try stuff with cool new tech, and they're able to say that their equipment works in rugged Arctic waters," Ejesiak explains.
Other surveyance projects include mapping a small harbour site for Pond Inlet (also known as Mittimatalik) a community located on northern Baffin Island in Nunavut.
Their maps captured the differences in height between two points. Using this data, the mapping software could estimate the material volume in a site. In other words, the map could estimate how much dirt and rocks there were to dig up before building began.
Arctic UAV also use field cameras rigged up with solar panels that take images at regular intervals. Ejesiak and his team control these systems from an old passenger bus they converted into a command centre.
Ejesiak is eager to keep tinkering and innovating with technology. He recently bought 3D printers to make full-colour models of their surveyed areas.
"We don't want to be the best Indigenous drone company. We want to be the best drone company," says Ejesiak.
"Tomorrow a competitor might show up and we have to be that much better. We need to have local trained folks, who understand our customers' needs, delivering in extreme conditions."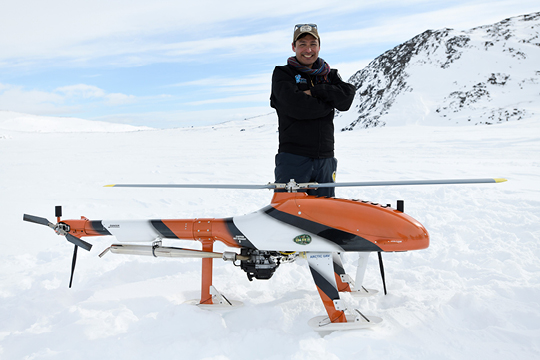 Looking to the future
Working with drones isn't always smooth sailing. Factoring in the travel time and the tech issues, mistakes can be costly and frustrating. Ejesiak and his pilots have witnessed some spectacular crashes, though luckily never near people.
"We could easily drop $20,000 on a task that doesn't work. That's the cost of doing business for us. But that's what we need to stay on top," says Ejesiak.
Ejesiak also says that the financing from BDC changed the nature of his business by enabling them to have the cash flow to manage large projects.
"As a small business, you don't want to run out of money. And when unexpected things happen, it's really helpful for us to have capital. To be able to hire charter airplanes and to pay people and survive crashes and equipment crashes—it would have been impossible to do without support from BDC."
Ejesiak believes the days of "fly-in folks", or people coming north to just do work and leave, are over. Arctic UAV is a proudly local business.
"We want to use smaller systems that we can deploy in communities. We want to train local folks to fly those systems. We want quick deployment and instant imaging, and we want to create beautiful still image and videos that we can share with our communities."