6 reasons Canada's tech entrepreneurs can feel confident about the future
5-minute read
It could be a bumpy ride for Canada's tech entrepreneurs over the next few years as the economy claws its way back from the COVID-19 crisis.
While the tech sector has been resilient through the early stages of the crisis, entrepreneurs face no shortage of challenges ahead. These include the need to navigate through a deep recession while grappling with rapid technological change and potential barriers to raising capital.
However, our research on Canada's tech ecosystem leads us to believe there are many reasons for entrepreneurs to be optimistic about the future. Their confidence should be based on the huge improvements we've seen in the country's start-up culture and VC ecosystem over the last decade.
The following six areas of strength will help sustain the tech sector through this potentially challenging period and position Canada to make even greater strides as the recovery gathers steam.
1. World-class research is increasingly being turned into new
start-ups
Canada has become fertile territory for commercializing university research. Canada has first-class universities that host a huge and diverse student population and a world-leading number of business incubators. This has led to Canada overtaking the U.S. since 2016 on the conversion of university research into new start-ups. (Fig 1).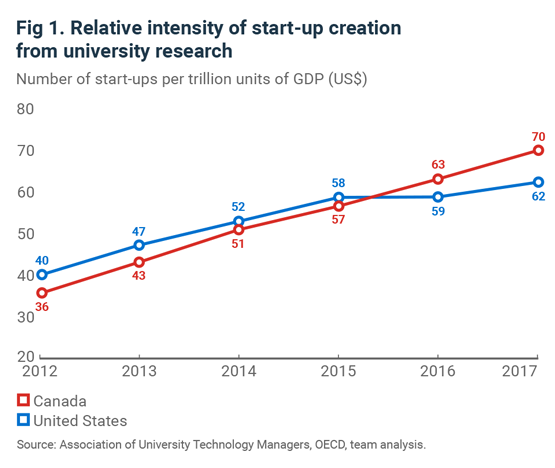 2. Entrepreneurship culture is taking root
Canada has built a strong culture of business creation based on a commitment by entrepreneurs to the country's ecosystem that is significantly stronger than in the U.S.
Indeed, 90% of Canadian founders in companies that exited at a value of $50 million or more remained in the country after exit, compared to 84% of American founders. Canadian founders were also much more likely to become VC investors, and to contribute to public ecosystem initiatives.
That commitment, combined with other efforts to foster business creation, has allowed Canada to record the highest rate of early stage entrepreneurship among major developed countries in every year since 2015 (Fig. 2).
What's more, Canada's top three tech hubs (Vancouver, Toronto and Montreal) are among the fastest growing markets for jobs in technology. Toronto was the fastest-growing tech job market in Canada and the U.S. from 2013 to 2018, and it now ranks as the fourth largest market for tech talent in both countries. A recent BDC capital study found that when compared to American tech hubs, Canadian cities are home to over three times as many tech workers per locally based start-ups.
Tech giants are helping make that happen with the likes of Amazon and Microsoft opening large offices in Canada.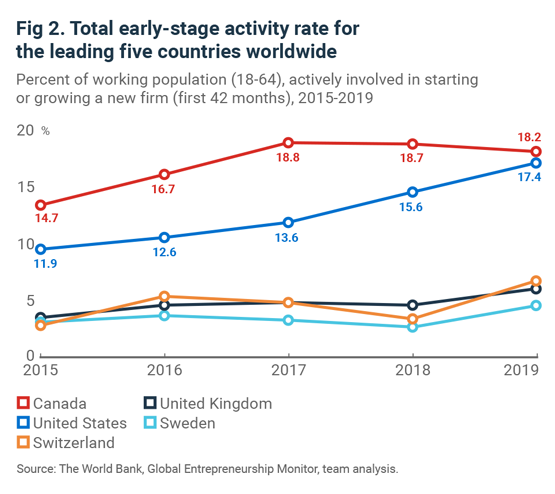 3. A growing set of diverse investors is working with tech companies
Canada's VC ecosystem has been bolstered by the growing diversity and stronger performance of GPs. The number of active GPs has doubled since 2014 with several fund franchises taking hold. The share of established GPs—those that had launched at least their fourth fund—grew from 4% to 18% in the same period, another indication of the increasing maturity of the VC ecosystem (Fig. 3).
The average size of private Canadian VC funds has increased slightly but still needs to become larger.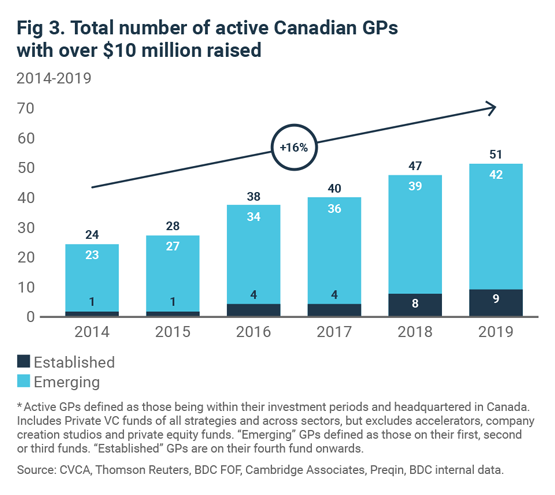 4. Investors are increasingly willing to invest in late-stage companies
The proportion of late-stage VC deals in Canada has increased markedly since 2017. This means established Canadian tech firms are benefitting from better support for their growth ambitions here and abroad. The share of Canadian VC investments that are late stage now rivals that of the U.S. in numbers (Fig.4). However, Canada still lags the U.S. in aggregate value (Fig. 5).
Canadian GPs are also increasingly connected to global ecosystems through international offices. These offices have the potential to help Canadian companies expand their presence in foreign markets.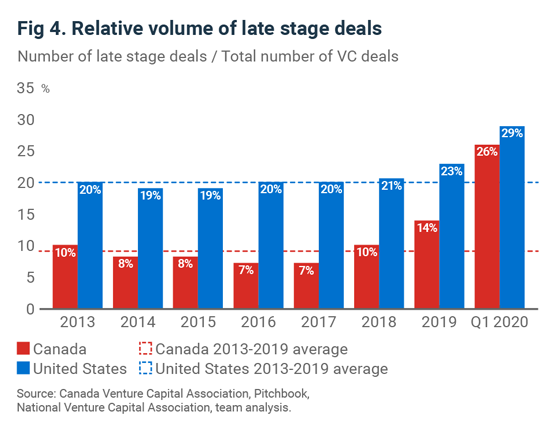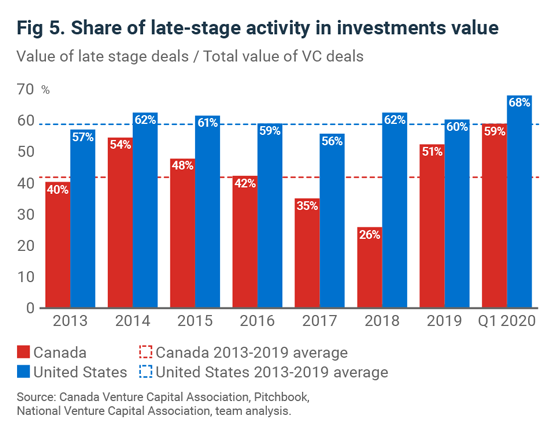 5. Exit performance is showing improvement
While there remain challenges, Canada's VC industry has shown much stronger exit performance in recent years. The median exit size increased 3.8 times from 2016 to 2019 (Fig.6). Meanwhile, the time to exit from first funding reached parity with the U.S. at 6.1 years over the 2014-2019 period.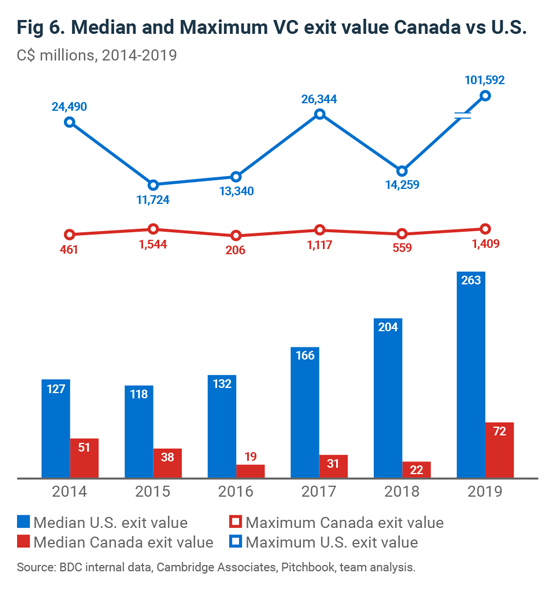 6. Improved investor returns have increased capital availability for founders
The Canadian VC ecosystem has closed the gap with the U.S. in terms of investor returns. A five-year internal rate of return performance of 12% has attracted more private capital. This has made the Canadian sector a leader in VC capital availability, which in turn has led to a high level of VC investment intensity (Fig. 6).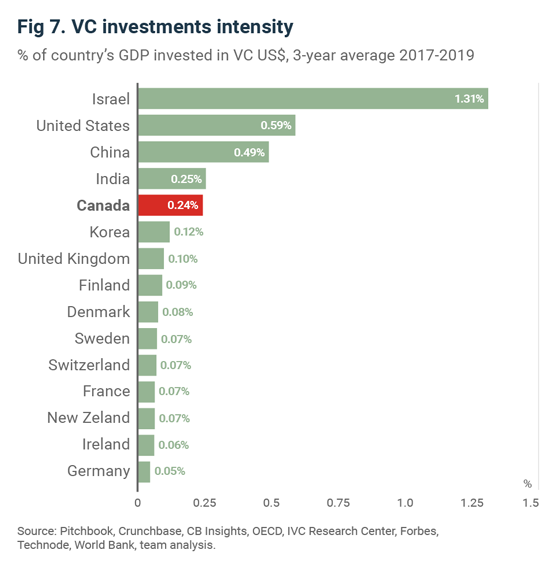 A vibrant tech ecosystem to support entrepreneurs
There is more work to be done, but the progress made over the last decade in building a vibrant tech industry and VC ecosystem in Canada will help sustain entrepreneurs.
Our challenge is to ensure that COVID-19 doesn't roll back the headway we've made. I will write about this more in my next blog, but our data shows that past recessions have led to important rollbacks in Canadian VC investments. With world-class universities and talent, a robust entrepreneurial culture and maturing VC industry, tech entrepreneurs have the tools they need to take on the world in the years to come.
Don't hesitate to comment below or to reach out if you want to learn more.