Farming in unlikely places
Ottawa-based
Growcer manufactures hydroponic farms that can operate anywhere, from the Arctic to a grocery store parking lot
6-minute read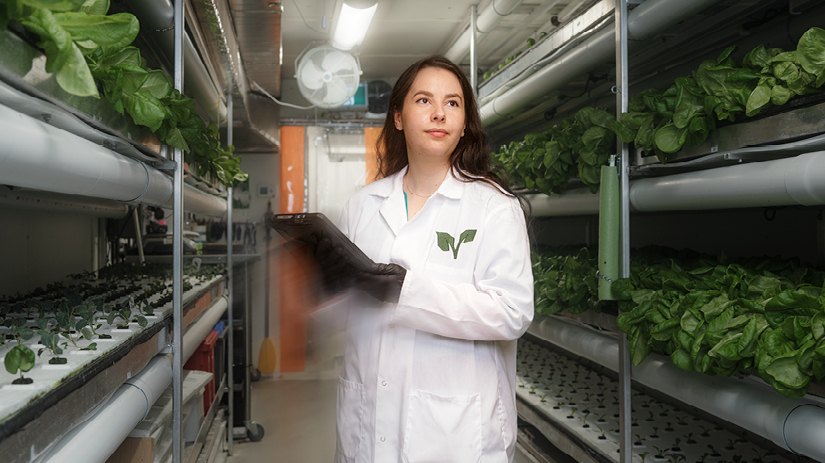 Alida Burke, Co-Founder, Growcer
Alida Burke and Corey Ellis were in Iqaluit, the capital of Nunavut, for entrepreneurship training with the University of Ottawa in 2015 when they saw $6 heads of lettuce and $9-per-kilogram tomatoes in the local grocery store.
Perhaps it was their business school's emphasis on social and environmental causes, but the two students saw food transportation in far-flung communities as a business challenge to take up.
"The produce takes a long time to get to the shelf, and when it gets there it's not necessarily affordable for the average person," Ellis says. "And it's not very good quality because it's lost some of its freshness and nutrients on the long ride there."
A farm that adapts to all climates
It's with these challenges in mind that the pair launched their company, Growcer, while still in school. It manufactures indoor farms that are housed in 40-foot containers and use nutrient-rich water, instead of soil to grow vegetables. These hydroponic farms are adaptable to all climates, including the frozen tundra.
These are farming solutions for places that are not suited to conventional agriculture, but also for farmers who need to supplement their yields.
The commercial farms grow dozens of varieties of leafy greens inside a facility that's a cross between a lab and a greenhouse. Their process uses 5% of the water that would have been used had that same vegetable been grown in California or Arizona. After six weeks, growers can feed up to 110 people a day. Their network of farms has grown about 5 million servings of veggies to date (June 2023).
Community groups have successfully used the facilities to get teens involved in farming, offer re-integration opportunities for more marginalized folks and stock their food banks with fresh produce.
It's also been a boon to farmers. For example, one Growcer customer was already running a dairy operation. With fluctuating weather conditions and losses from trade agreements, the dairy farmers were looking for a way to diversify and stabilize their operation long term. "It's allowing them to earn a bit more income and for the farm to stay in the family," Ellis says.
One small grocery chain bought the containers to set up just outside their locations. Rather than trucks bringing in the kale and spinach from California, store employees now walk the just-grown veggies from the parking lot.
"So, they grow it, they harvest it and then they walk it directly into the store," says Ellis, who has seen as much as a 50% price reduction in some communities. "In urban and rural settings our price point is set to match those of organic produce."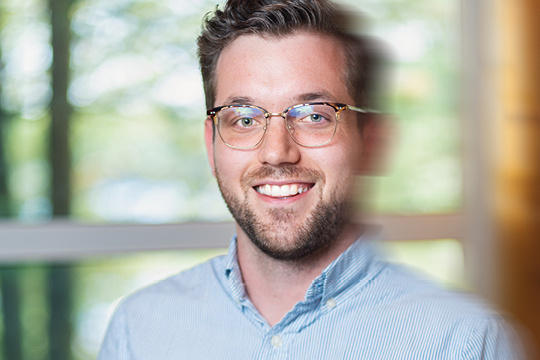 Corey Ellis, Co-Founder, Growcer (photo courtesy of Growcer)
Bootstrapping beginnings
Burke and Ellis received financing from BDC early on but, apart from that, bootstrapped the operation themselves for the first six years. To keep their risks low, they decided to wait before manufacturing the modular farms themselves.
"We found a company that was already selling a product that we knew we wanted to develop, and we reached a licensing arrangement," Ellis says.
As revenues grew, the company asked customers what improvements could be made, gathered some engineers and researchers, and designed a completely new product that, among other things, integrated those improvements (such as being adaptable to power failures).
Their financial prudence paid off: they are now manufacturers with an original product that stands out in the market.
Dragons' Den success
During those early bootstrapping days, there were some high-profile investors who showed interest in Growcer. In 2019, CBC's Dragons' Den aired an episode where Burke and Ellis pitched their idea. There was much interest and the two co-founders agreed on air to a deal with Arlene Dickinson and Lane Merrifield, who were set to pay $250,000 for 30% of the company.
The co-founders were complimented by all five of the celebrity investors, as they walked off with a deal in hand.
But they respectfully declined it after the taping was over.
Before they went on the show, the then-students had already decided that it was too early in their trajectory to trade in that much equity. "We wanted the opportunity to get on Dragons' Den to put our name out there," says Ellis, admitting that the appearance was a great marketing opportunity.
Angels now on board
Three years later, in 2022, Growcer had grown to a point where the co-founders were ready to open the business to investment—and there was a lot of interest.
The business that began with a couple of students who wanted to bring down food prices in the North grew very organically, so to speak. They grew from licensee to manufacturer and became an investment darling. The pair brought in an impressive 25 angel investors.
"It's allowing us to develop new products," says Ellis. The company is expanding to strawberry operations, which require different technology for the modular farms. They have also introduced ways for the modular farms to work better together so a grower can scale their business over time.
One of the challenges for the company rests with their clients, who need to access about $300,000 in financing for each unit. The investment is difficult to categorize and falls outside the traditional categories of farm equipment, food production and high-tech gear. It's not as easy for some financial institutions to understand as a personal mortgage. "Everyone knows what a house is, but vertical farms are relatively new," Burke says.
As the technology becomes more known, that risk aversion should be alleviated.
Burke is thankful for the early support the company received. "It takes a community to help build a business and BDC was one of those folks. There were also a lot of people in the Ottawa area, including the University of Ottawa and Invest Ottawa, who helped us."
Ellis says their original goal of mitigating food shortages and bringing down the price of food for remote communities is still there. "We went into this very much with a purpose-driven mindset of saying we want to solve a real problem."
They seem to be on their way to doing that.