Serving others is in this coffee entrepreneur's DNA
For Losel Tethong, fine coffee tastes even better when you're helping others and the environment
6-minute read
Losel Tethong compares the anxiety of starting a new business to jumping from an airplane without knowing whether your parachute will open.
With two small children and a mortgage to support, Tethong had quit his job as a high-flying corporate consultant to pursue his dream of starting a speciality coffee company. Now, he was watching his savings drop with every passing month.
The money first went into converting a 100-year-old factory into a high-end roasting facility and funky café in Toronto's Junction Triangle district, then into getting Propeller Coffee Company off the ground.
Tethong had kept his consulting job at Accenture while supervising the renovations and setting up the company in the early mornings, evenings and weekends. The fear didn't really ramp up for him and his wife, Kristi, until he quit his job and devoted himself full-time to Propeller.
"It was terrifying. I've got 10,000 feet before I hit the ground, and you're plummeting at a pretty steady rate. You just hope the parachute pops in time."
Gained traction slowly
There were many sleepless nights as Tethong and his team built up their customer base. A request from a friend to use Propeller's café for his wedding, opened the couple's eyes to a whole new market in hosting events.
Kristi, a documentary filmmaker with no experience in event planning, took on that part of the business, and it quickly began generating much-needed cash flow. But it was touch and go for the first years.
"You're trying to figure out how to make payroll," Losel says. "You're telling a supplier: Look we are going to pay you—you have my complete commitment on that—but it might be 15 days longer than the terms. You tighten your belts and cut back on everything to the bare essentials."
A turning point came in 2016 when Propeller was named micro-roaster of the year by industry trade publication Roast Magazine. The award solidified its reputation and brought in a wave of new customers.
Earned B Corp certification
Propeller's café and events business are bustling, but the heart of the company, with over 80% of sales, is wholesaling coffee to independent cafés and restaurants across Canada and increasingly in the U.S. Propeller has also attained B Corp status, a rigorous international certification for companies that create local prosperity, strong communities and a sustainable environment.
Propeller's success is just the latest chapter in Tethong's remarkable story. He was born in a refugee camp for Tibetans in southern India to a Tibetan father and a Canadian mother.
His father was an early interpreter, advisor, and, eventually foreign minister, to the Dalai Lama after he fled Tibet in 1959 with his followers. By contrast, Tethong's mother is from "an old waspy family" in the well-heeled Toronto suburb of Oakville and one of the first recipients of the Order of Canada.
The couple met when Tethong's mother travelled to India as one of the first volunteers for Canadian University Students Overseas (now CUSO International). At the time, she was helping set up an orphanage for Tibetan refugee children.
Brought to Canada from India
Tethong was five years old when his parents brought him and his sister to Canada, settling in Victoria where his father had landed a teaching job at a college. From that beginning and with feet in both the Tibetan and Canadian experiences, Tethong travelled a circuitous route to becoming an entrepreneur.
At 18, he joined the Royal Canadian Navy and sailed around the world as a navigation officer. He retired from the navy after 10 years of service and went on to earn a graduate degree in international relations from prestigious Georgetown University in Washington, D.C. Then, he landed a job as a consultant for Accenture, advising large corporations on strategy, based first in London and then back home in Canada.
During his last four years with the firm, he nourished his deep interest in the environment by beginning and running Accenture's sustainability practice in Canada.
However, the relentless travel schedule kept him away from his wife and two sons more than he wanted. He also felt a desire for something less cerebral than consulting.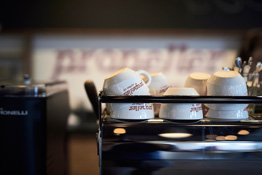 Craved more tangible impact
"I wanted something more tangible, more bricks-and-mortar. I wanted autonomy and to build something I could look at and say: 'Hey, I did that.'"
The answer was to start Propeller—a business would allow him more independence and give him an opportunity to do hands-on work while embracing his passion for specialty coffee.
The company, a BDC client, also allowed Tethong to put his interest in environmental protection and what he'd learned about sustainability at Accenture into action.
For example, Propeller purchased a Loring roaster that uses about 85% less energy than a traditional machine. The company has also introduced fully compostable packaging for its products.
Propeller has also allowed Tethong and his wife to make a contribution to the community. Each winter, they organize a series of events called Chefs for Change with friend and chef Chris Brown.
Helping with healthy food
Fifty of Canada's top chefs prepare dinners at Propeller on five consecutive Thursdays. Over four years, the initiative has raised $1.5 million for Community Food Centres of Canada, which bring people in low-income communities together to grow, cook, share, and advocate for healthy food.
It's projects like these that earned Propeller its certification as a B Corp. Tethong says what he likes best about being a B Corp is the impetus it gives to keep improving all aspects of the company's sustainability performance.
"We've built our three- to five-year roadmap of what more we want to do based on the structure the B Corp process gives us."
Five years after those first scary days in business, Propeller is well on its way to achieving Tethong's goal of becoming "Canada's leading specialty coffee company and one of the top two or three in North America."
Purpose is crucial
From a refugee camp to owner of his own hyper-cool coffee company, it's been quite a ride for Tethong. But he says he never forgets his family's deep concern for caring for others and the planet.
"To use this platform for a purpose that's bigger than the dollar or coffee means everything to me."