Becoming an engine of development for her community
After a career in social work,
Mélanie Paul
joined her family of entrepreneurs to contribute to the economic development of her Innu community
6-minute read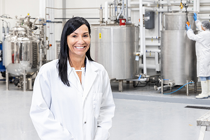 Getting communities beyond the reach of the electrical grid to abandon fossil fuels and move toward wood pellets: That's the goal of Inukshuk Synergy, launched in 2016 by Mélanie Paul, an Innu entrepreneur from the community of Mashteuiatsh in the Saguenay-Lac Saint-Jean region.
With her cousin Suzie Paul, she also recently launched Akua Nature—akua meaning to take care—a company that makes natural health products using traditional First Nations knowledge.
She also has other projects in mind to stimulate entrepreneurship in her community.
"In the family, our entrepreneurial spirit starts from a human need," explains Paul. "Taking action and building projects to help people in our community get out of their precarious conditions has always been our driving force."
A start in social work
If she now has both feet firmly planted in entrepreneurship, it was far from being a childhood dream. As a child, Melanie Paul regularly saw people knocking on the door of the family home to ask her father for money or to sell items. He was well known in the community because he was the director of the credit union and had businesses on the side.
"Seeing these people in misery, without understanding at the time the historical context behind it, I wanted to do something to help our community with issues of poverty, addiction and high suicide rates. I thought the only way to do that was to go into social work."
Paul decided to study social work at Laval University before working for two years at the Quebec Native Friendship Centre, which helps First Nations people in urban areas.
"I was helping people with addiction and domestic violence, but it was always one person at a time and I found that what I could do was limited," she recalls.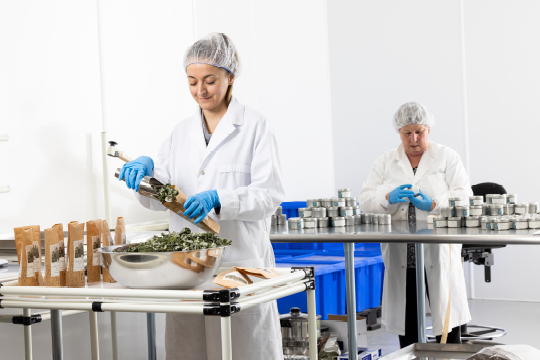 Helping the community by creating jobs
In 2002, her father, who was then working full-time in the businesses he had started with his brothers in the ADL Group, offered her the opportunity to become involved in the family business.
"My first question was, what does this have to do with my university studies?" Paul says.
Her father had an answer. "He explained to me that there were different ways to help people and that creating jobs in the community was one of them because it gave people a sense of pride, broke the cycle of poverty and all that comes with it. My father was always a visionary."
Inukshuk Synergy in
start-up

phase

Melanie Paul quickly proved herself in the family business. At the same time, she was looking to improve her management and leadership skills at the University of Quebec in Chicoutimi, and then at the Beauce School of Entrepreneurship, where she was the first Indigenous person to graduate in 2015.

In 2016, she launched Inukshuk Synergy to develop the market for wood biomass pellets produced by a subsidiary of the ADL Group that has BDC's Indigenous Banking Services as a partner. "We've always believed in developing the pellet subsidiary to complement other green energy sources," says Paul.

"We're talking about converting systems that run on oil to pellets," she says. "It sounds easy, but it's not easy in a northern context, and we're still doing validation studies to find the best way to do it, at the best cost. We also need to build trust with the communities."
Akua Nature in marketing phase
Paul is also very busy with Akua Nature with her cousin Suzie.
This other company produces products made from native medicinal plants gathered by First Nations people. Since February 2021, herbal teas, spices and cosmetics are sold on their website. Marketing in various outlets began a few months later.
"The response has been very favourable," Paul says. "Our products are 100% authentic, and, today, people want to encourage this kind of business."
Her objective? Building bridges between science and First Nations' ancestral knowledge in the field of medicinal plants. "All of this, of course, while respecting Mother Earth," she says.
Already, Akua Nature has a dozen employees and does business with various community harvesters.
"We can now see that several harvesters are structuring themselves around Akua Nature, for example, by creating their own company" Paul says. "Other entrepreneurs can also come and use our equipment to manufacture their own products. In this way, Akua Nature can act as a lever for the community."
Funding challenges for Indigenous women
Thanks to her father's vision and the resources of the ADL Group, which was already well established in her early days as an entrepreneur, Paul is aware that she has had access to financial support that others find more difficult to access.
"It would certainly have been different if I had been a woman starting from scratch to start her business, when getting financing is not easy and it's even worse in the Indigenous community," she says.
But money doesn't solve all the problems. Paul is convinced that mentoring is even more lacking in the communities. For this reason, she is now working on a third business project, the Moccasins and High Heels Circle, with businesswoman Danièle Henkel.
"Our goal is to propel Indigenous women's businesses by linking them with non-Indigenous mentors," says Paul.
In the wake of the Ensemble inc. movement she launched in September 2020 for an economic recovery in Quebec based on diversity and equity, the entrepreneur has also committed to launching an incubator-accelerator dedicated to Indigenous women entrepreneurs by December 2023.
"This incubator-accelerator will have to be creative because the communities are all remote and, in many places, the communication network is less than optimal," she says.
So, Melanie Paul is pursuing a big dream. "I hope that one day we will hear about Indigenous women in a positive way. We need role models to give women and girls confidence. They need to know that it is possible to succeed even if they've spent years being limited in many areas of their lives."