What are building retrofits?
Retrofitting refers to modifying a building's systems or structure after its initial construction. It's a broad term that includes changes to your heating, ventilation and cooling (HVAC), roofs, windows, lighting, water, elevators and building control systems. Retrofits can increase the energy efficiency of your building and help fight climate change.
The benefits of building retrofits
You don't have to own your building to make a difference. Maintenance and a few small changes can make a big difference, even for renters and tenants. Most spaces can become more energy efficient without a costly major retrofit. And by making your building more efficient, you'll be also reducing your environmental footprint.
If the rooms in your building always feel too hot or too cold, your equipment keeps incurring high maintenance costs, or your electricity bills are skyrocketing—it's time to explore building retrofits.
Positive impact on your business
Cost reduction
High impact
Changing your building could lead to a decrease in your overall energy consumption and reduce your bills.
Employer brand
Medium impact
Showcasing your building improvements—including any certifications—proves your commitment to the climate.
Risk management
Medium impact
Setting more sustainable standards for your building will reduce regulatory and financial risks on your business.
Roadmap to a building retrofit
The first step is to gather data on how your building is doing through an audit. This means examining your building's roofs, windows, lighting, water, elevators and building control systems to identify any issues and establish a baseline for the building's performance.
Doing an energy audit is a great way to start seeing where you can make the greatest improvements in energy efficiency. The ENERGY STAR® Portfolio Manager is a free web-based tool you can use to compare your buildings to other commercial buildings in North America.
You can also find an energy consultant to help you. There are many engineering and sustainability firms that can help you through the whole process: assessing your building, suggesting solutions, designing technical plans for the project, and even helping you find the necessary contractor(s). For large projects, you might hire several consultants for different areas.
These are the elements you should have in your plan after you have assessed your building:
1. Set objectives for energy efficiency
Canada has many green building certifications, including LEED, R-2000, Novoclimat, EnerGuide, BOMA Best and others.
2. Assemble your team
Who needs to be involved? This may include building management, your current service contractors, your employees, etc.
3. Review your essential services
Check maintenance logs for your building for systems such as air ducts, smoke detectors and fire dampers and incorporate them in your retrofit if necessary.
Start your retrofit with quick wins
Before you start a more complex retrofit project, look for quick, relatively inexpensive projects that can give you quick wins.

Here are examples of cost-effective upgrades to focus on:
Turn equipment off
Switch to LED lighting
Adjust your HVAC settings
Maintain and repair your HVAC system
Insulate hot water pipes
Choose

energy-efficient

equipment with the ENERGY STAR® certification
Select appropriate technologies and designs
A good rule of thumb is to keep it simple. The most basic technologies to install are a building control system and a sub-metering system to measure utilities. You want your building to be easy to manage and maintain, and if you install an automated system, make sure it is easy to override manually. Here are the steps to selecting the right technology for you:
1. Create initial designs
This is when you draft the concept and design schematics for the retrofit. Sometimes called a Basis of Design (BOD), this lays out the upgrades, modifications and replacements for the building and its equipment.
2. Review the cost implications
Make sure that the return investment of these designs make sense and that they meet your objectives.
3. Draft technical specifications and an implementation plan
Once approved, you'll need the technical drawings and models to start implementation of the project.
Now you're ready to find the plumbers, electricians, air conditioning experts or general contractors to carry out the project.
Some questions to ask while you're making the selection:
What experience do you have with similar projects?
Have you worked within similar budgets and schedules before?
Can you provide referrals?
Will you also update the systems documentation so we can refer to it in the future?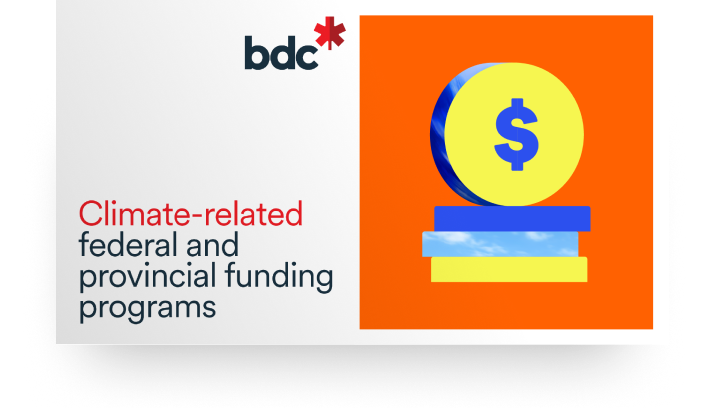 Find the right grant for your climate action
Discover our list of over 60 governmental active grants, tax credits and loan programs to support the environmental initiatives of Canadian businesses.
Resources
Natural Resources Canada: Energy efficiency for buildings
Find information on integrated design, energy codes, building life cycle, commissioning, recommissioning, retrofitting.
On-demand

webinar: How to cut the energy spending for your building

Watch this free on-demand webinar on how to improve the energy efficiency of your building and reduce costs to your bottom line.
The content of this webpage is provided for information purposes only, and the reader is responsible for any decisions resulting from its use. The results of applying the content are not guaranteed by BDC and may vary depending on the context, market, sector, financial situation and size of the company. Content originating from a source outside of BDC is the sole responsibility of the author of that source.