A
people-centric

approach: Law firm thrives with a compassionate practice and workplace

Manitoba's first

Aboriginal-owned

law practice emphasizes a different approach

6-minute read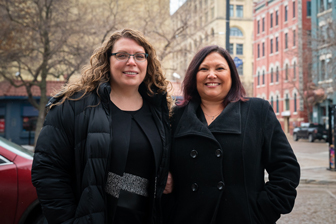 Priscilla Sternat-McIvor wanted to be a lawyer since she was a child. She went to school in Winnipeg, but spent weekends and summers at the Sandy Bay First Nation where her parents had previously lived, 200 kilometres northwest of Winnipeg.
She couldn't help notice the sharp contrasts between the city and her First Nations community, which had unpaved roads, no streetlights and homes with outhouses and no running water.
"I would ask why my life was so different between my home community and Winnipeg," Sternat-McIvor says. "My dad told me it was very complicated and I needed to become a lawyer to fix the roads."
When her grandfather asked what she wanted to be when she grew up, she recalls, "I always said I wanted to be a lawyer. I told him I wanted to fix the roads in Sandy Bay."
Sternat-McIvor's childhood dream came true when she became a lawyer in 2002. She articled with the Assembly of Manitoba Chiefs, then worked at a pair of Winnipeg law firms.
In 2017, she co-founded her own law practice with Lisa Manaigre, a Métis lawyer. Their firm, Sternat Manaigre, was the first Aboriginal-owned law practice in Manitoba and has grown to six lawyers specializing in family and collaborative law.
A less adversarial approach
The duo decided to become partners when they learned that the law practice where they both worked was going to break apart. Sternat-McIvor called Manaigre to talk about the breakup and asked if Manaigre had ever thought of striking out on her own. "There was this long, quiet pause, and she said, 'I have it all ready to go,'" Sternat-McIvor says.
It turned out that Manaigre had had the same thoughts and had even developed a business plan. Manaigre had also decided to become a lawyer when she was young, motivated by the painful breakup of her parents when she was in high school. "I saw the impact that the court process had on our family, and I thought, 'There's got to be a better way,'" she says.
Manaigre studied alternative dispute resolution and collaborative law, growing areas of practice that aim to ease conflict in family breakups and make the often-arduous process less adversarial.
Huge learning curve
The firm's launch wasn't without hiccups. Sternat-McIvor's previous practice had focused on child protection, and she wasn't able to bring those clients to the new firm. "I had to rebuild my practice. It was stressful for me almost starting from scratch," she says.
The two partners also had to find an office space and set it up, hire law associates and staff, conduct training, learn administrative skills, design a logo and signs, fulfill Law Society requirements and sort out accounting, billing and banking issues.
"Our plates were full of administrative stuff just to get the business going," Sternat-McIvor says. "It was incredibly difficult to juggle it all. It was a huge learning curve."
But the duo persevered, thanks in part to financing from BDC, which provided funds for initial equipment purchases and working capital.
Compassionate philosophy
Two years after the launch, the firm has a thriving practice, with a diverse mix of both Indigenous and non-Indigenous clients. "We have clients from every walk of life, every socioeconomic status, different cultures, races and religions," Sternat-McIvor says.
The firm has developed a reputation for its compassionate, people-centric approach. "I feel so safe and confident with you in my corner," one client wrote on the firm's Facebook page. "My clients like to send me flowers a lot," Manaigre says. "It's nice to see that appreciation."
As part of this approach, the firm is known for emphasizing attempts to settle cases before they wind up in a messy, costly court trial. "I think people come to me because they know I have a reputation for settling files," Manaigre says. "I've done one trial in my career, and there's a reason for that: Trials don't solve problems, but early settlements can."
Also part of its collaborative philosophy, the firm sometimes brings in family specialists, who work with parents on communication and parenting issues, and financial planners, who help families figure out their post-breakup finances.
Support for women and mentorship
The two lawyers emphasize a similar people-centric approach in their own office. The approach was partly inspired by Manaigre's previous experiences seeing a lack of support for women at work. "I looked at starting a firm that took on the cultural values of supporting women in the practice of law, thinking about motherhood and how to bridge the gap between allowing women to have careers while still being moms," she says.
"We wanted to create a workplace that is supportive, collaborative, understands the rigours of family life, isn't just about the bottom line and supports the team. We wanted a real culture of mentorship and support."
That translates into flexible work hours, working from home when kids are sick, allowing kids to be brought into the office and offering reduced hours to new moms. "We really try to promote a work-life balance," Sternat-McIvor says. "We don't want our lawyers to be burnt out and just living to work. It's not very easy for women in the legal profession. We want women to succeed in this profession."
Manaigre agrees: "We encourage our lawyers to take time away from the office because I think that builds a better lawyer. When you have life experience to back you up, you become a more empathetic person. I like to think our lawyers are all very compassionate and sensitive."
Staff meet to exchange ideas and learn
Another important component of the firm's approach is holding biweekly roundtable meetings at which the lawyers take turns cooking or bringing lunch and everyone discusses their files.
"We exchange ideas and tell each other about the things we've learned from our clients, from the system, little tips and tricks, cases that were interesting, scenarios we'd never encountered before, so that we can teach, learn, discuss and problem-solve," Manaigre says.
"That's probably the best part about working here: We all look after each other. We can lean on each other when we need to and support each other in our practices."